Julian Assange: Trump rejects claim that he offered WikiLeaks founder a pardon as 'total lie'
'Another indication that Trump's assault on the rule of law isn't new; it's been ongoing throughout his term,' says former Obama aide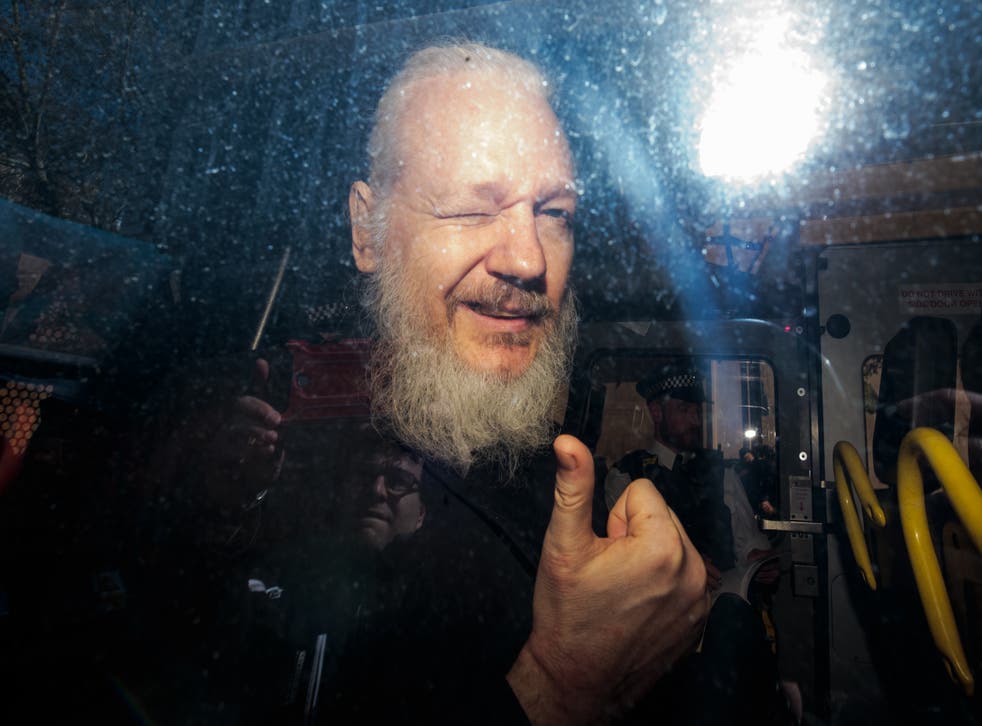 The White House is denying Donald Trump floated a pardon for Julian Assange if the Wikileaks founder denied any Russian involvement in a 2017 dump by the organisation of Democratic documents.
The revelation was made by an Assange lawyer, Edward Fitzgerald QC, as he described evidence of an alleged pardon offer delivered on Mr Trump's behalf by former US Republican congressman Dana Rohrabacher at the Ecuadorian embassy in August 2017.
"The president barely knows Dana Rohrabacher other than he's an ex-congressman. He's never spoken to him on this subject or almost any subject," White House Press Secretary Stephanie Grisham, who is traveling with Mr Trump on a West Coast campaigning tour, said in an email.
"It is a complete fabrication and a total lie," she said of Mr Fitzgerald's allegation. "This is probably another never ending hoax and total lie from the DNC."
Republican and Democratic lawmakers were slow to respond to Assange charges.
But some former US Justice Department officials and former Obama administration aides were quick to suggest wrongdoing by the president just months after House Democrats impeached him for what they saw as him abusing his power towards Ukraine by allegedly linking a massive US military aid package, funded by taxpayers, to Kyiv announcing probes of his top domestic political foes.
"Lawyer's don't usually make claims in court they can't prove. Will be interesting to see if there is proof of these serious allegations Rohrabacher was the WH's messenger, offering a pardon in exchange for silence on Russia's hack of our election," Joyce White, a former US attorney, tweeted.
Ned Price, a senior National Security Council official in the Obama White House, noted this: "It sure sounds like Assange's attorneys are prepared to back-up this claim with evidence. It's a another indication that Trump's assault on the rule of law isn't new; it's been ongoing throughout his term."
Former FBI special agent Clint Watts took offered a more measured response, writing on Twitter that he would "like to see more evidence back up this claim.
"But it's really bad if true," Mr Watts wrote. "Trump's actions would again upend a prosecution, Intel community, actions of his own government."
Spokespersons for several senior GOP and Democratic members had yet to respond to requests for comment.
Register for free to continue reading
Registration is a free and easy way to support our truly independent journalism
By registering, you will also enjoy limited access to Premium articles, exclusive newsletters, commenting, and virtual events with our leading journalists
Already have an account? sign in
Register for free to continue reading
Registration is a free and easy way to support our truly independent journalism
By registering, you will also enjoy limited access to Premium articles, exclusive newsletters, commenting, and virtual events with our leading journalists
Already have an account? sign in
Join our new commenting forum
Join thought-provoking conversations, follow other Independent readers and see their replies