Civil rights hero John Lewis to boycott opening of civil rights museum due to Trump's 'insulting' attendance
'President Trump's attendance and his hurtful policies are an insult to the people portrayed in this civil rights museum'
Emlly Shugerman
New York
Thursday 07 December 2017 22:12 Comments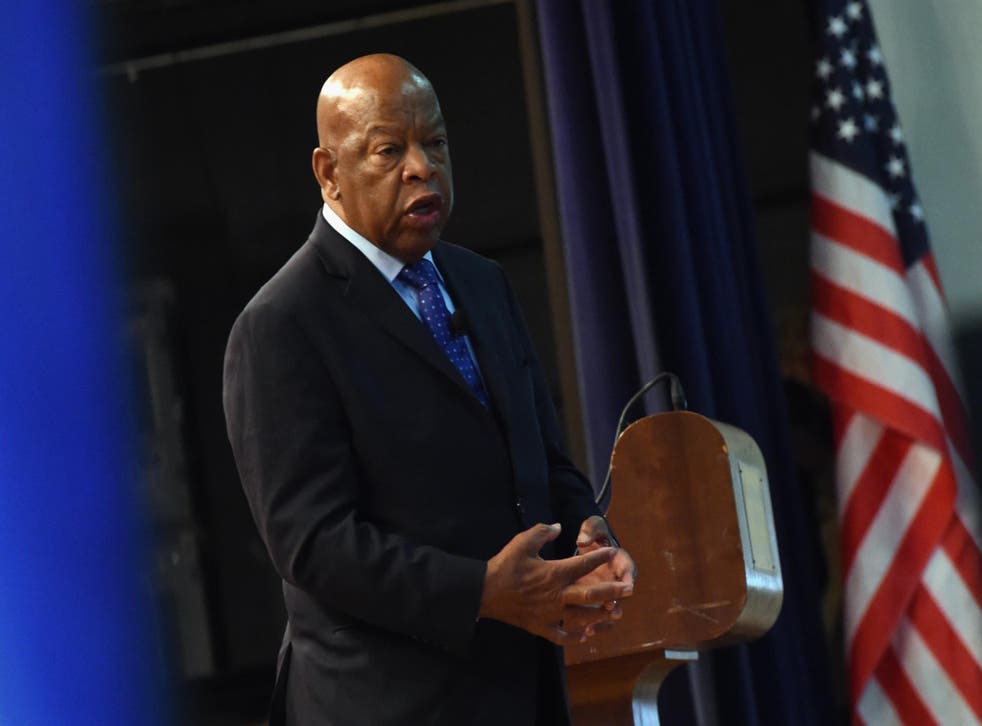 Congressman and civil rights icon John Lewis has said he will not participate in the opening of the Mississippi Civil Rights Museum because President Donald Trump will be there.
"President Trump's attendance and his hurtful policies are an insult to the people portrayed in this civil rights museum," Mr Lewis, who was scheduled to speak at the event, said in a joint statement with Representative Bennie Thompson.
The Representatives added: "After President Trump departs, we encourage all Mississippians and Americans to visit this historic civil rights museum."
The museum has been in construction since 2014, and is scheduled to open in Jackson, Mississippi on Saturday. The event will include a ribbon-cutting ceremony and speeches from civil rights leaders and elected officials. Mr Trump plans to participate in the opening as part of his tour through the American South, White House officials confirmed on Tuesday.
The announcement drew outcry from several activist groups, including the highly influential NAACP. The nearly 100-year-old civil rights organisation called Mr Trump's visit an "affront to the veterans of the civil rights movement" in a statement.
Civil rights in the US

Show all 6
"As a freedom fighter and contemporary of Emmett Till, Trump's visit is an insult," NAACP board member Amos Brown said. "He has never been a supporter of civil rights or equal opportunity or justice. He's been silent on civil rights issues, and his silence speaks volumes."
Other activists said they will protest Mr Trump's attendance at the event – a move White House Press Secretary Sarah Huckabee Sanders called "very sad".
"I think this is something that should bring the country together to celebrate the opening of this museum and highlighting [the] civil rights movement and the progress that we've made," she said. "And I would hope that those individuals would join in that celebration instead of protesting it."
Donald Trump challenges, and cherry-picks, coverage of his Charlottesville statements at rally
Mr Trump has been criticised by civil rights leaders for his defence of Confederate monuments, and for his response to a white supremacist rally in Charlottesville, Virginia. After a 34-year-old counter-protester was killed at the rally, Mr Trump blamed the violence on "both sides".
Mr Lewis previously refused to attend Mr Trump's inauguration, claiming he did not see the former businessman as a legitimate President. Mr Trump responded by telling the Representative to focus on his district in Georgia, which he claimed was "in horrible shape and falling apart (not to mention crime infested)".
"Congressman John Lewis should finally focus on the burning and crime infested inner-cities of the US," Mr Trump tweeted in January. "I can use all the help I can get!"
Register for free to continue reading
Registration is a free and easy way to support our truly independent journalism
By registering, you will also enjoy limited access to Premium articles, exclusive newsletters, commenting, and virtual events with our leading journalists
Already have an account? sign in
Join our new commenting forum
Join thought-provoking conversations, follow other Independent readers and see their replies