Exiled by Trump, climate scientists lead the resistance against the denier-in-chief
The Trump administration has sought to dismantle environmental regulations and commitments while gutting federal agencies in charge of the efforts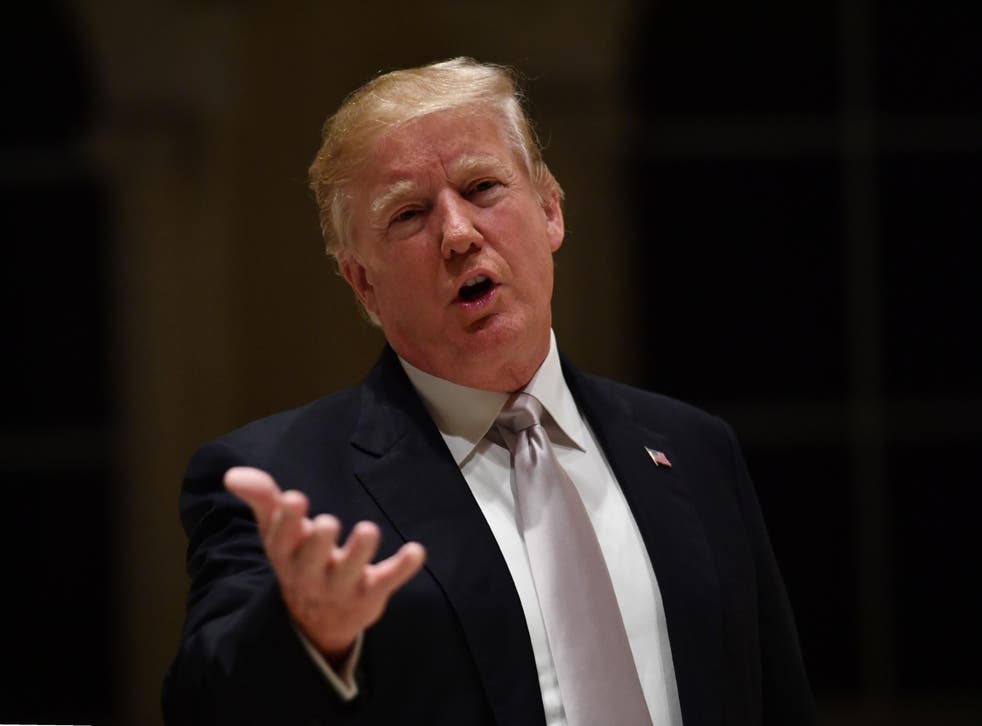 For months after last year's inauguration, there was radio silence from the small group of political appointees assigned to oversee the United States Department of the Interior as federal employees across agencies wondered what would happen to America's climate change policies.
While a very public drama unfolded in front of the American public – the department exercised open defiance by retweeting a side-by-side comparison of Donald Trump's inauguration crowd with that of Barack Obama's 2009 inauguration, and then the White House imposed a media gag on government agencies – things were relatively quiet at the department's stone headquarters north-west of the Washington Monument.
Since Mr Trump became president a year ago, the federal government has quietly removed itself from policies intended to combat and address climate change – leading to a mass exodus of employees packing their desks, and thousands of others facing unemployment as the government reviews whether it wants to keep thousands of jobs currently on the payroll. But, while the Trump administration is essentially exiling scientists, those being pushed out are adding to the resistance.
Joel Clement, who had worked at the Interior Department for seven years, focusing mostly on climate change policy, says that nobody really knew what the department's 70,000 employees were supposed to be focusing on with the new administration during the first few months of 2017. Many long-term employees were keeping quiet publicly regarding their views on climate change, worried about retaliation from a president who had called the threat a "hoax".
Then, on June 15, an internal memo signalled a massive shift.
Many career staffers were told they needed to pack their bags and tell their families they were moving. Mr Clement was told that he would now be reassigned to processing royalty checks from oil and gas companies drilling on federal lands, leading to his resignation months later.
"That was pretty flagrant on their part. It left no doubt as to their intention, which was to dislodge me, and get me to quit," Mr Clement, who later penned a comment piece saying he was retaliated against for speaking out about climate change, told The Independent.
10 photographs to show to anyone who doesn't believe in climate change

Show all 10
"I'm finding now that I have a much greater voice," Mr Clement, who has worked privately to address climate change since his resignation, and who was invited to the Bonn Climate Conference last year after his resignation, said.
Mr Clement isn't alone in seeing some light in otherwise bleak times.
While funding has been cut for government entities like the Interior and the Environmental Protection Agency (EPA), and climate science has been scrubbed from public websites, a deluge of career staffers and volunteers – some of whom have worked on climate issues for years, if not decades – has left a growing pool of climate experts unfettered by connections to federal bureaucracy.
Richard Moss, a professor at the University of Maryland, and a former member of the 15-person Advisory Committee for the Sustained National Climate Assessment, says that he started contacting fellow members as the deadline for the committee's charter renewal approached in August. They tried to convince the administration that the charter should be renewed, but were met with deaf ears.
Since the volunteer committee disbanded, though, Prof Moss – who recently started a temporary research position at Columbia University in New York City – says he and others have been in touch to try to continue their work developing reports to help governments plan for climate change, but with a different audience.
"I suggested immediately, even as we saw the train wreck was about to occur, to members that we needed a way to continue, and many thought the same way," Prof Moss told The Independent recalling the run up to the charter's expiration. "Almost immediately, I started to talk to folks at the state level, across several different states, some not-for-profit organisations at universities, and so forth."
"We think it's going to to be a positive outcome in the long term," he continued. It will be positive "even if it has some downsides now".
At this point, working with state and local governments may be the best that any climate change scientist can hope for, and the Trump administration is certainly delivering setbacks to those who would like to see a robust response to the issue.
After eight years in which the Obama administration drafted federal policies intended to combat climate change, and helped broker the international Paris climate accord, the Trump administration is working to repeal as much of the legacy as possible.
The EPA has begun looking at ways to pull the Obama-era Clean Power Plan, which targets carbon emissions from the nation's largest pollution source, power plants. The Department of the Interior has streamlined the process for federal onshore oil and gas drilling. Mr Trump has announced that the US would pull out of the Paris agreement, even though the deal has no enforceable components, just voluntary commitments.
In addition to that very abridged list, the President himself has publicly said that he thinks the world needs climate change because of cold weather in the US during winter.
But, even with a climate change denier in the Oval Office, and a storm of damaging policies being implemented, Mr Clement can see a potential silver lining.
When he went to Bonn, he said that he was surprised to see a massive presence from the United States – just not from the federal government. States and cities had rented out a massive space for demonstrations, and the rest of the world took notice. And, on an even smaller scale in the US, Mr Trump has sparked something of an awakening to climate change, he said.
"I think the Trump effect has been positive for public awareness, and public engagement on climate change," he said.
"Momentum has picked up. I think we're at a turning point," Mr Clement continued, considering the impact of Mr Trump's position on climate change. "I think it's because of, not despite, the Trump denial."
Join our new commenting forum
Join thought-provoking conversations, follow other Independent readers and see their replies