Donald Trump sides with Democrats against Republicans over crucial debt ceiling vote
'We essentially came to a deal, and I think the deal will be very good', the President said 
Alexandra Wilts
Washington DC
Wednesday 06 September 2017 18:21 Comments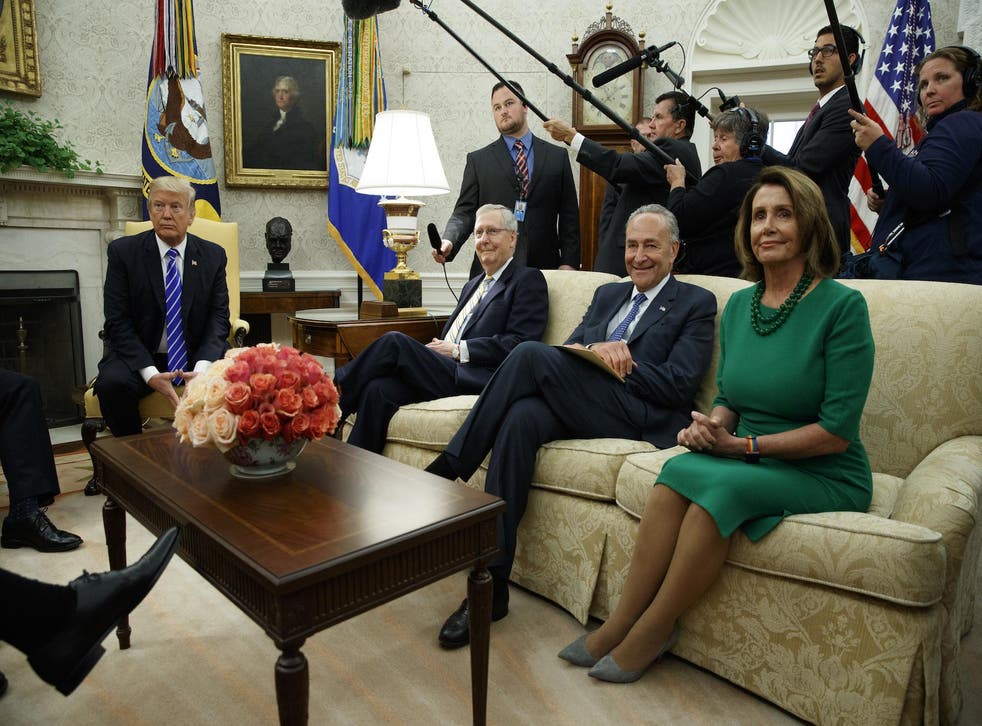 Donald Trump has agreed with Democrats on a plan to provide aid to Hurricane Harvey victims, increase the debt limit and fund the government until 15 December – a move that goes against the wishes of many Republicans, who wanted the debt measure separate from the disaster relief.
Democratic leaders announced the deal shortly after the House of Representatives approved nearly $8bn in disaster aid in response to Harvey. Through their agreement with the White House, congressional leaders have been able to avert a government shutdown and a default on federal debt – at least until the end of the year.
"Both sides have every intention of avoiding default in December and look forward to working together on the many issues before us," Charles Schumer, the top Democrat in the Senate, and House Minority Leader Nancy Pelosi said in a statement.
Mr Trump also confirmed the agreement aboard Air Force One on his way to a tax event in North Dakota. "We essentially came to a deal, and I think the deal will be very good," the President told reporters. "We had a very, very cordial and professional meeting."
"So we have an extension, which will go out to December 15th," he added. "That will include the debt ceiling, that will include the CRs, and it will include Harvey -- the amount of money to be determined, but it will include -- because everyone is in favor obviously of taking care of that situation. So we all very much agree."
On Wednesday morning, Democrats had offered to support the three-month debt limit increase along with Harvey aid.
"Given Republican difficulty in finding the votes for their plan, we believe this proposal offers a bipartisan path forward to ensure prompt delivery of Harvey aid as well as avoiding a default, while both sides work together to address government funding, DREAMers, and health care," Mr Schumer and Ms Pelosi said in a joint statement.
But House Speaker Paul Ryan of Wisconsin pushed back against the idea, saying it was "unworkable" and "could put in jeopardy the kind of hurricane response we need to have."
Donald Trump's international Presidential trips

Show all 22
"To play politics with the debt ceiling, like Schumer and Pelosi apparently are doing, I don't think is a good idea," Mr Ryan said.
Before the unprecedented flooding caused by Harvey devastated parts of southeastern Texas, Mr Trump's Treasury Secretary Steve Mnuchin has been pushing for a "clean" raise to the debt ceiling, meaning one not attached to spending cuts or any other bills.
But conservatives in Congress said they didn't want to increase the US's borrowing limit without also rolling back federal spending in the process. Democrats were expected to strongly oppose any deep spending cuts.
The new deal brokered between the President and congressional leaders has already drawn opposition from several Republicans, potentially setting up a future showdown between different wings of the party.
"Attaching the debt ceiling to [Harvey aid] is using a catastrophe in Texas as leverage to pass something that certainly there should have been an alternative plan to pass," said Representative Mark Meadows, the chairman of the House Freedom Caucus – a group of hardline conservatives.
Register for free to continue reading
Registration is a free and easy way to support our truly independent journalism
By registering, you will also enjoy limited access to Premium articles, exclusive newsletters, commenting, and virtual events with our leading journalists
Already have an account? sign in
Join our new commenting forum
Join thought-provoking conversations, follow other Independent readers and see their replies