Donald Trump's controversy-ridden first year has opened door for Democrats to retake control of Congress
In a lot of special elections, Democrats have done better than they did in 2016 – even when they have lost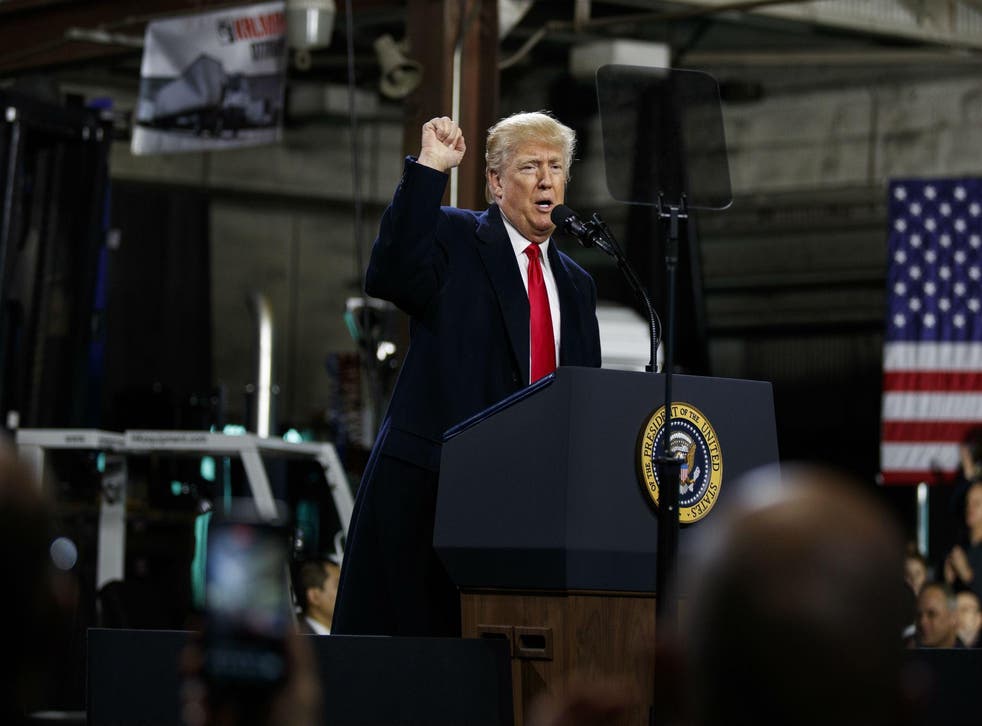 While expectations were once low that Democrats could recapture majorities in both chambers of Congress in 2018, Donald Trump's controversy-ridden first year in office has left the party feeling like they can almost smell the sweep of victories in November.
Mr Trump's dismal approval rating, Republican infighting and some significant Democratic election wins have all contributed to this possible result.
In a recent poll by the Pew Research Centre, a majority of Americans said they are not too or not at all confident that Mr Trump could work effectively with Congress.
A Quinnipiac poll released in October found that a whopping 70 per cent of voters believe Mr Trump should stop tweeting from his personal account, which he has used to instigate fights with professional athletes, members of his own party and North Korean leader Kim Jong-un.
Democrats only need a net gain of two seats to win a majority in the 100-member Senate. Meanwhile, the party needs a net gain of 24 to win control of the 435-member House of Representatives.
Just this past week, a Democratic victory in one of Wisconsin's Republican-leaning districts led the state's governor Scott Walker to call his party's loss "a wake up call for Republicans".
While the special election in Wisconsin was held to fill an empty seat in the state legislature, experts say the Democratic triumph could prove to be another warning sign for Republicans to not take the challenge from Democrats lightly during the midterm elections.
"This may be just one contest for the state legislature in Wisconsin, but it is part of a larger pattern we have observed over the last year," said David Barker, the director of American University's Centre for Congressional and Presidential Studies.
Mr Barker noted to The Independent that Democratic voters have been "disproportionately and unusually motivated" to turn out in elections in traditionally Republican states or districts.
Donald Trump's first year: in pictures

Show all 29
"People are voting everywhere. People woke up the day after Trump got elected and said, 'I will no longer be a casual participant in democracy ever again,'" Democratic National Committee Chairman Tom Perez said in an interview last year with Politico. "Is it an uphill battle to win the House and the Senate? Of course it is. Is it doable? I think so as well."
Turnout among female, African-American and under-30 voters has been particularly notable.
In November, Democrats made much larger than expected gains in Virginia's state legislature. Additionally, the Democratic candidate for governor won by a stunning margin over his Republican opponent – another possible indicator of a tough year ahead for Republicans.
Experts have been quick to point out that in a lot of special elections, Democrats have done better than they did in 2016 – even when they have lost.
This pattern, Mr Barker said – along with the unprecedented numbers of Republican retirements in the House of Representatives, numbers of qualified Democratic challengers who are running, and Democratic fundraising numbers – is "starting to make a wave election for Democrats in 2018 look less likely than a tsunami [of wins]".
But Mr Trump's antics may not be the full reason for a sweep by Democrats.
"The average number of House seats that an incumbent president's party loses in the following midterm is around 30," Mr Barker said. "The Democrats only need around 24 to reclaim control. Right now, the forecast has to be in the 40s or even higher."
In 2008, with the election of President Barack Obama, Democrats won a majority in both the House and Senate as well as control of the presidency.
But during the 2010 midterm elections, the Democratic Party suffered massive defeats, with the Republican Party gaining 63 seats in the House. Republicans were able to recapture a majority in the lower chamber and gained six seats in the Senate.
Currently, it appears it will be easier for the Democratic Party to retake control of the House than the Senate, despite the Republican Party's narrow 52-48 majority in the upper chamber.
Ten Democratic senators are running in states that went to Mr Trump in 2016, particularly problematic when several members of their party appear to be veering further and further to the left.
Mr Trump has made it clear that he intends to be heavily involved in congressional races this year, even though his last foray into congressional politics did not go so well.
In a special US Senate election in Alabama last year, the President first backed Luther Strange, who had been selected to temporarily fill the seat left vacant when Mr Trump nominated Jeff Sessions to be US attorney general.
After Mr Strange lost to Roy Moore in the primary, Mr Trump then backed Mr Moore. The President even decided to support Mr Moore after the candidate was accused of sexual misconduct. The Republican denied all the allegations against him.
Mr Moore then lost to Democrat Doug Jones in the general election – a stunning result given the size of the conservative voter base in Alabama.
Register for free to continue reading
Registration is a free and easy way to support our truly independent journalism
By registering, you will also enjoy limited access to Premium articles, exclusive newsletters, commenting, and virtual events with our leading journalists
Already have an account? sign in
Register for free to continue reading
Registration is a free and easy way to support our truly independent journalism
By registering, you will also enjoy limited access to Premium articles, exclusive newsletters, commenting, and virtual events with our leading journalists
Already have an account? sign in
Join our new commenting forum
Join thought-provoking conversations, follow other Independent readers and see their replies