Trump says 'the golden era of American energy is now underway' despite rejecting renewable energy
Mr Trump said 'we have finally ended the war on coal' 
Alexandra Wilts
Washington DC
Thursday 29 June 2017 22:45 Comments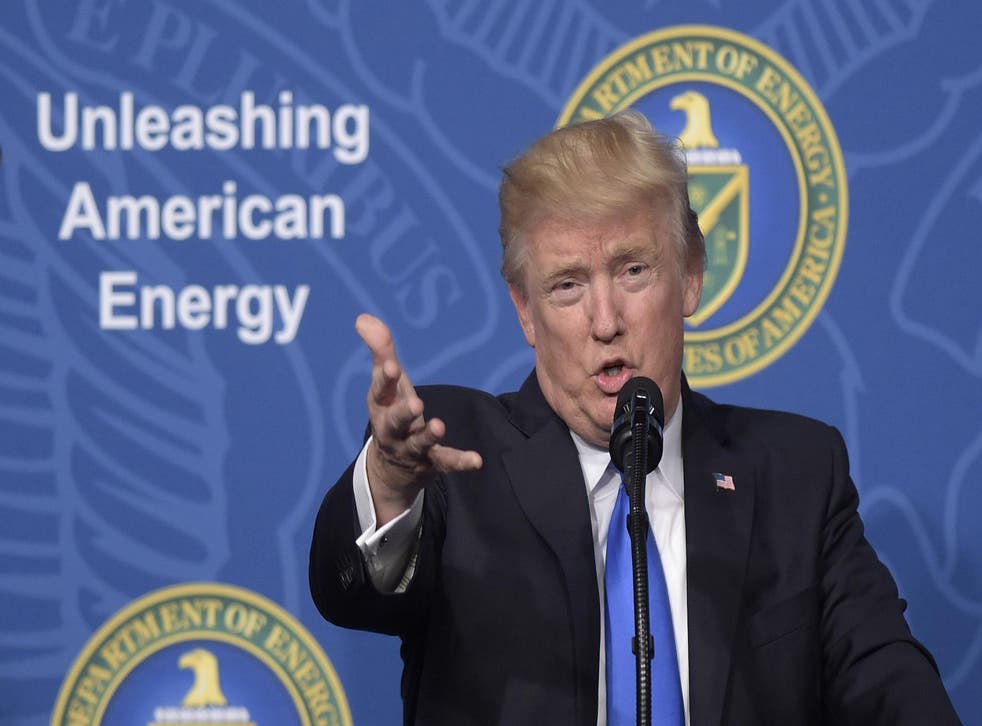 Donald Trump has declared that "the golden era of American energy is now underway" – as he shifts the US away from renewable energy through proposed budget cuts and by withdrawing the country from the landmark Paris agreement on climate change.
At the Unleashing American Energy event, Mr Trump touted that the administration has "finally ended the war on coal" and asserted that America will be energy-dominant.
The President began his remarks by thanking energy executives and labour union leaders in the room.
"You've gone through eight years of hell," he told them.
"We are putting the coal miners back to work just like I promised," Mr Trump said. "We are ending the intrusive [Environmental Protection Agency] regulations that raise the price of energy so substantially."
A global oversupply of oil has actually kept prices of the commodity down in recent years, and the Trump administration's push for gas exports is likely to continue facing a market glut.
Mr Trump's proposed reforms include expanding and reviving the US's nuclear energy sector and easing the application process for coal projects.
He has already approved the sale of more American natural gas to South Korea as well as the construction of a new petroleum pipeline to Mexico.
"That'll go right under the wall," Mr Trump joked, referring to the 74-mile long wall he hopes to build along the US-Mexico border.
Mr Trump also intends to approve two applications to export natural gas from the Lake Charles liquefied natural gas terminal in Louisiana and open up a new offshore oil and gas leasing programme.
"We have so much more [energy] than we ever thought possible...We don't want to let other countries take away our sovereignty and tell us what to do...We will be dominant. We will export American energy all around the globe...Job-killing regulations are being removed...like you've never seen before."
In pictures: President Donald Trump on tour

Show all 39
Energy Secretary Rick Perry told reporters at the White House earlier this week that "an energy dominant America means self-reliant."
"It means a secure nation, free from the geopolitical turmoil of other nations who seek to use energy as an economic weapon," he said.
As the Trump administration intensifies its focus on natural gas and coal, it seems to be disregarding renewable energy.
Earlier this month, Mr Trump pulled out of the Paris accord, saying that the deal would hit the US coal industry – which he has attributed to helping him get elected – hard and that it would prove "too costly" for the country to stick to the agreement to reduce greenhouse gas emissions.
However, new money in renewable energy outpaced new investments in fossil fuels for the first time in 2015 to the tune of $350bn. Mr Trump's proposed budget also calls for a nearly 70 percent cut in spending for the Office of Energy Efficiency and Renewable Energy.
During his speech on Thursday, Mr Trump again justified his choice to withdraw the US from the Paris agreement. The decision has drawn criticism from allies around the world.
"Believe me, that REALLY put this country at a disadvantage," Mr Trump said. "Maybe we'll be back into it someday, but it'll be on fairer terms."
Meanwhile, German Chancellor Angela Merkel has already set herself up for a showdown between her and Mr Trump over his "America First" agenda, predicting "very difficult" talks about climate change and trade next week when she hosts a summit meeting of 20 global leaders.
"Whoever believes the problems of this world can be solved by isolationism and protectionism is making a tremendous error," Ms Merkel said.
Register for free to continue reading
Registration is a free and easy way to support our truly independent journalism
By registering, you will also enjoy limited access to Premium articles, exclusive newsletters, commenting, and virtual events with our leading journalists
Already have an account? sign in
Join our new commenting forum
Join thought-provoking conversations, follow other Independent readers and see their replies