FBI Director hits back at Trump for saying his agency is 'in tatters'
Christopher Wray defends his agency in a House committee hearing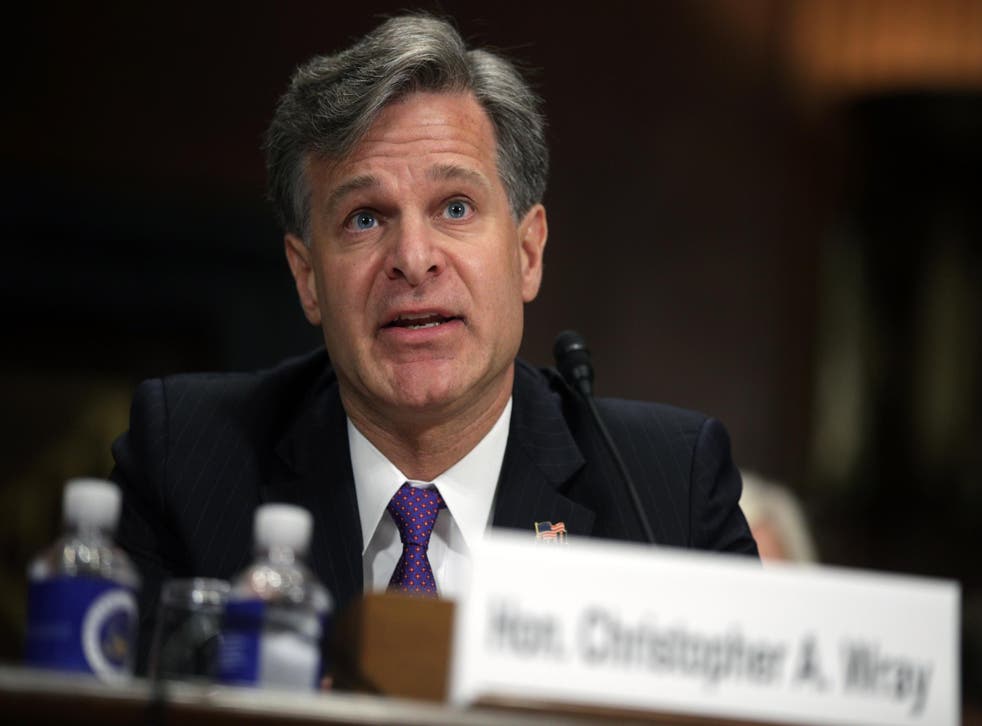 The Director of the FBI has contradicted President Donald Trump's claim that his agency is in "tatters", defending the bureau's reputation as "quite good".
Director Christopher Wray spoke out at a House Judiciary Committee hearing just days after Mr Trump launched a Twitter tirade against his agency. On Sunday, the President tweeted that the FBI's reputation was at its "worst in history" after years of leadership by former Director James Comey.
Asked how Mr Trump's tweet would affect the FBI, Mr Wray said his staff members were "big boys and girls" who were accustomed to taking criticism "from all corners". But, he added: "My experience has been that our reputation is quite good."
"The FBI that I see is people, decent people, committed to the highest principles of integrity and professionalism and respect," Mr Wray said earlier in the hearing. "The FBI that I see is respected and appreciated by our partners in federal, state and local law enforcement, in the intelligence community, by our foreign counterparts, both law enforcement and national security."
Mr Wray also defended Mr Comey, saying that he had considered his predecessor a smart lawyer and dedicated public servant when the two worked together in the early 2000s.
The biggest names involved in the Trump-Russia investigation

Show all 17
Days earlier, Mr Wray had sent an email to FBI staff to boost their morale in the wake of the President's tweet. Though he did not mention Mr Trump by name, he told the staff he was inspired by their "professionalism and dedication".
"Because of the importance of our mission, we are also entrusted with great power, and we should expect – and welcome – people asking tough questions about how we use that power. That goes with this job and always has," he wrote in an email obtained by CBS.
Trump: 'Hillary Clinton lied many times to the FBI. Nothing happened to her. Flynn lied and they destroyed his life.'
Mr Trump fired Mr Comey in May, and nominated Mr Wray to replace him in June. Even after seeing his own nominee confirmed as FBI Director, however, Mr Trump's criticism of the agency did not stop.
"Everybody is asking why the Justice Department (and FBI) isn't looking into all of the dishonesty going on with Crooked Hillary & the Dems," he tweeted early last month.
That same day, he lamented the fact that he was not supposed to get "involved" with the FBI and direct them toward investigating Hillary Clinton.
"I am really not involved with the Justice Department. I'd like to let it run itself. But honestly, they should be looking at the Democrats," he said of the agency that is currently investigating his campaign's ties to Russia.
He added: "A lot of people are disappointed in the Justice Department, including me."
Register for free to continue reading
Registration is a free and easy way to support our truly independent journalism
By registering, you will also enjoy limited access to Premium articles, exclusive newsletters, commenting, and virtual events with our leading journalists
Already have an account? sign in
Register for free to continue reading
Registration is a free and easy way to support our truly independent journalism
By registering, you will also enjoy limited access to Premium articles, exclusive newsletters, commenting, and virtual events with our leading journalists
Already have an account? sign in
Join our new commenting forum
Join thought-provoking conversations, follow other Independent readers and see their replies