Donald Trump leaves Democrats and progressive Jewish leaders off his Hanukkah party guest list
The party is usually a bipartisan affair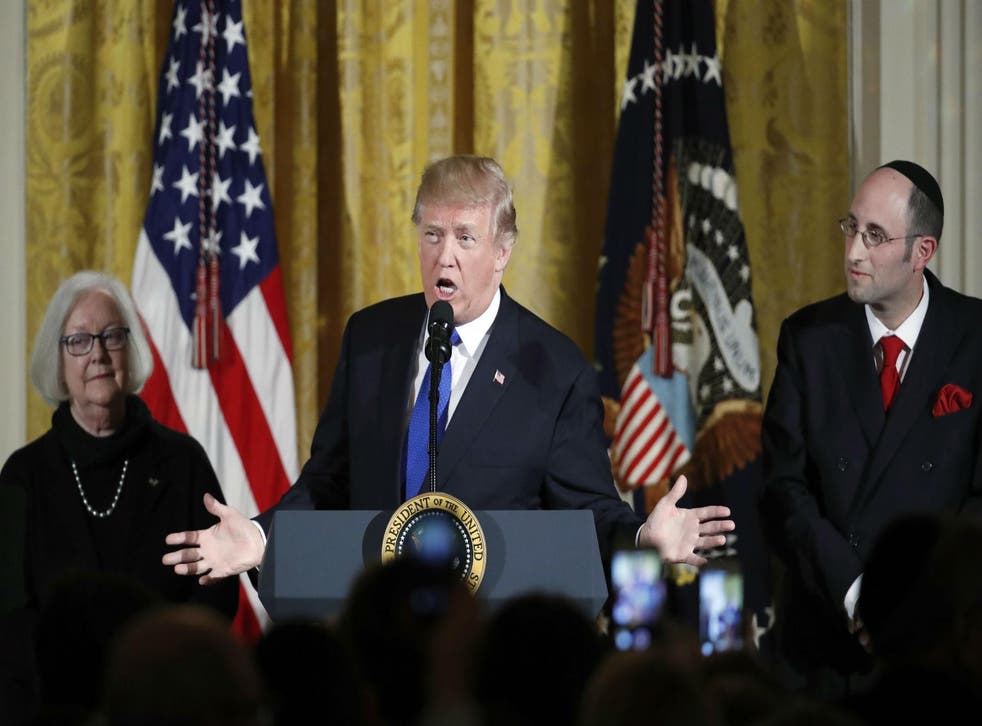 Democratic members of Congress are said to have been left off President Donald Trump's guest list for the White House Hanukkah party.
Mr Trump also did not invite Reform Jewish leaders who have been critical of him or progressive Jewish activists who have differed with him publicly on policy issues, the New York Times reported, injecting partisanship into a normally bipartisan event.
Mr Trump hosted the Hanukkah party early this year - five days before the holiday takes place - reminding several about how the ex-real estate magnate had criticised former President Barack Obama for a similar move in 2011.
"Why was the Hanukah celebration held in the White House two weeks early? @BarackObama wants to vacation in Hawaii in late December. Sad," Mr Trump tweeted at the time.
Mr Trump is heading to his Mar-a-Lago resort in Florida on Friday.
"Tonight, Trump is hosting the White House Hanukkah party. Hanukkah is next week. In an early holiday miracle, this Trump tweet lasted for six years and came back to burn him," one person tweeted.
Speaking to a crowd while standing amid Christmas trees, Mr Trump declared at the party: "I know for a fact there are a lot of happy people in this room."
"Hanukkah is a time for Jewish families around the world to celebrate the miracles of the past and promises of the future," he added. "We are proud to stand with the people of Israel and to renew our enduring bond."
"And right now I'm thinking about what's going on and the love that's all over Israel and all about Jerusalem."
The event came on the heels of Mr Trump's controversial decision to designate Jerusalem as the capital of Israel and move the US embassy to the holy city - an announcement that was greeted with condemnation from Arab leaders and sparked unrest in the Middle East.
Protests erupt after Trump recognises Jerusalem as Israel's capital

Show all 22
But the move also delighted many American Jews, particularly some of those who attended the party.
"People are in a celebratory mood and just kvelling over this incredible, historic moment," Morton Klein, the president of the Zionist Organization of America, told the Times.
But Jewish congressional Democrats criticised the White House for turning the party into a "partisan affair".
"It's deeply unfortunate that the White House Hanukkah Party - a bipartisan event bringing together Jewish and non-Jewish leaders alike to celebrate the Festival of Lights since 2001 - has turned into a partisan affair under this administration," Democratic Congresswoman Nita Lowrey told the Times in a statement.
The White House has denied that the guest list was shortened for political reasons.
"I am not aware of the political affiliation of any of the guests, but I do know that this year was meant to be more personal than political," first lady Melania Trump's spokeswoman Stephanie Grisham told the newspaper.
Register for free to continue reading
Registration is a free and easy way to support our truly independent journalism
By registering, you will also enjoy limited access to Premium articles, exclusive newsletters, commenting, and virtual events with our leading journalists
Already have an account? sign in
Register for free to continue reading
Registration is a free and easy way to support our truly independent journalism
By registering, you will also enjoy limited access to Premium articles, exclusive newsletters, commenting, and virtual events with our leading journalists
Already have an account? sign in
Join our new commenting forum
Join thought-provoking conversations, follow other Independent readers and see their replies