Immigration officials target 7-Eleven shops amid Trump crackdown on undocumented migrants
White House turns its immigration focus to employers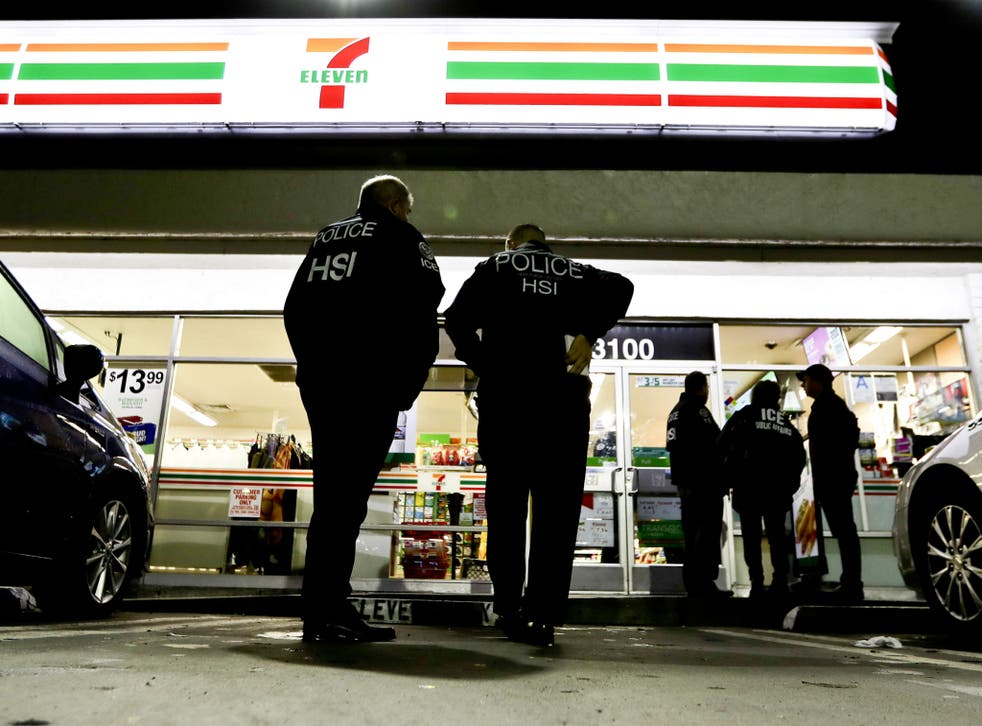 Immigration agents targeted dozens of 7-Eleven convenience stores and arrested unauthorised workers, expanding Donald Trump's crackdown on illegal immigration.
In a coordinated series of dawn raids, Immigration and Customs Enforcement (ICE) agents demanded employment records at nearly 100 stores across 17 states and Washington, DC, a broad effort to punish businesses that hire immigrants who are not authorised to work legally that resulted in the arrests of 21 workers nationwide.
"Today's actions send a strong message to US businesses that hire and employ an illegal workforce: ICE will enforce the law, and if you are found to be breaking the law, you will be held accountable," ICE Deputy Director Thomas Homan said in a statement.
"Businesses that hire illegal workers are a pull factor for illegal immigration and we are working hard to remove this magnet," he added. "ICE will continue its efforts to protect jobs for American workers by eliminating unfair competitive advantages for companies that exploit illegal immigration."
Arrests of immigrants in the country illegally have risen sharply under the Trump administration. The increase followed the administration broadening the categories of immigrants who are targets, moving away from Barack Obama's more targeted approach and following through on Mr Trump's campaign vow of more stringent immigration policies.
But the ICE agents descending on 7-Eleven stores nationwide were participating in the largest business-focused action under the Trump administration, and ICE officials signalled that it marked a turn in the agency's tactics.
Derek Benner, acting head of ICE's Homeland Security Investigations, told the Associated Press it was "a harbinger of what's to come".
World news in pictures

Show all 50
"What you're going to see more and more of is these large-scale compliance inspections, just for starters," Mr Benner told the AP, adding that "it's not going to be limited to large companies or any particular industry".
In a statement, 7-Eleven blamed any immigration law violations on individual store owners, noting that franchisees "are solely responsible for their employees including deciding who to hire and verifying their eligibility to work in the United States".
"7-Eleven takes compliance with immigration laws seriously and has terminated the franchise agreements of franchisees convicted of violating these laws," the statement said.
Join our new commenting forum
Join thought-provoking conversations, follow other Independent readers and see their replies