Donald Trump Jr has been 'miserable' ever since his father became President, says report
His father's high profile government position is attracting a lot of scrutiny
Clark Mindock
New York
Wednesday 19 July 2017 18:16 Comments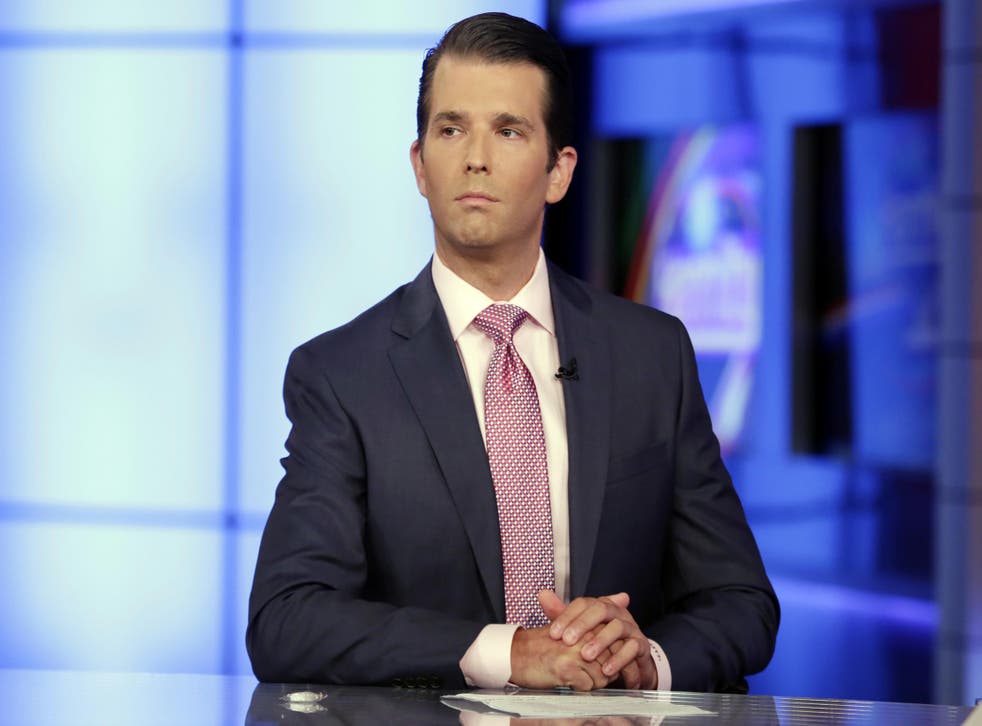 Donald Trump's eldest son isn't enjoying being the son of a US president.
Donald Trump Jr — who has been at the centre of a scandal stemming from a meeting he had to get dirt on Hillary Clinton from Russian sources during the 2016 election — wants the next four years to be over, a source in the Trump family's inner circle told People magazine. Mr Trump Jr is currently running the Trump business empire.
"Don can't do any deals, because he'll be overly scrutinised. He just goes to work every day and is miserable," that source said.
Mr Trump Jr has been under scrutiny after it was revealed that he had a meeting in Trump Tower with Russian lawyer Natalia Veselnitskaya, and a Russian-American lobbyist who was previously a Soviet military officer. The meeting was set up by a British publicist, who indicated in the emails that the Russian government was keen on helping the Trump campaign.
In addition to that drama, the president's decision to put his children in charge of the family business instead of putting it in a blind trust has attracted scrutiny from detractors who are concerned that the President may use his public office to enrich himself and his business.
The White House has defended Mr Trump Jr's decision to take that meeting, which also included Mr Trump's son-in-law Jared Kushner and former campaign manager Paul Manafort. Mr Trump Jr has also pushed back on any allegations of wrongdoing, saying that the meeting didn't end up providing any real damaging information, and that most people in a political campaign would have taken similar meetings.
The biggest names involved in the Trump-Russia investigation

Show all 17
Critics of the Trump Jr meeting say that it is proof that members of Mr Trump's inner circle — including his son — worked to collude with Russia in its attempt to influence the 2016 election. Mr Trump's predecessor Barack Obama placed sanctions on Russia for meddling in the election, and alleged that Russia was responsible for cyber attacks on the American election apparatus.
The 2016 election did see frequent attacks from outside sources, and most of those seemed to target or hurt Ms Clinton's campaign and Democrats. That included the hacking of Ms Clinton's campaign chairman's private email, and the hacking of Democratic National Committee email servers.
Register for free to continue reading
Registration is a free and easy way to support our truly independent journalism
By registering, you will also enjoy limited access to Premium articles, exclusive newsletters, commenting, and virtual events with our leading journalists
Already have an account? sign in
Join our new commenting forum
Join thought-provoking conversations, follow other Independent readers and see their replies