Senate intelligence committee wants to question Donald Trump Jr over his meeting with a Kremlin-linked lawyer
The developments come days after the US President met with Russian leader Vladimir Putin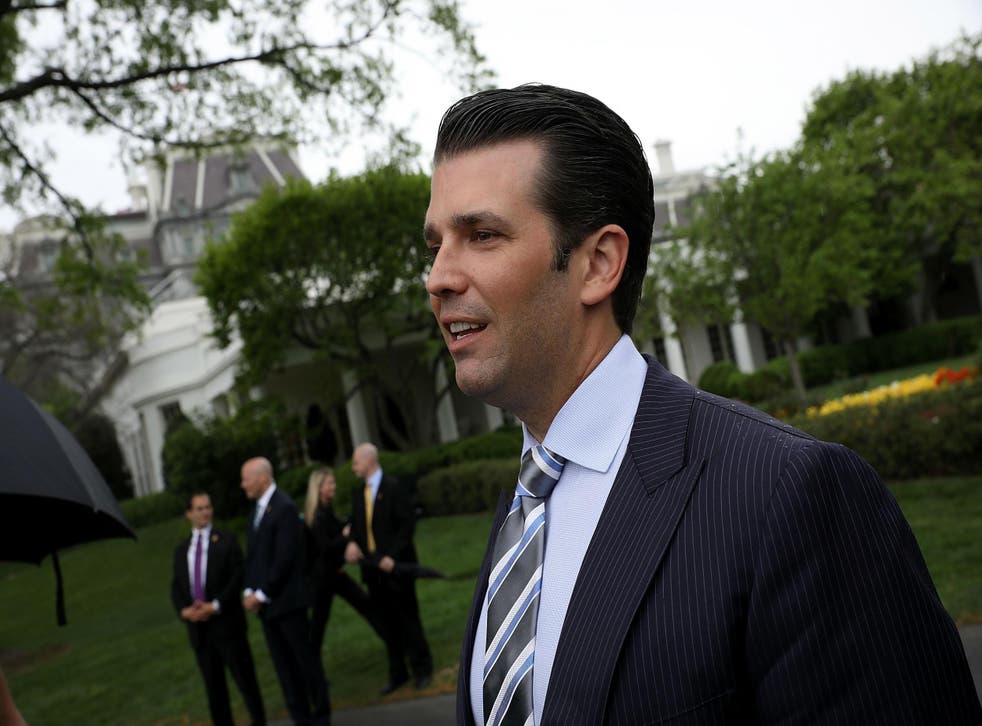 Senate investigators have said they want to question Donald Trump Jr over his meeting with a Kremlin-linked lawyer, as the President's eldest son hired a lawyer and said he willing to cooperate.
Senator Mark Warner, the most senior Democrat on the Senate Intelligence Committee, told reporters he "absolutely" wanted to speak to Mr Trump Jr, after it was revealed he met with a Russian lawyer, Natalia Veselnitskaya in June 2016 during his father's presidential campaign.
Mr Warner said it was "remarkable" that the meeting had not previously come to light and called it the "first time that the public has seen clear evidence of senior-level members of the Trump campaign meeting with Russians".
Mr Trump Jr said he took the meeting after he was told she had damaging information about Hillary Clinton, having initially issued a statement that did not include that fact. He said the meeting over the information "went nowhere" but that "he had to listen" had come to nothing and had switched the conversation to adoption of Russian children and her effort to overturn the Magnitsky Act, an American law that blacklists suspected Russian human rights abusers.
"I was asked to have a meeting by an acquaintance I knew from the 2013 Miss Universe pageant with an individual who I was told might have information helpful to the campaign. I was not told her name prior to the meeting," he said in a statement.
"We had a meeting in June 2016. After pleasantries were exchanged, the woman stated that she had information that individuals connected to Russia were funding the Democratic National Committee and supporting [Hillary] Clinton."
He added: "Her statements were vague, ambiguous and made no sense. No details or supporting information was provided or even offered. It quickly became clear that she had no meaningful information."
Trump Jr 'potentially admitted a crime' in statement on Russia meeting
Mr Warner said that the reporting over the meeting seemed to fit a "pattern of convenient forgetfulness" from Trump administration and campaign officials over the meetings they have taken.
"What continues to bother me is this pattern, and I think we're up to 20-plus examples, of senior-level officials, and even you could argue the president himself, continues to deny they've had any contacts with Russians until the proof comes out that there were contacts, multiple contacts," Mr Warner added. "And then senior officials recant or amend their filings … a rational person would ask, why didn't they remember these meetings? I think these meetings were pretty important."
President Donald Trump's son-in-law, Jared Kushner, and Mr Trump's then-campaign chairman, Paul Manafort, also attended, the New York Times said, in seemingly the first confirmed private meeting of members of Mr Trump's inner circle with a Russian national during the campaign.
Legal experts said that Mr Trump Jr may have admitted to committing a crime in his statement. Matthew Miller, a security analyst for MSNBC and former spokesman for the Department of Justice, said it was a crime to solicit or accept anything of value from a foreign national during a campaign.
"In other contexts, in bribery cases and extortion cases thing of value doesn't have to be money. It has to be something tangible, but not money. It could be potentially accepting information. He's potentially confessing in his statement to committing a crime," he said.
Mr Trump Jr, who with his brother Eric, head the Trump Organisation and oversees the President's business interests, had hired a New York-based lawyer, Alan Futerfas, to represent him.
"I look forward to assisting Donald Jr. and, quite frankly, there is nothing to all of the media buzz about the June 9th, 2016 meeting. That will be proven to be the case," Mr Futerfas said.
He is just the latest figure associated with the Trump campaign and the White House to retain legal counsel, as special prosecutor Robert Mueller probes possible collusion between the campaign and Russia'a alleged effort to interfere with the 2016 US election. Both the President and the Vice President have their own criminal defence lawyers, but both Mr Trump and officials in his administration have denied any potential collusion. The Kremlin has also denied meddling in the election.
The biggest names involved in the Trump-Russia investigation

Show all 17
Mr Warner said he wanted to speak to anyone who was present at the meeting with Ms Veselnitskaya. Republican senator Susan Collins, who sits on the committee has said she also wanted Mr Trump Jr to be questioned by senators. "Our intelligence committee needs to interview him and others who attended the meeting," she said.
The meeting between Mr Trump Jr and Ms Veselnitskaya was brokered by British music publicist, Rob Goldstone. Mr Goldstone said he set up the meeting at the request of Emin Agalarov, a Russian pop star whose Kremlin-connected family has done business with President Trump in the past. "The lawyer had apparently stated she had some information regarding illegal campaign contributions to the DNC which she believed Mr. Trump Jr. might find important," he told The Washington Post.
Ms Veselnitskaya told the New York Times she was not representing the Russian government and that nothing to do with the presidential campaign was discussed. However, the lawyer has been linked to a Washington DC firm, Fusion GPS, that was involved in the production of a dossier of unproven allegations about Mr Trump that the New York tycoon has dismissed as fake news.
Last summer, the company, which was first hired by Republican rivals of Mr Trump and then supporters of Ms Clinton, retained former British spy Christopher Steele, to help in collection of "oppo research".
Among the unverified information that Mr Steele provided for Fusion and which which was later shared with US intelligence and senior politicians, among them then-President Barack Obama, was that Mr Trump had been compromised by Russia's FSB spy agency during a trip to Moscow in 2013.
The developments come days after the US President met with Russian leader Vladimir Putin. The Trump administration says Mr Trump pressed Mr Putin on Russia's alleged cyber-meddling.
Talking about the meeting taken by Mr Trump Jr, White House Deputy Press Secretary Sarah Sanders said there was nothing inappropriate about the meeting with Ms Veselnitskaya. "Don Junior took a very short meeting from which there was absolutely no follow-up," Ms Sanders said. She added that President Trump only learned of the meeting "in the last couple of days".
But Republican Senator Pat Toomey said it was not appropriate for presidential campaigns to solicit or accept negative information about a rival from a Russian.
"It encourages countries to come in and undermine our democratic process. And these countries have great capabilities to do that sort of thing," he told MSNBC.
Join our new commenting forum
Join thought-provoking conversations, follow other Independent readers and see their replies