White House staff may bar Trump from his Mar-a-Lago dining room to keep him away from guests
Chief of Staff John Kelly is said to be developing a strategy for the upcoming season in Palm Beach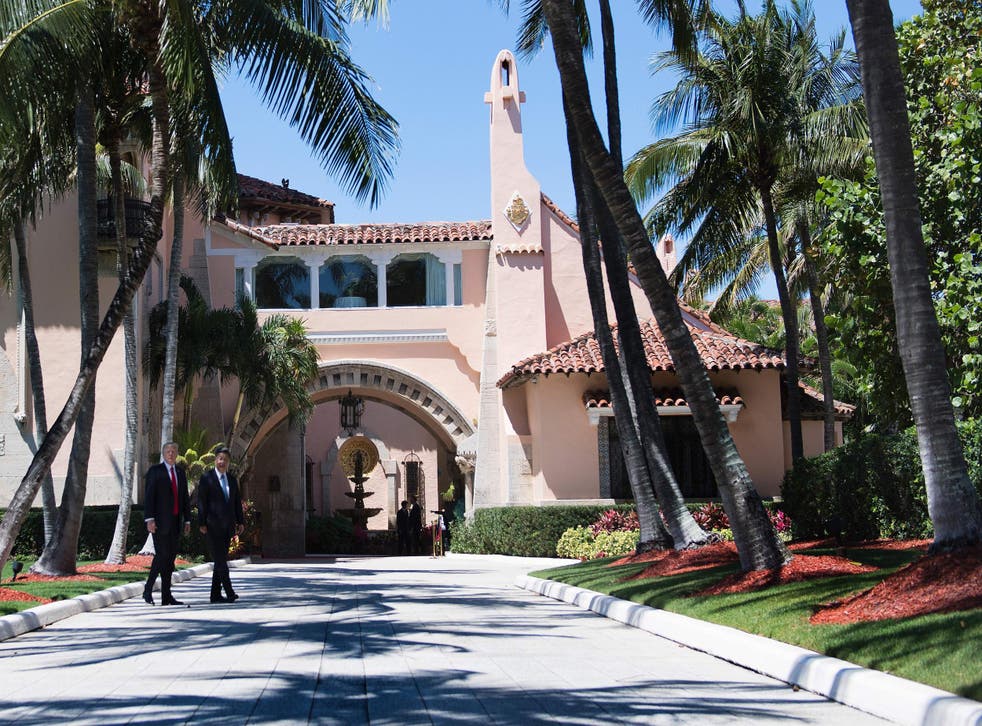 Over the course of his presidency, Donald Trump has used his home in South Florida as a briefing room, a negotiating table, and even a "winter White House". Now, sources say his staff have developed a strategy for the upcoming season at Mar-a-Lago: Keep the President away from the guests.
John Kelly – the Chief of Staff credited with controlling some of the President's impulses – is hoping to keep Mr Trump "out of the dining room" at Mar-a-Lago when he returns, sources briefed on the plan told Vanity Fair.
Once a social hot-spot for the Palm Beach crowd, Mar-a-Lago has become a destination for world leaders during Mr Trump's presidency. In February, Mr Trump and Japanese Prime Minister Shinzo Abe discussed a North Korean missile test from a table in the estate's public dining room.
In the same week, a Mar-a-Lago guest posted a selfie on Facebook with a person he claimed was carrying the nuclear football.
"This is Rick...He carries the 'football'," the guest wrote. "...It functions as a mobile hub in the strategic defence system of the United States. It is held by an aide-de-camp. and Rick is the Man."
In April, Mr Trump held an unannounced meeting with Former Colombian President Andres Pastrana at Mar-a-Lago, of which then-Press Secretary Sean Spicer seemed completely unaware.
Donald Trump's least presidential moments so far...

Show all 30
Mr Kelly's crack-down on the Mar-a-Lago dining room is part of a larger strategy to control the President, which aides say he has done much better than his predecessor, Reince Priebus. The Chief of Staff has reportedly cut down on the people with direct phone access to the President, and limited spontaneous visits to the Oval Office.
But the domineering style is also said to be wearing on Mr Trump, who enjoys consulting with – and occasionally complaining to – his friends outside the White House.
In fact, sources tell the Washington Post that the President is becoming so annoyed with Mr Kelly that he may be looking to remove him. Investor Thomas Barrack Jr, who chaired Mr Trump's inauguration, has been floated as a replacement.
Alec Baldwin back as Trump to highlight all the desicions made at Mar-A-Lago
The President has given no public indication of unhappiness, however, telling reporters Mr Kelly is "one of the best people I've ever worked with".
"He's doing an incredible job, and he told me for the last two months he loves it more than anything he's ever done," Mr Trump said over the weekend. "...He will be here, in my opinion, for the entire seven remaining years."
But according to those close to Mr Kelly, the feeling may not be mutual.
"He doesn't love this job," one source told Vanity Fair. "He's doing it as a duty for the country."
Join our new commenting forum
Join thought-provoking conversations, follow other Independent readers and see their replies