As it happened
ended
1602365056
Trump news: President attacks 'unscientific lockdowns' and slams Biden in White House speech
Follow the latest updates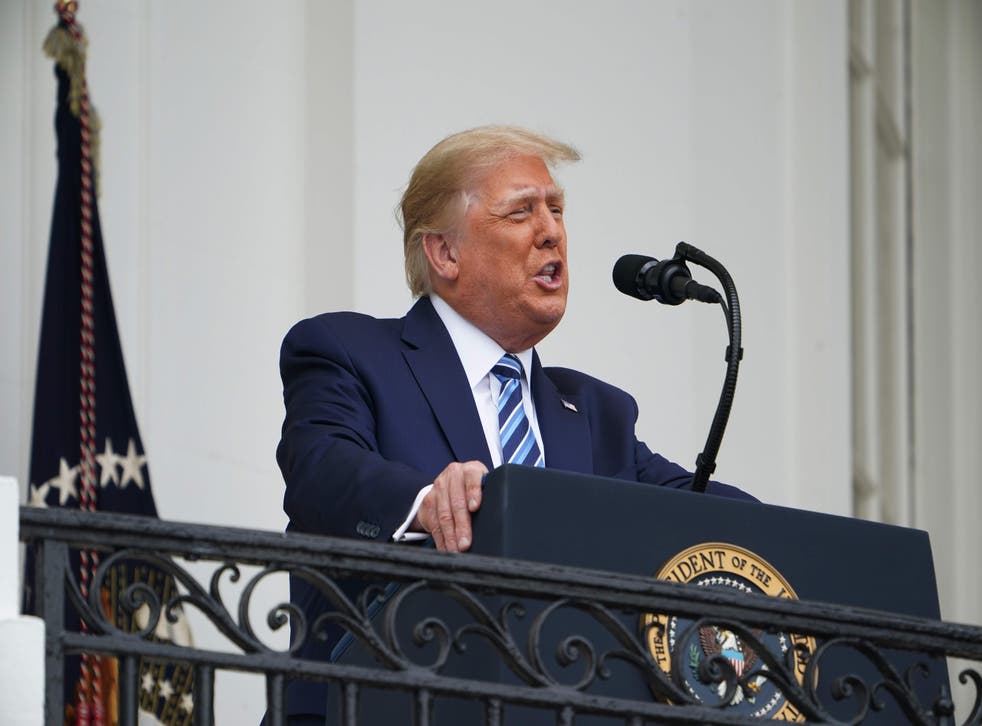 President Donald Trump delivered a major speech from the White House balcony after inviting a reported 2,000 attendees to his first in-person event since it was revealed he tested positive for Covid-19. 
His second TV debate with rival Joe Biden has been cancelled, however, after the president refused to participate.
Meanwhile, Dr Deborah Birx, one of the nation's leading physicians, said Covid-19 was now spreading among Americans at social events — including family gatherings — where people are "taking their mask off and letting down their guard".
Check out The Independent's coverage below:
1602324821
Good morning and welcome to The Independent's rolling coverage of the Trump administration.
Chiara Giordano
10 October 2020 11:13
1602325033
President prepares balcony address
Donald Trump is taking his first steps towards resuming in-person election campaigning today, when he is expected to make remarks around a "law and order" theme from a White House balcony to hundreds of supporters.
The president has been sidelined for more than week since his Covid-19 diagnosis during a critical juncture in campaigning for the 3 November election.
He has yet to be certified as virus-free by his medical team and questions remain about whether he is still contagious, but he was cleared to resume public engagements as of today.
And on Monday, Trump is planning a campaign rally in central Florida, a must-win state for his hopes of a second term.
Chiara Giordano
10 October 2020 11:17
1602325480
A debate next week between Donald Trump and his presidential election opponent Joe Biden has been cancelled because Trump refused to participate.
The body that oversees presidential debates said the match-up between Trump and Biden, the Democratic candidate, scheduled for 15 October, had been formally cancelled.
Trump refused to participate in what was supposed to be the second of three debates with Biden after the Commission on Presidential Debates switched it to a virtual contest in the wake of the president's illness.
Chiara Giordano
10 October 2020 11:24
1602326683
Donald Trump said he was feeling "really, really strong" in his first on-camera interview since testing positive for Covid-19 last week.
Speaking to Dr Marc Siegel on Fox's Tucker Carlson Tonight , the president said he was "medication-free" as of Friday and feeling "strong".
In the interview — which took place shortly after the second presidential debate was cancelled — Mr Trump also said he had been retested for the coronavirus but was not clear whether he had learned the result. He did however claim to know he was likely free from the virus.
President praised trial drug in interview with Fox doctor
Chiara Giordano
10 October 2020 11:44
1602328485
Biden criticises campaign events
Trump's rival Joe Biden has sharply criticised the president's decision to resume campaigning.
He told reporters in Paradise, Nevada: "Good luck. I wouldn't show up unless you have a mask and can distance."
A source familiar with the planning for the White House event today said all attendees will be expected to wear masks.
People at Trump's rally in central Florida on Monday will be given temperature checks, masks that they will be encouraged to wear and access to hand sanitiser, the campaign said.
Biden will today travel to the city of Erie, in northwestern Pennsylvania, a state that Trump narrowly took over Democrat Hillary Clinton in the 2016 election.
Chiara Giordano
10 October 2020 12:14
1602329739
In his first on-camera interview following his hospitalisation from the coronavirus, Donald Trump said he didn't know how Covid-19 spread at the White House, where more than a dozen people have tested positive for the virus.
Health officials claim a Rose Garden event announcing the president's US Supreme Court nominee on 26 September was a likely "super-spreader" event, after his inner circle, including First Lady Melania Trump, his press secretary, campaign officials and chief aides, tested positive in the week that followed.
President and aides have not answered when he last received a negative test
Chiara Giordano
10 October 2020 12:35
1602330941
Hillary Clinton says there is no comparison between her 2016 campaign health issues, when she was diagnosed with pneumonia, and Donald Trump testing positive for Covid-19.
"It's apples and oranges", according to Ms Clinton, who was caught on camera stumbling and appeared to almost faint at a 9/11 memorial ceremony in New York City.
Former White House candidate calls cases 'apples and oranges'
Chiara Giordano
10 October 2020 12:55
1602332441
What's it like inside Donald Trump's head? We found out on Friday as the president took listeners of a conservative radio show on a two-hour ride of grievances, gripes and gregariousness.
'Mr President, two hours. I know you've got a jam-packed day,' radio host said as he gave Trump the hook. Only it sure didn't seem that way
Chiara Giordano
10 October 2020 13:20
1602335246
Hours after the FBI revealed a group of anti-government vigilantes had plotted to kidnap her, Gretchen Whitmer, the Democratic governor of Michigan, made it clear she blamed Trump for being complicit by "giving comfort to those who spread fear and hatred and division".
While she risked politicising the moment, the governor said she didn't think twice about calling out the president, telling the Associated Press: "I am raising two daughters who I want to be bold, too, you know, and to speak truth to power."
Whitmer's speech had the expected impact. Rather than express concern for her safety or health, Trump said she had "done a terrible job as governor" and "rather than say thank you, she calls me a white supremacist".
Some Republicans worried Trump's reaction would hurt him in a state he's trying desperately to win on 3 November.
Chiara Giordano
10 October 2020 14:07
1602337516
Former New Jersey governor Chris Christie has been released from hospital following Covid-19 treatment.
Chiara Giordano
10 October 2020 14:45
Register for free to continue reading
Registration is a free and easy way to support our truly independent journalism
By registering, you will also enjoy limited access to Premium articles, exclusive newsletters, commenting, and virtual events with our leading journalists
Already have an account? sign in
Register for free to continue reading
Registration is a free and easy way to support our truly independent journalism
By registering, you will also enjoy limited access to Premium articles, exclusive newsletters, commenting, and virtual events with our leading journalists
Already have an account? sign in
Join our new commenting forum
Join thought-provoking conversations, follow other Independent readers and see their replies