Donald Trump says 'the era of patience is over' with North Korea
'The North Korean dictatorship has no regard for the safety and security of its people,' says Mr Trump
Alexandra Wilts
Washington DC
Friday 30 June 2017 18:28 Comments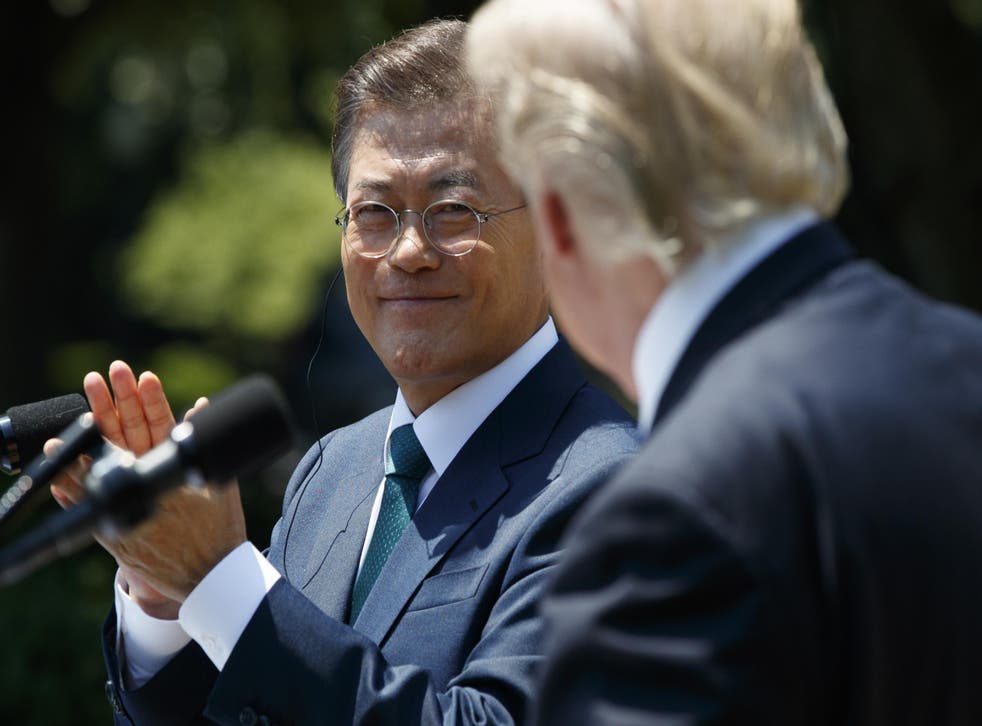 Donald Trump has asserted that "the era of patience is over" with North Korea, pledging a "determined response" to the threat posed by the ruling regime's nuclear weapons programme and expressing fury over its systematic and widespread human rights abuses.
Standing next to South Korean President Moon Jae-in in the White House Rose Garden, Mr Trump said "the North Korean dictatorship has no regard for the safety and security of its people or its neighbours. And has no respect for human life – and that's been proven over and over again."
The latest sign of brutality from North Korea, Mr Trump said, resulted in the death of American student Otto Warmbier, who was released back to the US earlier this month after having been detained by the regime for more than a year.
Mr Warmbier was transferred to the US in a coma, but had showed signs of severe neurological decline.
Signalling an urgency to confront North Korea on its efforts to build a nuclear programme, Mr Trump emphasised that "the era of strategic patience with the North Korean regime has failed".
"Frankly, that patience is over," Mr Trump added.
Making clear that the US would always defend itself, Mr Trump said his administration is "working closely with South Korea and Japan, as well as partners around the world, on a range of diplomatic, security and economic measures to protect our allies and our own citizens from this menace known as North Korea".
Mr Moon echoed these sentiments, saying that "threat and provocations by the North will be met by a stern response."
Mr Moon said he and Mr Trump had made the North Korean issue a top priority and urged Pyongyang to return promptly to talks.
"President Trump and I agreed that only strong security can bring about genuine peace," Mr Moon said.
"The gravest challenge confronting us is the nuclear challenge," Mr Moon added. "Our two leaders will employ both sanctions and dialogue in a phased and comprehensive approach."
North Korea Prison Camps

Show all 7
South Korea had so far taken more of a pro-engagement stance toward its northern neighbour – a strategy that was likely to clash with the US's desire to crank up sanctions against the regime.
North Korea currently has executed five nuclear tests and a series of missile tests, defying UN Security Council and unilateral resolutions. In January, North Korean leader Kim Jong-un said the country had entered the final stage of preparation for a test-launch of an intercontinental ballistic missile, which would have the capability of reaching the US.
Neither Mr Trump nor Mr Moon described a specific path forward on how to deal with North Korea.
On the issue of trade, Mr Trump has said the US is renegotiating a trade deal with South Korea "and hopefully it will be an equitable deal – it will be a fair deal to both parties".
During a meeting in the White House Cabinet Room, Secretary of Commerce Wilbur Ross said the trade imbalance between the US and South Korea has more than doubled since the US-Korea Free Trade Agreement went into effect in 2012.
He said Korean standards in certain industries have restricted the access US companies have to the Korean market, particularly in the automotive industry.
"We talked last night and today about some tough trade issues like autos and steel," Mr Trump said in the Rose Garden. "I was encouraged by President Moon's assurances that he is working to create a level playing field so American workers and businesses and especially automakers have a fair shake."
Mr Trump also stressed the need to ensure equitable sharing of costs for defence, returning to a theme he had raised during his campaign and with other allies, including members of Nato and Japan.
Even though the US President emphasised this point in his remarks, a senior US official during a briefing said South Korea was in many respects a "model ally" given its spending of 2.7 per cent of GDP on defence.
"Burden-sharing is always going to be part of the conversation with our allies. President Trump has made that clear. But we shouldn't view South Korea as somehow laggard on that front," said the official, who briefed reporters on condition of anonymity.
During his joint statement with Mr Trump, Mr Moon said he and the US leader had "candid and lengthy" talks and that the meetings had been a great opportunity "to further trust and friendship".
He said Seoul would strive to strengthen joint defence capabilities and pursue defence reform to build up its own capacity to defend itself.
Register for free to continue reading
Registration is a free and easy way to support our truly independent journalism
By registering, you will also enjoy limited access to Premium articles, exclusive newsletters, commenting, and virtual events with our leading journalists
Already have an account? sign in
Join our new commenting forum
Join thought-provoking conversations, follow other Independent readers and see their replies