Trump promises to lower prescription drug prices - with proposals to come within weeks
'You'll be seeing drug prices falling very substantially in the not so distant future,' Trump says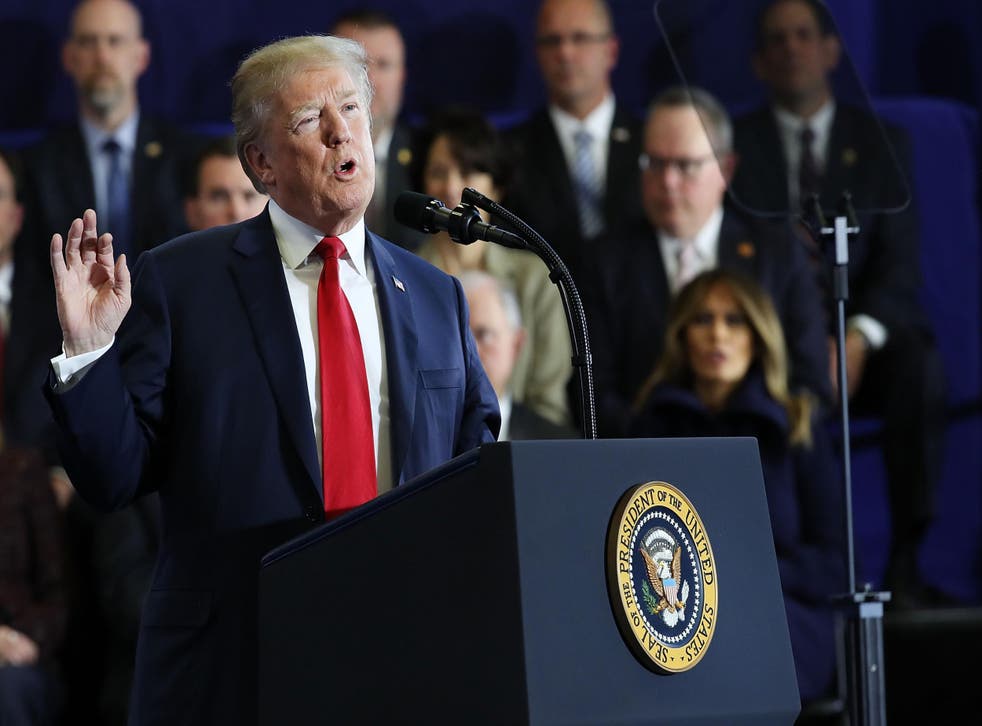 Donald Trump has once again promised to lower the cost of prescription drugs, this time saying he will roll out proposals to bring down prices in the next month.
The president spoke out alongside Health and Human Services Secretary Alex Azar during a brief stop in New Hampshire to discuss the opioid crisis.
"If you compare our drug prices to other countries in the world, in some cases it's many times higher for the exact same pill or whatever it is, in the exact same package made in the exact same plant," Mr Trump said. "We're going to change that."
Mr Azar promised he would soon debut a "whole slate" of proposals focused on decreasing the price of prescription drugs and bringing discounts from "the middlemen" down to consumers.
The secretary did not lay out any concrete proposals, but praised UnitedHealthcare's recent decision to pass the discounts it receives from pharmaceutical companies directly to consumers.
Mr Trump also did mention any specific policies, but said: "You'll be seeing drug prices falling very substantially in the not so distant future, and it's going to be beautiful."
Trump: Justice Department looking at bringing 'major litigation' against drug companies
The president also repeated some of his early criticisms of pharmaceutical companies, who he has previously claimed were "getting away with murder" by keep drug prices high.
The comments distinguished him from his Republican counterparts in the 2016 primary, when most candidates avoided casting blame on the powerful manufacturers.
"We pay as a country so much more for drugs because of the drugs lobbies and other reasons, and the complexity of distribution, which is basically another term for saying, 'How do we get more money'," Mr Trump said on Monday.
Donald Trump's first year: in pictures

Show all 29
Despite the tough talk, however, Mr Trump has done little to advance the issue since taking office. A promised executive order on drug prices never materialised, even as manufacturers raised the prices on dozens of drugs at the beginning of this year. Mr Trump met with several top pharmaceutical officials during his first month in office, and even seated two such executives at his table during the World Economic Forum in Davos.
The president has also filled the executive branch with several people tied to the pharmaceutical industry – including Mr Azar, the former president of the US arm of pharmaceutical company Eli Lilly and Co. The price of drugs used to treat diabetes, osteoporosis, heart disease, and Attention Deficit Hyperactivity Disorder more than doubled under Mr Azar's tenure.
Mr Trump noted his secretary's previous job on Monday, joking with the audience: "Who knows better than the guy running the drug company?"
Join our new commenting forum
Join thought-provoking conversations, follow other Independent readers and see their replies