Trump says Puerto Rico should be 'proud' of hurricane death toll: 'Look at a real catastrophe like Katrina'
The President addresses local officials in his first visit to the island since Hurricane Maria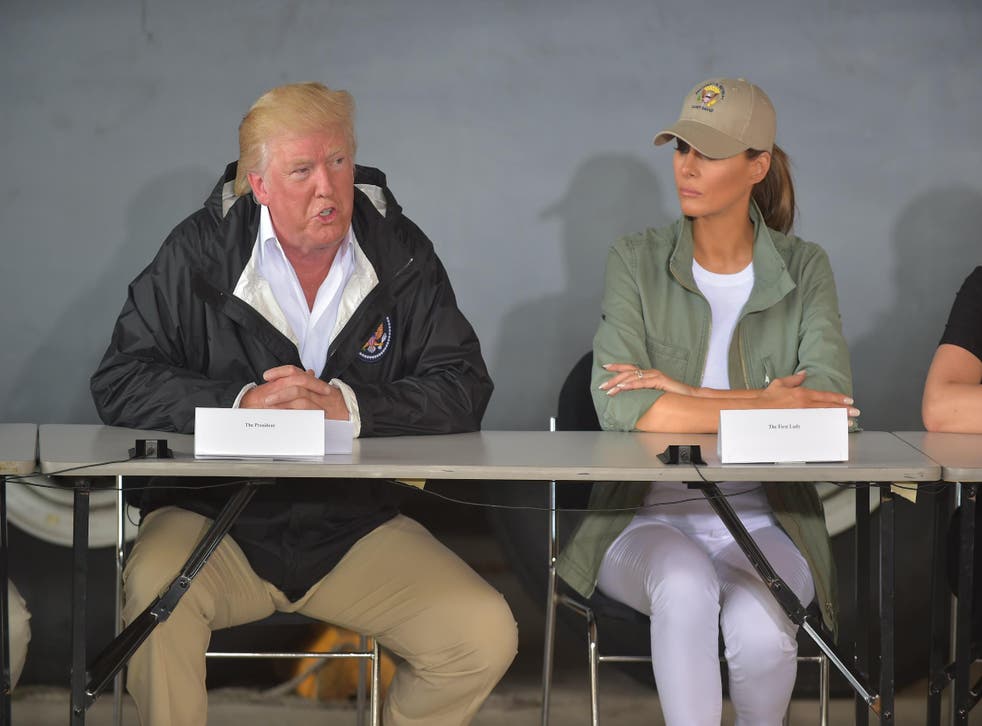 Donald Trump has said Puerto Rico should be "very proud" of the death toll from Hurricane Maria, contrasting it to the "thousands" of people who died in Hurricane Katrina.
At a meeting with Puerto Rican officials, Mr Trump encouraged those gathered to "look at a real catastrophe like Katrina" for perspective. He then asked Puerto Rico Governor Ricardo Rosselló how many people had died in the storm.
"Sixteen," the governor replied.
"Sixteen versus literally thousands of people," Mr Trump said. "You can be very proud. Everybody around this table, and everybody watching, can really be very proud of what's taken place in Puerto Rico."
Hurricane Katrina struck much of the American south in 2005, killing almost 2,000 people. It is considered one of the five deadliest hurricanes in US history.
The President met with officials during his first visit to Puerto Rico since Hurricane Maria hit, nearly two weeks ago. He announced the visit last week, in the wake of criticism over his administration's handling of the crisis.
Trump says Puerto Rico's disaster has 'thrown our budget a little out of whack'
Nearly half of all Puerto Ricans remain without power, and many have limited access to food and water. Oxfam International – a global organisation working to end world poverty – has stepped in to help, citing the US government's "slow and inadequate response".
But Mr Trump has defended his administration, tweeting: "We have done a great job with the almost impossible situation in Puerto Rico."
He has also blamed the media for their "biassed" coverage of the situation. He reminded reporters several times that the island is "surrounded by water," and thus difficult to access.
World news in pictures

Show all 50
Most recently, the President sparred with San Juan Mayor Carmen Yulin Cruz, who took to the airwaves earlier this week to beg for assistance for the island's capital.
"Such poor leadership ability by the Mayor of San Juan, and others in Puerto Rico, who are not able to get their workers to help," Mr Trump tweeted. "They want everything to be done for them when it should be a community effort."
Ms Cruz attended Tuesday's meeting and exchanged pleasantries with the President beforehand, according to reporters present. But while others applauded several times throughout Mr Trump's remarks, the Mayor kept her hands clasped in front of her.
At the meeting, Mr Trump joked that recovery efforts had hampered the federal budget, saying: "I hate to tell you Puerto Rico, but you've thrown our budget a little out of whack, because we have spent a lot of money on Puerto Rico – and that's fine."
He had previously blamed the costly recovery on the island's "broken infrastructure & massive debt," and tweeted ominously about "big decisions" regarding the cost of reconstruction.
"The fact is that Puerto Rico has been destroyed by two hurricanes. Big decisions will have to be made as to the cost of its rebuilding!" he tweeted last week. He did not specifiy to whcih "big decisions" he was referring.
Join our new commenting forum
Join thought-provoking conversations, follow other Independent readers and see their replies