San Juan mayor calls Trump's Puerto Rico trip a 'terrible and abominable' PR stunt
She says he minimised the suffering of Puerto Ricans by comparing the crisis to Katrina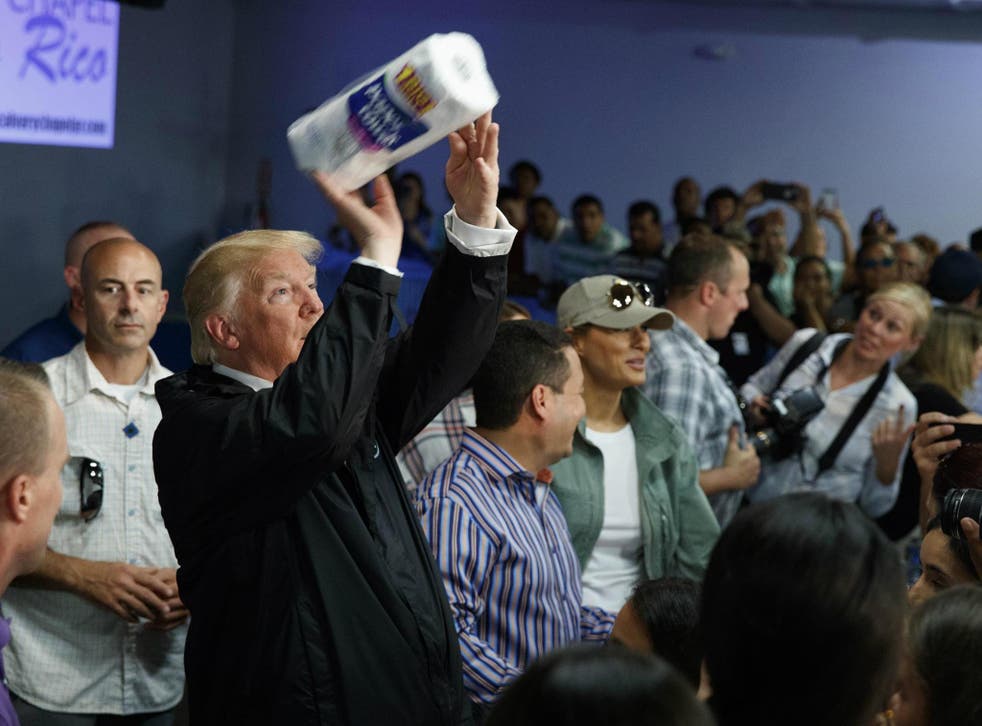 Donald Trump arrived in Puerto Rico to a well staged spectacle of supporters who cheered for him and took selfies as he threw paper towel rolls into the crowd — and the mayor of San Juan says his trip was ridiculous and offensive.
"This was a PR, 17-minute meeting," Carmen Yulín Cruz said during an interview on MSNBC, referring to a meeting before that event when the President called on an assembled group of local and federal officials to praise the emergency response on the island.
"In fact, this terrible and abominable view of him throwing paper towels, and throwing provisions at people, it's — really — it does not embody the spirit of the American nation," Ms Yulín Cruz continued. "That is not the land of the free and the home of the brave, the beacon of our democracy that our people have learned to look up to across the world."
Puerto Rico has been in crisis after Hurricane Maria battered its shores two weeks ago, leaving much of the state without cellular service, without power, without potable water, and with poor access to cash to buy supplies.
Ms Yulín Cruz has repeatedly asked for more of a federal response in national television interviews, provoking the President to barrage her with insults over Twitter. Mr Trump noted several times during his trip to Puerto Rico that the official death toll was only 16, contrasting that with the number of deaths seen after Hurricane Katrina in New Orleans. The death toll was revised to 34 hours later.
"He minimised our suffering here by saying Katrina was a 'real' disaster, sort of implied that this wasn't a disaster because not the many people have died here," Ms Yulín Cruz said. "Well, you know what? They're dying. They don't have the medical resources, they can't get to their dialysis. Their oxygen are starting not to work because they don't have generators — hospitals are collapsing because of their generator situation. The diesel doesn't get to where its supposed to."
Donald Trump's international Presidential trips

Show all 22
More than 1,800 people were killed in 2005 when Hurricane Katrina hit New Orleans and Louisiana, breaking levees that inundated areas with dangerous flooding.
Ms Yulín Cruz did say that meetings with White House staff were productive, and said that it appears that that staff was finally able to see the crisis in Puerto Rico.
The Federal Emergency Management Agency(FEMA) says that they have set up 11 distribution centres in Puerto Rico to help facilitate relief efforts. There are more than 13,000 federal staff on the ground in Puerto Rico, according to relief updates provided by the agency.
FEMA's administrator, Brock Long, said over the weekend that recovery efforts will hinge on good communication and coordinated efforts between local and national governments.
"The bottom line is we've had a joint field office established for numerous days in San Juan, and what we need is for the good mayor to make her way to the joint field office and get plugged into what's going on," Mr Long said when asked by CNN about Mr Trump's tweets criticising Ms Yulín Cruz,
Ms Yulín Cruz has said that she works out of a building with two FEMA envoys, and that she feels that there is sufficient cooperation.
Join our new commenting forum
Join thought-provoking conversations, follow other Independent readers and see their replies