US elections 2016: Trump rally in California leads to violent clashes
Supporters of the presumptive Republican nominee were attacked by anti-Trump protesters outside the venue in San Jose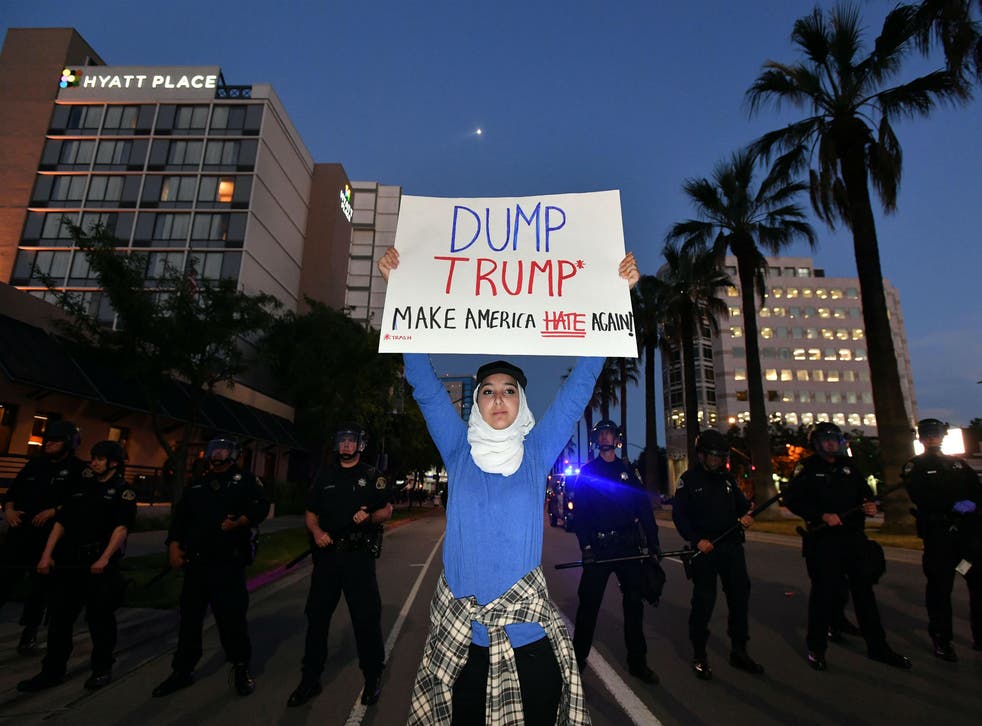 Violence once again marred the US presidential election last night, as protesters clashed with supporters of Donald Trump outside the presumptive Republican nominee's latest rally in San Jose, California.
What began as a peaceful protest rapidly became heated once Mr Trump arrived to deliver his stump speech, and several scuffles and violent incidents were caught on video as Trump supporters exited the rally.
One woman was cornered by anti-Trump protesters outside the venue and faced a fusillade of eggs and bottles.
Another man was punched in the head and left bleeding as he left the rally carrying a Trump sign.
Police in riot gear reportedly held back from intervening for some time, until finally stepping in to push back protesters and making several arrests.
It was not the first time one of Mr Trump's California campaign stops has ended with public disorder. Representatives of both Democratic candidates quickly denounced the unrest. John Podesta, the chair of Hillary Clinton's campaign, tweeted that "Violence against supporters of any candidate has no place in this election."
Bernie Sanders's spokesman Mike Casca wrote: "We cannot stop Trump's violent rhetoric with violence – only peaceful protest in a voting booth can do that."
The California presidential primaries take place next Tuesday, 7 June, the final day of the 2016 primary season. Mr Trump is now running unopposed for the Republican nomination, but Ms Clinton and Mr Sanders are still locked in a tight battle for the Golden State.
Join our new commenting forum
Join thought-provoking conversations, follow other Independent readers and see their replies