Trump accuses Mueller team of having 'unrevealed conflicts of interest'
Mr Mueller, a Republican, has been appointed to positions in both Democratic and GOP administrations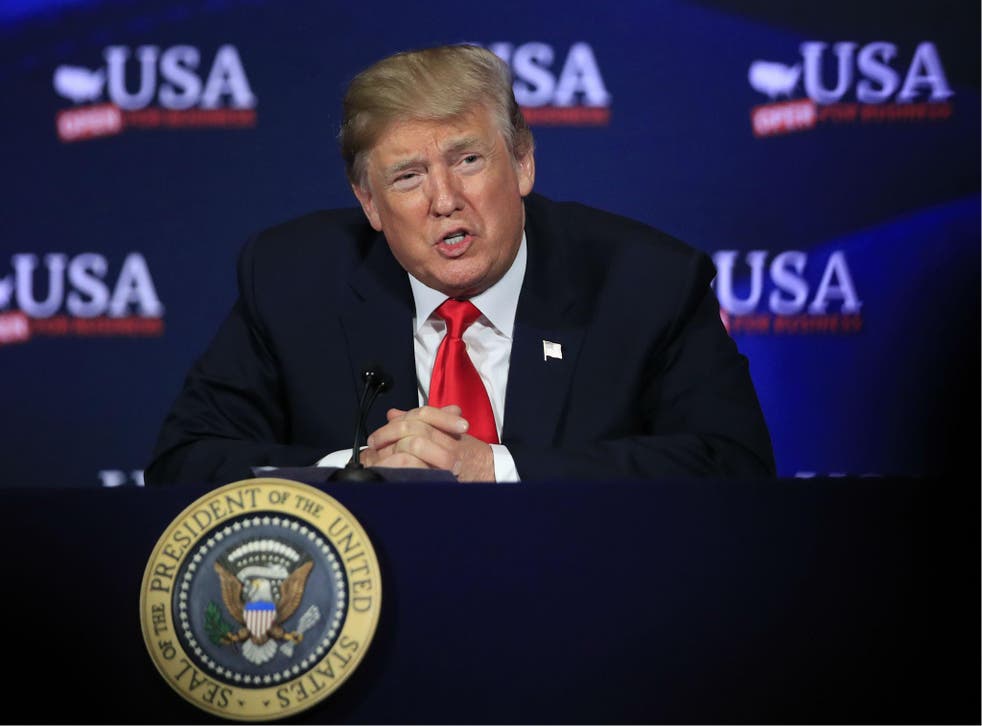 President Donald Trump says that Special Counsel Robert Mueller's team has "unrevealed conflicts of interest", in his latest attack on the attorneys trying to get to the bottom of Russia's meddling in the 2016 election and any possible connections to the Trump campaign.
Mr Trump made the claim in a tweet Monday morning, although he offered no evidence about what any such conflicts might be, while claiming he was "fighting back" against the "phony" investigation.
"The 13 Angry Democrats in charge of the Russian Witch Hunt are starting to find out that there is a Court System in place that actually protects people from injustice … and just wait 'till the Courts get to see your unrevealed Conflicts of Interest!" Mr Trump's tweet reads.
The tweet followed an earlier statement on the social media website in which he once again called the probe — which he has frequently said is biased against him and his administration — a "witch hunt".
"The Russia Witch Hunt is rapidly losing credibility. House Intelligence Committee found No Collusion, Coordination or anything else with Russia," Mr Trump's tweet reads. "So now the Probe says OK, what else is there? How about Obstruction for a made up, phony crime. There is no [obstruction], it's called Fighting Back."
Mr Trump later tweeted to question whether the probe was all a political ploy intended to hurt the GOP this November.
"Is this Phony Witch Hunt going to go on even longer so it wrongfully impacts the Mid-Term Elections, which is what the Democrats always intended? Republicans better get tough and smart before it is too late!" Mr Trump wrote.
The biggest names involved in the Trump-Russia investigation

Show all 17
The statements appear to be referring, at least in part, to earlier disclosures that some members of Mr Mueller's team had sent anti-Trump messages — with the president and some Republicans holding that up as evidence of possible bias. At least one of those agents, Peter Strzok, has been removed from Mr Mueller's team after it was discovered they had been sent.
Mr Trump's reference to "13 Angry Democrats" may be a reference to attorneys on Mr Mueller's team, though a Politifact fact-check notes that just 12 of those team members can be independently identified as registered Democrats. Other members on the team are registered to vote, but have chosen to remain unaffiliated, according to that fact-check.
But Mr Trump's assertion that the special counsel investigation is run by Democrats is at least partially undercut by the fact that Mr Mueller himself is a registered Republican in Washington — and that he was appointed to his post by a Republican member of Mr Trump's administration, Deputy Attorney General Rod Rosenstein.
Mr Mueller was previously appointed to top intelligence community posts during the Republican administrations of Ronald Reagan, George HW Bush, and George W Bush. He has been involved with Democratic administrations, including those of Bill Clinton and Barack Obama.
Mr Rosenstein was nominated to his post by Mr Trump himself, but had previously been appointed to positions in the administrations of the younger Mr Bush, and Mr Obama.
Republicans on the House Intelligence Committee released what they called a final Russia report in April following a year-long probe of Russia's 2016 influence. Mr Trump was cleared of collusion in that report, which also accused the intelligence community of failures in its response to the 2016 election interference.
That report offered little by way of new information, and Democrats released a report of their own, claiming that Republicans in the committee had "shattered [the committee's] commitment by rushing to end its investigation prematurely, even as it continues to investigate President Donald Trump's political opponents, our intelligence agencies, law enforcement, and diplomatic corps, and former members of the Administration of Barack Obama."
Mr Mueller's investigation has handed down indictments against a handful of Trump allies, including former campaign staffer Rick Gates, former National Security Adviser Michael Flynn, former campaign staffer George Papadopoulos, and former campaign chairman Paul Manafort.
Mr Gates has signed a plea deal, and committed to cooperate with Mr Mueller's investigation, while Mr Flynn and Mr Papadopoulos have both pleaded guilty to making false statements to the FBI about their contacts with Russians to investigators.
Mr Manafort is fighting his charges, and has asked the courts to throw out the charges against him, saying that the various charges including money laundering and fraud relate to a period of time before the 2016 campaign, and are therefore outside the scope of Mr Mueller's investigation.
A judge last week indicated that Mr Manafort's lawyer's arguments may have some pull, saying that he doesn't "see what relationship this indictment has with anything the special counsel is authorised to investigate."
The judge has also deemed Mr Manafort a flight risk because he is facing charges that could land him in prison for the rest of his life if convicted.
Join our new commenting forum
Join thought-provoking conversations, follow other Independent readers and see their replies