Trump refuses to say whether Russia definitely meddled in US election
'I think it was Russia and I think it could have been other people in other countries,' Mr Trump said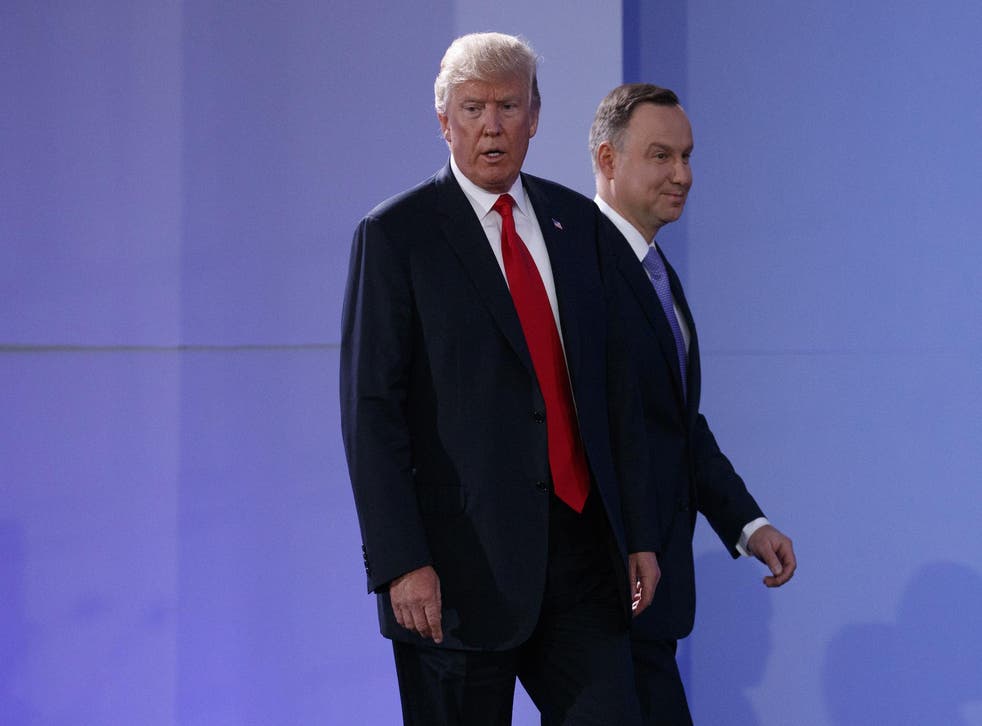 Donald Trump has said "nobody really knows" who interfered in the 2016 US election, contradicting his own intelligence services that have definitively said that Russia is the culprit.
"I think it was Russia and I think it could have been other people in other countries," Mr Trump said during a press conference in Poland. "Nobody really knows. Nobody really knows for sure."
"I remember when I was sitting back listening about Iraq, weapons of mass destruction, how everybody was 100% certain that Iraq has weapons of mass destruction," the US President added. "Guess what? That led to one big mess. They were wrong and it led to a mess."
While Mr Trump continues to doubt whether Russia acted alone in its efforts to influence the presidential race, US intelligence agencies have agreed that Russian President Vladimir Putin directed the cyber attacks.
Mr Putin and Mr Trump are set to formally meet on Friday during the G20 summit in Germany. It is still unclear whether they will discuss Russia's election interference, which Mr Putin has denied was backed by the state.
Standing next to Poland's President Andrzej Duda, Mr Trump blasted his predecessor Barack Obama for his response to the election meddling, saying that the former president did nothing to stop the attacks.
The biggest names involved in the Trump-Russia investigation

Show all 17
Mr Trump – whose campaign officials are currently facing several probes into possible ties to Russia – used to refer to the investigations into Russia's interference as fiction made up by the Democrats to explain away an election they had lost.
"Why did [Mr Obama] do nothing about it? He was told it was Russia by the CIA ... and he did nothing about it," Mr Trump said. "They said he choked. I don't think he choked. Well, I don't think he choked. I think what happened was he thought Hillary Clinton was going to win the election and he said let's not do anything about it. Had he thought the other way, he would have done something about it."
However, Mr Obama said he had told Mr Putin "to cut it out" or "there were going to be serious consequences if he did not." The Obama administration also later expelled 35 Russian diplomats from the US and seized Russian compounds in Maryland and New York state.
The compounds were formally used by the Russian embassy as recreational facilities, but US intelligence agencies have asserted they were bases for espionage.
During their meeting in Germany, Mr Putin intends to demand that Mr Trump return the compounds to Russia, the Kremlin has said.
Join our new commenting forum
Join thought-provoking conversations, follow other Independent readers and see their replies