Trump says US will 'counteract' any attempt by Russia to meddle in the 2018 midterms
'We won't allow that to happen,' the president says of foreign interference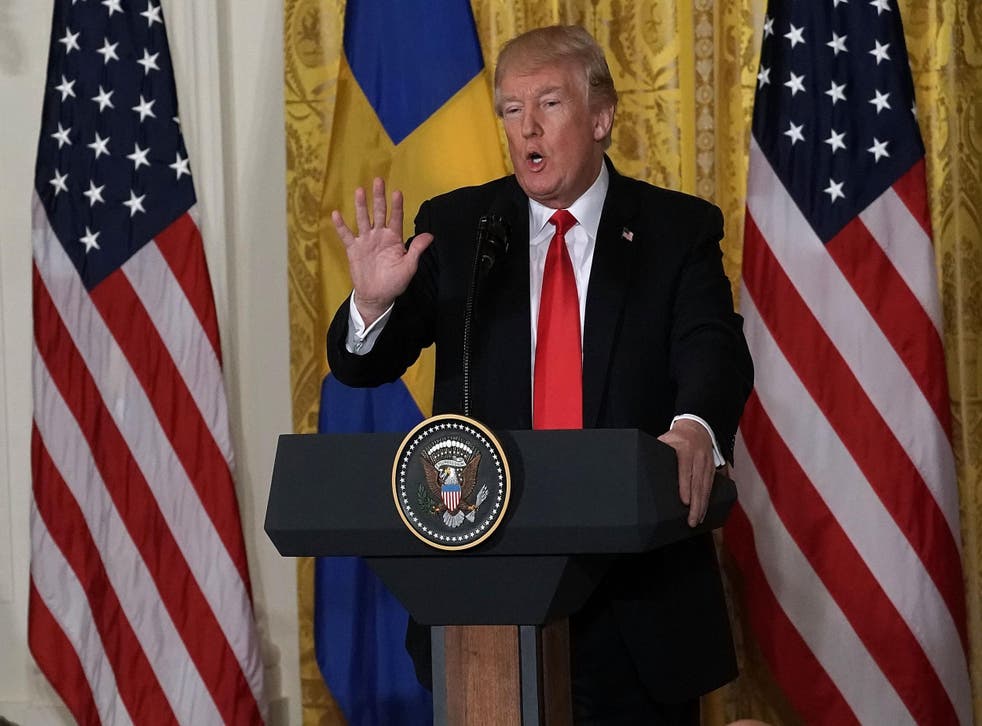 President Donald Trump has claimed he is not worried about Russian meddling in the 2018 midterm elections, on the same day his national intelligence director said it's "highly likely" that Russia will be "doing something" in the midterms.
"The Russians had no impact on our votes," Mr Trump told reporters at a news conference with Swedish Prime Minister Stefan Löfven. "Certainly there was meddling. Probably there was meddling from other countries."
Asked if he was worried about Russian meddling in 2018, Mr Trump responded: "No, because we'll counteract whatever they do."
"We won't allow that to happen. We will counteract it very strongly," he added. "We're doing a very, very deep study and coming out with very strong suggestions on the 2018 election."
That same day, however, director of national intelligence Dan Coats told a Senate committee that it is "highly likely" that Russia will be "doing something" in the 2018 midterms.
"We have not seen evidence of a robust effort yet on the part of Russia, but we know their malign activities continue to exist," he said.
Donald Trump's first year: in pictures

Show all 29
Special counsel Robert Mueller has charged 13 Russian nationals with staging a physical and digital inference campaign in the 2016 US election. According to an indictment, the Russians used social media to "sow discord in the US political system," and some even posed as US citizens to do so.
US officials have said that Moscow also tried to hack into US voting systems, but that they were unable to change any votes. The Department of Homeland Security has also said there is no evidence to suggest that votes had been altered.
Mr Trump has cast doubt on the US intelligence community's findings before, at one point claiming the hackers could have been a single individual "sitting on their bed who weighs 400 pounds". In November, Mr Trump signalled that he believed Russian President Vladimir Putin's denials of meddling in the election. He later walked the comments back after criticism.
The US State Department, meanwhile, has yet to spend any of the $120m it was given to fight foreign election meddling, according to the New York Times. None of the department's 23 analysts tasked with countering Moscow's efforts speak Russian, the paper reported.
Join our new commenting forum
Join thought-provoking conversations, follow other Independent readers and see their replies