John McCain accuses Trump of 'not being up front' about how four US soldiers died in Niger
A dozen US troops and 40 from Niger came under attack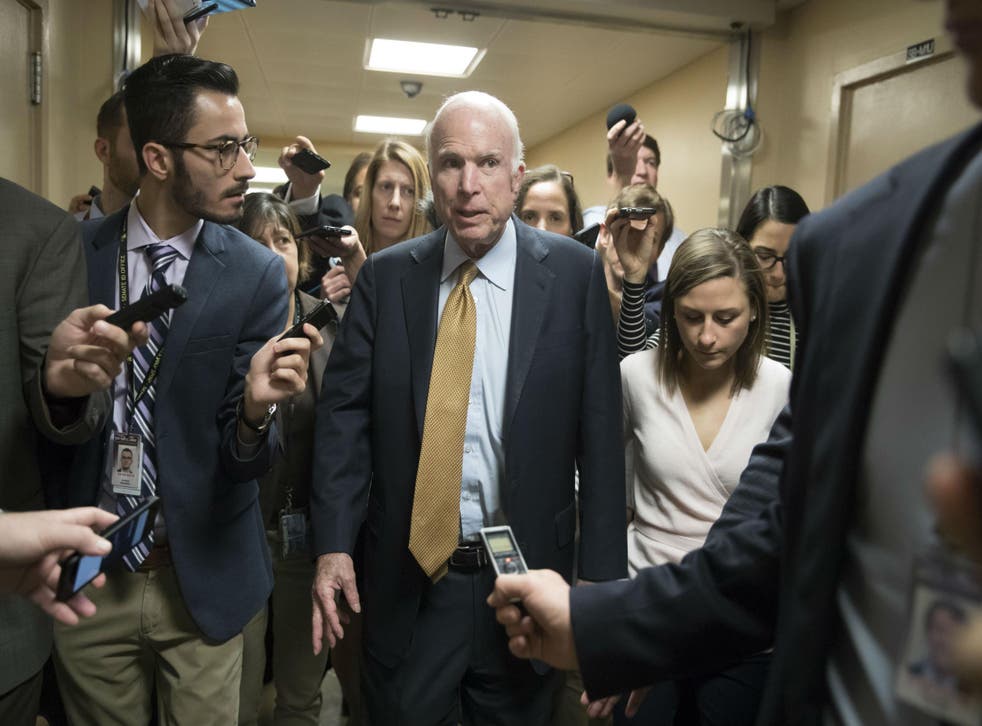 Senior Republican senator John McCain has claimed the Trump administration has not been "up front" about what happened during the fatal incident in Niger that left four US soldiers dead and injured two others.
Amid a row over whether or not the President was disrespectful to the widow of one of the four Green Berets killed in action when he telephoned her, Senator John McCain said the White House needed to provide more information about the operation two weeks ago when US forces were ambushed by Isis-linked militants.
Mr McCain, Chairman of the Senate Armed Services Committee, was asked whether he thought the White House was being up front about what happened.
"No," he told The Hill. Asked if he wanted to see a congressional investigation into the ambush, he added: "Investigations? I want the information that the senate armed services committee deserves and needs to start with. Then you decide whether a quote investigation is needed or not."
The Defence Department is conducing a review of the incident in which up to a dozen US soldiers and 40 Nigerien troops were ambushed during a joint patrol. The Pentagon has blamed Isis-linked militants for the attack.
"I had a better working relationship, as far as information back and forth, with Ash Carter than I do with an old friend of 20 years," Mr McCain added.
Mr Carter was the previous defence secretary for the Obama administration, which Mr McCain often attacked. Asked if he was referring to Defence Secretary James Mattis, Mr McCain said "yes".
Rep. Frederica Wilson: Trump didn't know the name of the fallen serviceman Sgt. David Johnson
"I think they had this idea that once Trump won that we are a unicameral government," he added.
Democratic Senator Jack Reed has also called for more information about the ambush
"I think the administration has to be more clear about our role in Niger and our role in other areas in Africa and other parts of the globe," he told CNN
Donald Trump's least presidential moments so far...

Show all 30
"They have to connect it to a strategy. They should do that. I think that the inattention to this issue is not acceptable."
In the last two days, the details of the raid have become overshadowed over allegations that Mr Trump was insensitive when he telephoned Myesha Johnson, the widow of Sgt David Johnson, one of the American soldiers who was killed.
Democratic Congresswoman Frederica Wilson, who was accompanying the Johnson family, told CNN that during the the five-minute conversation, Mr Trump had showed little tact or diplomacy required for such a situation.
"Basically he said, 'Well I guess he knew what he signed up for, but I guess it still hurts'," said Ms Wilson. "I heard what he said because the phone was on speaker."
Mr Trump has denied Ms Wilson's claim, saying it is fabricated.

Join our new commenting forum
Join thought-provoking conversations, follow other Independent readers and see their replies