Paradise Papers: Trump's commerce secretary 'has business links to sanctioned Russians - and Putin's son-in-law'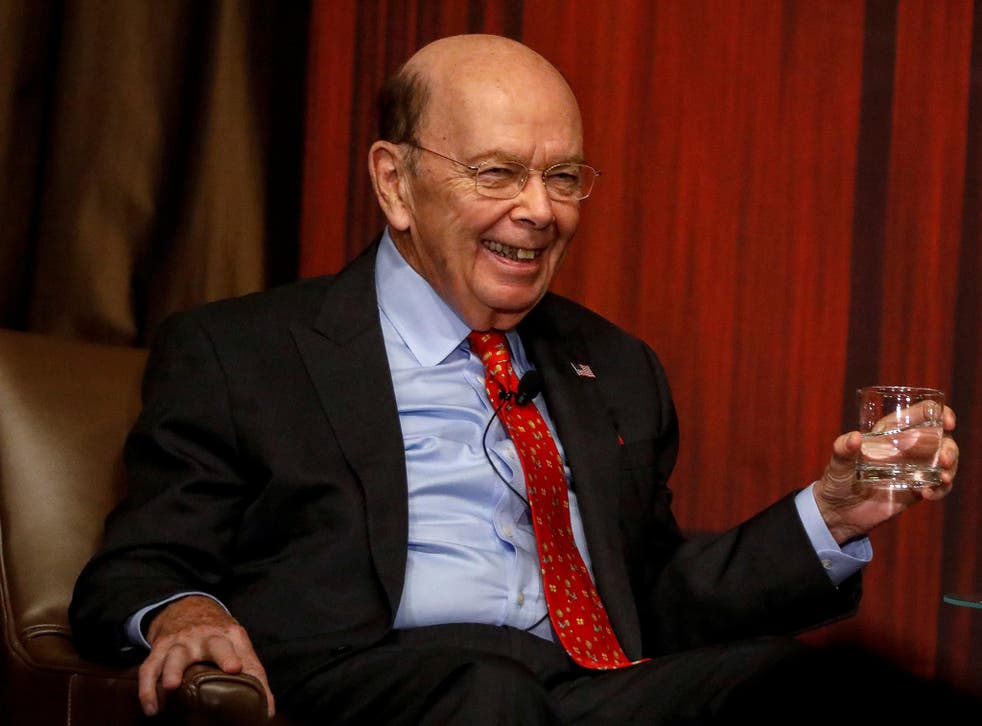 President Donald Trump's commerce secretary is doing business with Vladimir Putin's son-in-law through a shipping venture in Russia, according to newly-released documents.
Wilbur Ross has an interest in Navigator Holdings, which earns millions a year transporting oil and gas for Russian energy firm Sibur. When he joined Mr Trump's cabinet Mr Ross divested his interests in 80 companies.
But kept stakes in a number of companies, including a number in the Cayman Islands that link him to Navigator. One shareholder of Sibur is President Putin's son in law, Kirill Shamalov.
Two other major Sibur shareholders are under some form of US sanctions.
Mr Shamalov has a 3.9 per cent stake in the firm. Shareholder Gennady Timchenko, who has been individually sanctioned by the United States, in addition to a number of companies connected to him. Leonid Mikhelson, whose main company, Novatek, is also sanctioned, is another major shareholder.
Sibur itself is not under sanctions. Mr Shamalov is also not under any sanctions, although his father is.
The documents, relating to law firm Appleby, were obtained by German newspaper Süddeutsche Zeitung, which called in the International Consortium of Investigative Journalists (ICIJ) to oversee the investigation.
The US Commerce Department did not immediately respond to a request for comment. However, responding to the release on the papers to the ICIJ, a spokesman for Mr Ross did not dispute the release, but said that the Commerce Secretary never met Mr Putin's son-in-law or Sibur's other owners and that he was not on the board of Navigator when it initiated its relationship with Sibur.
Mr Ross recuses himself from matters that relate to international shipping, his spokesman said, and "has been generally supportive of the administration's sanctions" against Russian entities.
During his confirmation hearing by the US Senate, Mr Ross was not asked about his links to Mr Putin's family.
World news in pictures

Show all 50
But the chief ethics counsel in George W Bush's administration, Richard Painter, told The Guardian that he had not made it clear that he was retaining his stake in Navigator.
"It is very difficult to figure out from the financial disclosure," he said. "He should have sold off any and all interests."
It was suggested that he was making a "clean cut" from Navigator by divesting from WL Ross by influential shipping industry newsletter, Lloyds List.
"Mr Ross's apparent departure is to avoid conflict of interest," it said, before quoting Mr Ross at the hearing.
Other members of Mr Trump's adminstration who appear in the papers include the president's chief economic adviser Gary Cohn who held leading roles in 22 separate entities for Goldman Sachs in Bermuda between 2002 and 2006. Meanwhile, Secretary of State Rex Tillerson also directed a company in Bermuda in 1997 known as Marib Upstream Services Company. Mr Tillerson was also the head of ExxonMobil's Yemen arm in 1997, which was tied to Marib, the documents showed.
Register for free to continue reading
Registration is a free and easy way to support our truly independent journalism
By registering, you will also enjoy limited access to Premium articles, exclusive newsletters, commenting, and virtual events with our leading journalists
Already have an account? sign in
Register for free to continue reading
Registration is a free and easy way to support our truly independent journalism
By registering, you will also enjoy limited access to Premium articles, exclusive newsletters, commenting, and virtual events with our leading journalists
Already have an account? sign in
Join our new commenting forum
Join thought-provoking conversations, follow other Independent readers and see their replies