Trumpcare: Republicans finally unveil their Obamacare 'repeal and replace' bill
Democrats have accused Republicans of attempting to pass the healthcare measure 'in the dark of the night'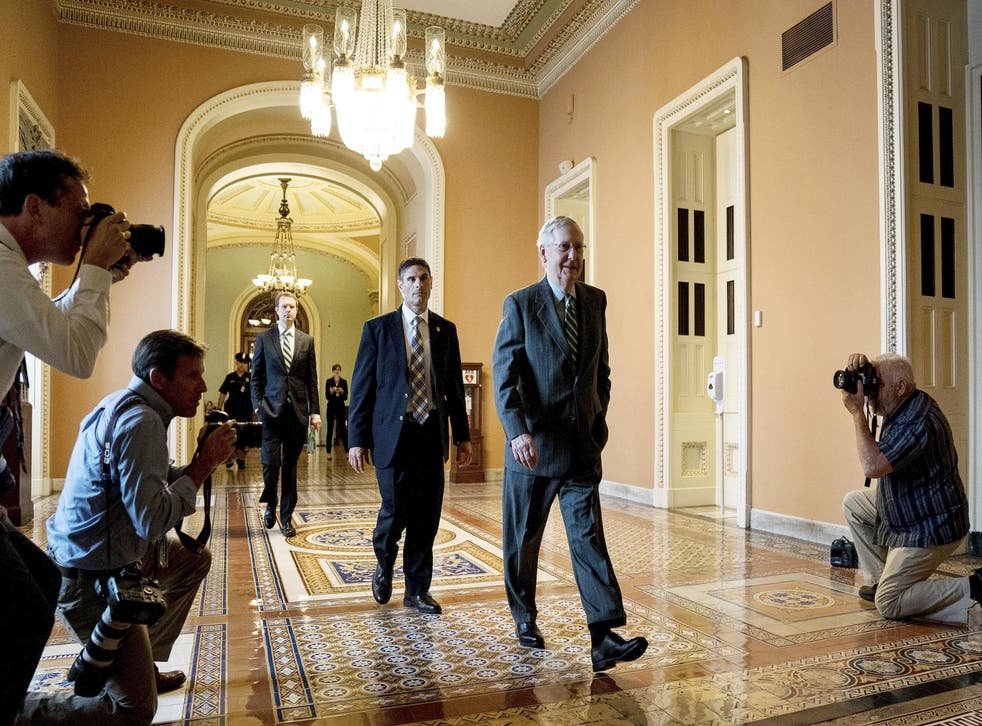 Senate Minority Leader Chuck Schumer has declared that the Senate's Obamacare replacement bill – just unveiled to Congress – may be 'even worse' than the House of Representatives' version.
Majority Leader Mitch McConnell is pressing full-steam ahead for a vote next week.
"The Senate Republican healthcare bill is a wolf in sheep's clothing," Mr Schumer said. "Only this wolf, has even sharper teeth than the House bill."
A draft of the bill shows that the Senate legislation is similar to the House's American Health Care Act, which narrowly passed the lower chamber of Congress last month. The Senate bill would make major changes to the US's healthcare system, drastically scale back government spending on Medicaid – a healthcare programme for the poor – and terminate the ACA's taxes on the rich and health insurers. However, the plan would maintain Obamacare's subsidies to help people afford individual coverage.
Speaking on the Senate floor, Mr Schumer asserted that the Senate's version would end Medicaid "as we know it" by cutting federal support for the programme even more than the House bill, which cut it by more than $800bn, he said.
Democrats have already accused Republicans of attempting to pass the healthcare measure "in the dark of the night" without allowing enough time for debate or to make changes, even though Mr McConnell insists that senators will have ample time to evaluate and amend the legislation.
Thousands march against Donald Trump in LGBT rights parade

Show all 8
Republicans mainly from the Senate finance and health committees drafted the bill behind closed doors, drawing harsh criticism from Democrats.
"Many of them on the Republican side are learning the details of the bill the same way we Democrats are," Mr Schumer said. "They're reading it today."
Mr McConnell is using a process known as reconciliation to try to pass the measure, meaning he only needs 51 votes in support of the legislation instead of the normal 60.
With a majority of 52 senators, Mr McConnell can only afford to lose two Republican votes on the bill. In the event of a 50-50 tie, Vice President Mike Pence would be the deciding vote.
Already, four conservative senators – Rand Paul of Kentucky, Ron Johnson of Wisconsin, Ted Cruz of Texas and Mike Lee of Utah – have said in a joint statement that they're "not ready to vote for this bill."
"Currently, for a variety of reasons, we are not ready to vote for this bill, but we are open to negotiation and obtaining more information before it is brought to the floor," the senators said. "There are provisions in this draft that represent an improvement to our current health care system, but it does not appear this draft as written will accomplish the most important promise that we made to Americans: to repeal Obamacare and lower their health care costs."
Republicans have called Obamacare "unsustainable", citing skyrocketing premiums and the unstable health insurance marketplaces created by the law.
"I regret that our Democratic friends made clear early on that they did not want to work with us in a serious bipartisan way to address the Obamacare status quo," Mr McConnell said on the Senate floor. "But Republicans believe we have a responsibility to act, and we are."
Join our new commenting forum
Join thought-provoking conversations, follow other Independent readers and see their replies