US risks angering China as it blacklists bank over dealings with North Korea and sells weapons to Taiwan
'These actions... will certainly undermine the mutual confidence between the two sides,' says China's ambassador to Washington
Matthew Pennington
Washington DC
Friday 30 June 2017 03:46 Comments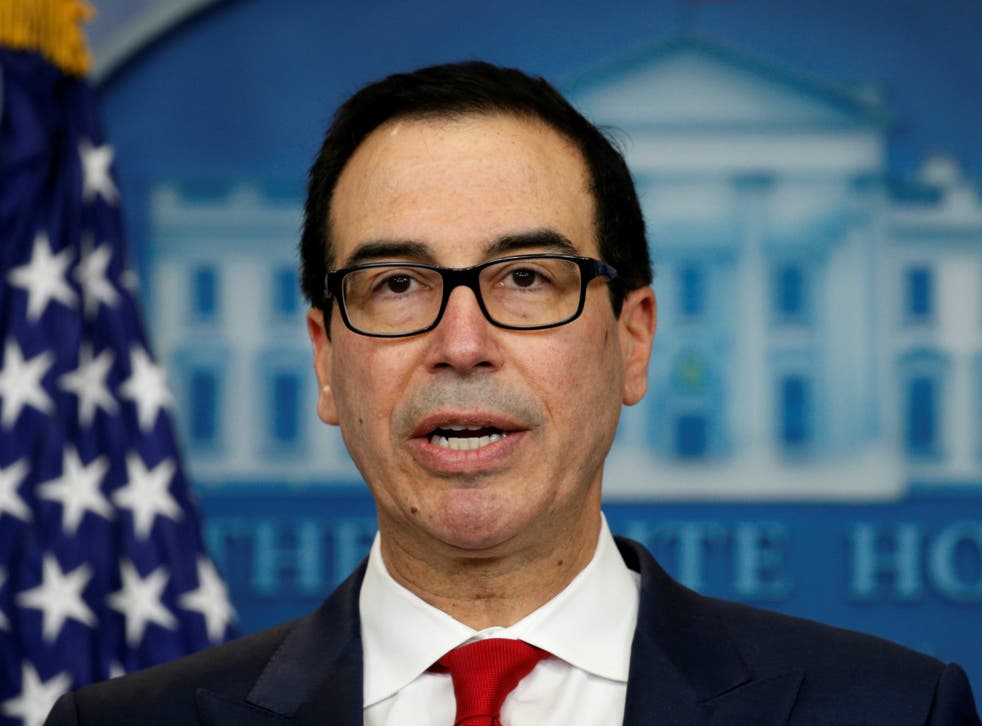 The Trump administration has hardened its approach to China, blacklisting a small Chinese bank over dealings with North Korea while approving more than a billion dollars in military sales to Taiwan.
The twin moves, both expected to infuriate Beijing, came just days after President Donald Trump appeared to lose faith in his strategy of enlisting Chinese help on North Korea, arguing in a cryptic tweet that it had "not worked out." Still, the US insisted it still wanted to work with China, North Korea's biggest trading partner, to combat the nuclear threat.
"We are in no way targeting China with these actions," Treasury Secretary Steve Mnuchin said at the White House, referring to sanctions the US slapped on the Bank of Dandong, accused of illicit dealings with the North.
It was unlikely China would see it that way, especially given the one-two punch with the sales to Taiwan, the self-governing territory that Beijing considers to be part of China. And Mr Trump has a history of linking the Taiwan conflict to his broader hopes for cooperation with China.
Shortly after being elected president, Trump stunned Beijing when he broke with decades of US policy by accepting a phone call from Taiwan's president. Two months later, after being sworn in, Trump reversed course and told Chinese President Xi Jinping he would honour the "One China" policy that recognises only Beijing, clearing the way for him to seek Xi's help on North Korea. He later held a summit with Mr Xi at one of his estates.
However, China's ambassador to Washington, Cui Tiankai said: "And all these actions — sanctions against Chinese companies and especially arms sales to Taiwan — will certainly undermine the mutual confidence between the two sides and runs counter to the spirit of the Mar-a-Lago summit."
Donald Trump's first 100 days: in cartoons

Show all 33
The dual announcements came as Mr Trump was opening his first visit with South Korea's new leader, President Moon Jae-in, who has long advocated outreach to North Korea. Mr Moon's predecessor had staunchly backed Mr Trump's harder line.
Mr Trump has also been leaning on Mr Xi to help stop the North's development of nuclear weapons before they can threaten the U.S. homeland, with a focus on getting China to fully enforce international sanctions intended to starve Pyongyang of revenue. But last week, Trump tweeted that he appreciated Xi's efforts to help with North Korea but said it hadn't been successful.
"At least I know China tried!" Mr Trump wrote.
The military sales, worth a total of about $1.4 billion, are the first such deal with Taiwan since Mr Trump took office. A grouping of seven transactions, they include technical support for early warning radar, anti-radiation missiles, torpedoes and components for SM-2 missiles, the US said. They consist mostly of upgrades to convert existing systems from analog to digital.
The administration said the approvals did not violate the Taiwan Relations Act that governs US contacts with the island, and, indeed, the US is legally obligated to sell weapons to Taiwan for its self-defence. State Department spokeswoman Heather Nauert said it illustrated US support "for Taiwan's ability to maintain a sufficient self-defence policy."
"There's no change, I should point out, to our One-China policy," Ms Nauert said.
Under the policy, the US recognises Beijing as the sole government of China but maintains strong unofficial ties with Taiwan and remains the island's main supplier of defence equipment.
Meanwhile, the Treasury Department proposed to sever the Bank of Dandong entirely from the US financial system, pending a 60-day review. The sanctions bar Americans from doing business with the bank, which is based in a northeastern Chinese city on the North Korean border that serves as a gateway for trade with the isolated nation.
Mr Mnuchin said the bank had facilitated millions of dollars of transactions for companies involved in North Korea's weapons of mass destruction and ballistic missile programmes.
The US also slapped sanctions on Dalian Global Unity Shipping Co. and on two Chinese people that it said facilitated illegal activities by North Korea. The Treasury Department accused the shipping company of transporting 700,000 tons of freight annually, including coal and steel products, between China and North Korea.
Anthony Ruggiero, a sanctions expert and former Treasury Department official, described it as a small Chinese bank "sitting at the heart" of trade between North Korea and China.
"This is a strong message to Chinese leaders that the Trump administration will act against North Korea's sanctions evasion in China," said Mr Ruggiero, a senior fellow at the Washington-based Foundation for Defense of Democracies.
The military sales will go forward unless Congress formally objects in the next 30 days. Legislators have generally been strongly supportive of such sales, and House Foreign Affairs Committee Chairman, Republican Ed Royce, called it "long overdue."
The last US arms sales to Taiwan, worth $1.8 billion, were announced in December 2015. They included two decommissioned U.S. Navy frigates, anti-tank missiles, amphibious assault vehicles and Stinger surface-to-air missiles.
China objected strongly to that sale, but it did not notably set back US-China relations and military ties, as has happened after past arms sales to Taiwan. However, relations across the Taiwan Strait have nonetheless deteriorated in recent years.
Associated Press
Register for free to continue reading
Registration is a free and easy way to support our truly independent journalism
By registering, you will also enjoy limited access to Premium articles, exclusive newsletters, commenting, and virtual events with our leading journalists
Already have an account? sign in
Join our new commenting forum
Join thought-provoking conversations, follow other Independent readers and see their replies