US election 2016: Bernie Sanders signals that he will work with Hillary Clinton to ensure Donald Trump is 'defeated badly'
In a 23-minute online address to his supporters, the Vermont Senator still declined to concede the Democratic nomination or explicitly endorse Ms Clinton
Tim Walker
US Correspondent
Friday 17 June 2016 03:45 Comments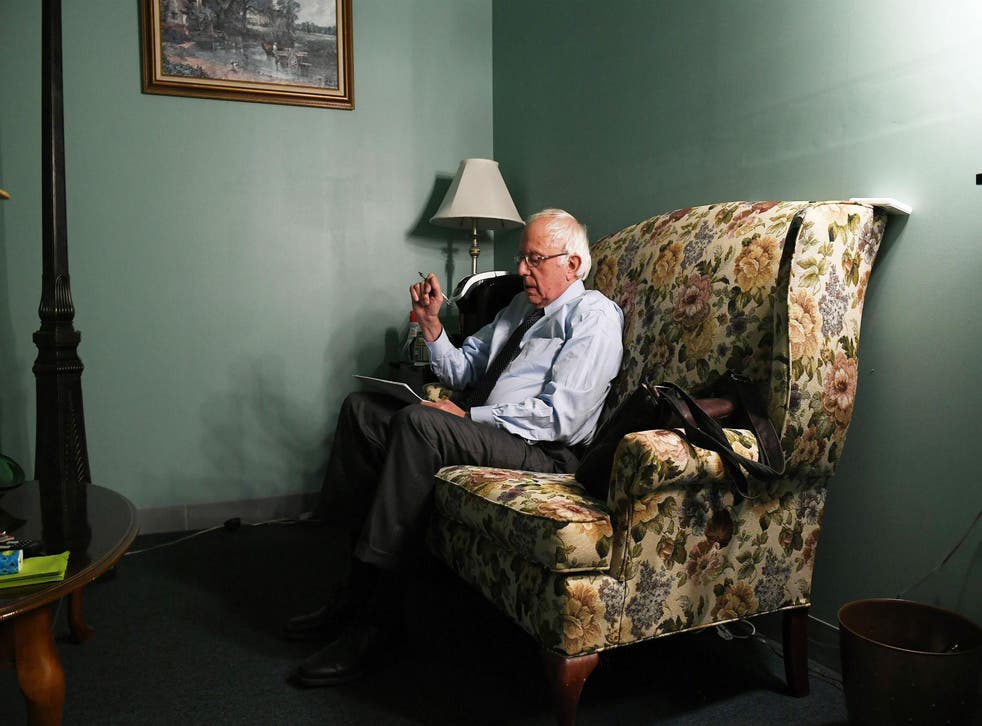 Bernie Sanders has signalled that he is winding down his bid for the Democratic presidential nomination, suggesting he would work with Hillary Clinton to defeat Donald Trump – but without explicitly endorsing her or suspending his own campaign.
In an online address to supporters on Thursday evening, Mr Sanders said his most pressing task was to make certain that the controversial Republican billionaire "is defeated and defeated badly" at November's general election. He added: "I personally intend to begin my role in that process in a very short period of time."
The socialist Vermont Senator has repeatedly insisted he will continue his campaign as far as the Democratic convention in Philadelphia, despite Ms Clinton claiming the mantle of the party's presumptive nominee last week, at the climax of a long and often contentious primary season.
The rivals met face to face in Washington DC on Tuesday, as the results of the final primary in the nation's capital were counted, granting another comfortable win to the former Secretary of State. Mr Sanders implied that they had found common ground as they discussed "some of the very important issues facing our country and the Democratic Party."
"It is no secret that Secretary Clinton and I have strong disagreements on some very important issues," he said. "It is also true that our views are quite close on others."
However he becomes involved in the general election, it will not be as Ms Clinton's running mate. A list of the Clinton campaign's potential VP picks was leaked this week to the Wall Street Journal, which included progressive Senators Elizabeth Warren and Sherrod Brown, but not Mr Sanders.
Sanders campaign manager Jeff Weaver told Bloomberg that the campaign no longer planned to lobby super-delegates to try to overturn the result of the primaries, which Ms Clinton won by a convincing margin of delegates and individual votes.
Rather than press the case for his own candidacy, Mr Sanders said he would use the influence he has accrued with his successful insurgent campaign to push the party's policy agenda further to the left.
"I look forward, in the coming weeks, to continued discussions between the two campaigns to make certain that your voices are heard and that the Democratic Party passes the most progressive platform in its history," he told supporters.
He will also argue for a change in the party leadership, with whom he has clashed frequently in recent months, insisting that Democratic National Committee Chairman Debbie Wasserman Schultz ought to be replaced.
During the 23-minute address from his hometown of Burlington, Vermont, Mr Sanders also outlined a plan to spread and secure his agenda for posterity, by encouraging his grassroots followers to run for local and state office.
"We need to start engaging at the local and state level in an unprecedented way," he said. "Hundreds of thousands of volunteers helped us make political history during the last year... Now we need many of them to start running for school boards, city councils, county commissions, state legislatures and governorships. State and local governments make enormously important decisions, and we cannot allow right-wing Republicans to increasingly control them."
Register for free to continue reading
Registration is a free and easy way to support our truly independent journalism
By registering, you will also enjoy limited access to Premium articles, exclusive newsletters, commenting, and virtual events with our leading journalists
Already have an account? sign in
Join our new commenting forum
Join thought-provoking conversations, follow other Independent readers and see their replies