US election 2016: Bernie Sanders promises 'contested convention'
The Vermont Senator suggested he could still convert enough of Hillary Clinton's super-delegates to claim the Democratic nomination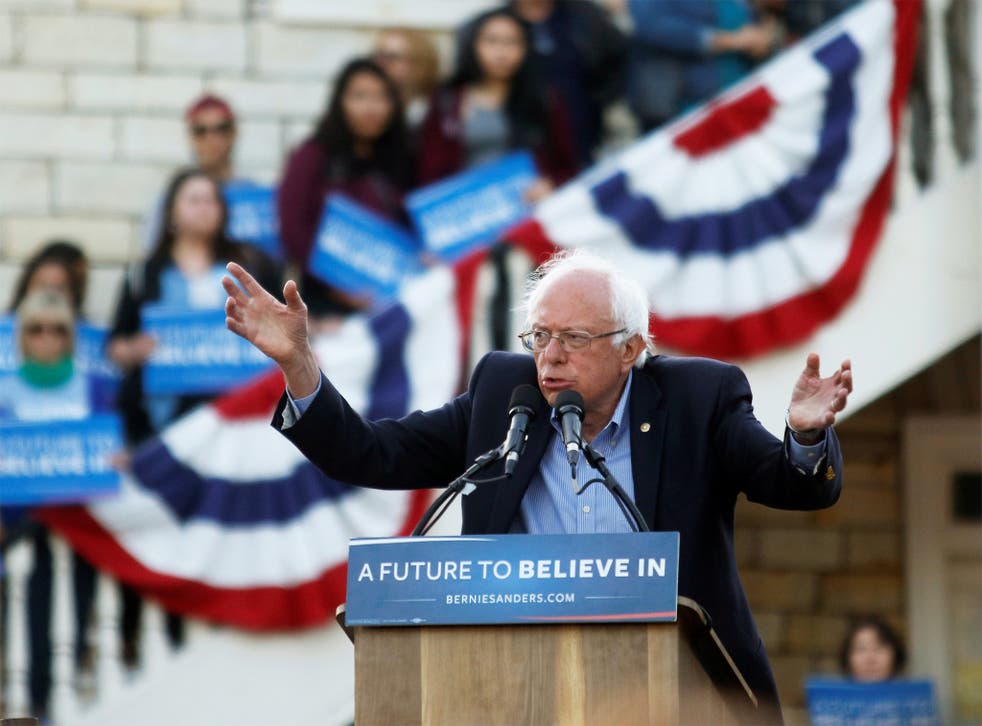 Bernie Sanders, the progressive presidential hopeful whose populist campaign has so far kept Hillary Clinton from claiming the Democratic nomination, has suggested he will contest the party's convention in July, regardless of the results of the remaining primary races. Speaking in Los Angeles, where he is campaigning ahead of the 7 June California primary, the Vermont Senator vowed: "The Democratic National Convention will be a contested convention."
Ms Clinton, now 70 delegates short of the 2,383 needed to clinch the nomination, is expected to pass that threshold on Tuesday after polls close in New Jersey. But of her existing 2,313 delegates, 544 are super-delegates: party grandees who choose a candidate at the convention based on personal preference, not a public vote. Mr Sanders currently has 1,547 delegates, of which 46 are super-delegates, but claims he can convert enough of Ms Clinton's super-delegates to sway the result.
USA: Democratic Convention will be contested, says Sanders ahead of California primary
Mr Sanders described the nominating system as "totally absurd" and warned reporters against crowning Ms Clinton the victor on Tuesday, saying: "The media is in error when they lump super-delegates with pledged delegates… Hillary Clinton will not have the requisite number of pledged delegates to win the Democratic nomination at the end of the nominating process on June 14. She will be dependent on super-delegates."
Traditionally, super-delegates have backed the candidate with the greatest number of pledged delegates. In 2008, Ms Clinton finished the primary season with 127 fewer pledged delegates than Barack Obama – and neither candidate passed the nomination threshold on pledged delegates alone. But after many super-delegates switched their allegiance to Mr Obama to reflect the public will, Ms Clinton conceded without contesting the convention.
For her part, the former Secretary of State has – at least in public – turned her attention to her probable general election rival, Donald Trump, whom she attacked on the stump this week. While she is campaigning hard this weekend to head off the Sanders surge in California, she told supporters in the Golden State on Friday: "If all goes well, I will have the great honour, as of Tuesday, to be the Democratic nominee for president."
Join our new commenting forum
Join thought-provoking conversations, follow other Independent readers and see their replies