Donald Trump likens immigrants to a poisonous snake that bites the person who lets it in
Billionaire tycoon is looking for big wins in Illinois, Florida, North Carolina, Missouri, and Ohio - but this last state may be the most important battleground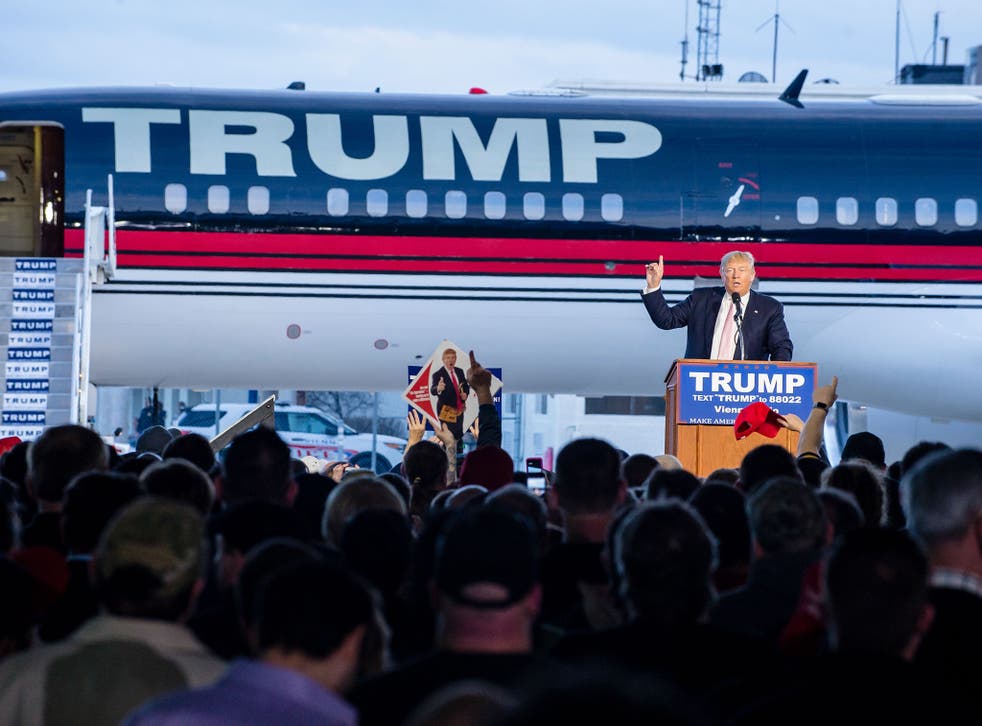 Donald Trump - fighting for a clean sweep on Tuesday in primaries that could secure him the Republican nomination - likened immigrants to the US to a deadly snake that bites the person who shows it kindness.
Speaking in a private hangar at Youngstown airport, the Republican frontrunner underscored his staunch position on immigration, vowing to build one wall along the US border with Mexico to keep Central Americans out, and another one in Syria to keep Isis fighters in.
"We have to make sure we know who we're letting in," he said, to cheers.
Towards the end of a 35 minute speech delivered in front of around 1,500 people, Mr Trump recited the words to "The Snake", a 1968 song by Al Wilson.
The lyrics to the song, which Mr Trump has recited before, tell the story of an ill snake who is taken into her home by a kindly woman. The snake is nursed back to health, but then delivers a poisonous bite to its host.
The dying woman asks the snake why it has acted in such a way given that she has helped it. Mr Trump - delivering the snake's response - concluded: "Oh shut up silly woman, you knew damn well I was a snake before you took me in."
Mr Trump is looking for big wins in Illinois, Florida, North Carolina, Missouri and Ohio, all of which are holding primaries on Tuesday and two of which - Florida and Ohio - award their delegates on a winner-takes-all-basis.
He currently holds the lead in the first four of those states.
Donald Trump's most controversial quotes

Show all 14
Yet it may that Ohio, where polls suggest he is running a narrow second to Ohio Governor John Kasich, becomes the most important battleground.
If Mr Kasich wins the state and it's haul of 66 delegates, it would be impossible for Mr Trump to secure the Republican nomination before the party's convention in July.
Given the billionaire's unpopularity among the Republican establishment, it is likely that unless he has a clear majority of delegates going into the convention, he could face a stiff challenge for the nomination from another candidate.
"I'm not running to block anybody, but the math is real," Mr Kasich told reporters after an event on Monday in Youngstown at Brilex Industry.
A contested convention would be a very contentious one, as Mr Trump's supporters would revolt against what they see as efforts to steal the nomination.
"It would be a meltdown," Republican consultant Bruce Haynes told USA Today.
Trump security rushes to stage during rally
Those attending Mr Trump's rally on Monday evening in Youngstown, a former industrial hub that has for decades been fighting economic collapse, drug problems and depopulation, appeared overwhelmingly of the opinion that Mr Trump alone could help tackle the problems facing the country.
"I think he will do the right thing for America," said Haskell Westmoreland, 79, a military veteran and former steel worker. "He is going to knock the hell out of Isis. He says he will build a wall, I believe he will."
The biggest problem facing the country, he said, was the number of people living off welfare payments. He added: "We have to get people off welfare and back to work."
Join our new commenting forum
Join thought-provoking conversations, follow other Independent readers and see their replies