US Election 2016: Republican race back on as Marco Rubio wilts under pressure from moderate 'Governor Gang of Three'
The hope of mainstream Republicans suffered a mauling in the latest debate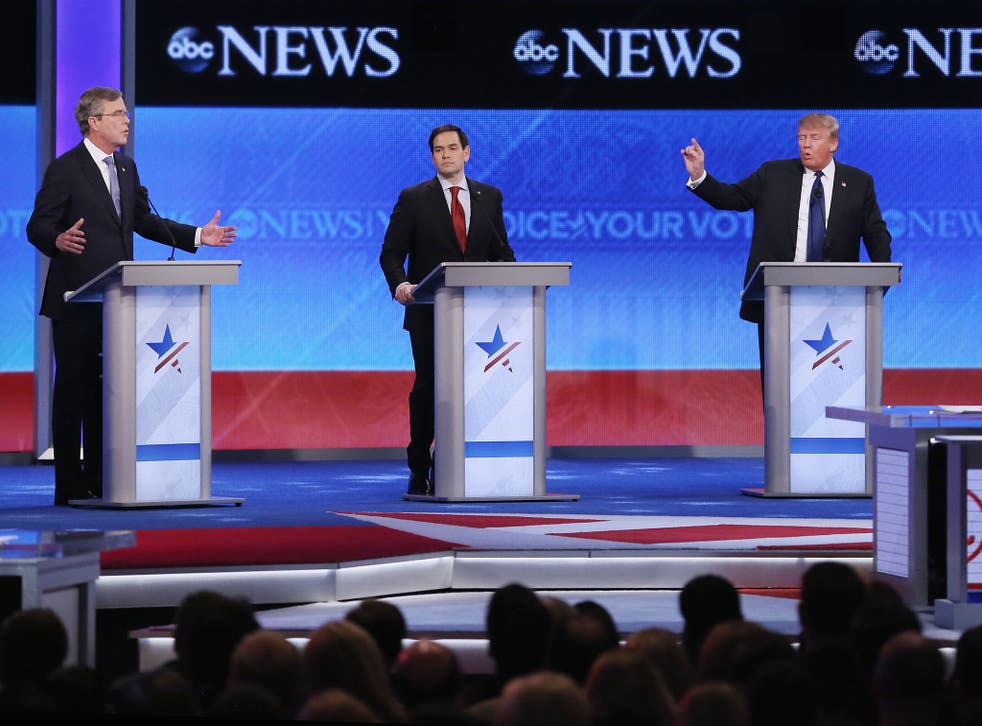 The Republican race for the White House has become more scrambled than ever, after Senator Marco Rubio faltered badly during a final debate before Tuesday's New Hampshire primary, when pressed on whether he was too green and inexperienced.
It was a stark contrast to his widely praised earlier performances that helped to propel him to a strong third in Iowa last week, and raised expectations that he would emerge as the most viable alternative to the super-conservative Ted Cruz, who won in Iowa, and the insurgent Donald Trump.
Late for a breakfast event here in Londonderry, New Hampshire, on Sunday, Mr Rubio looked wan stepping on stage before a crowd of 800 people. "The media always like to show us fighting," he said in response to a question from a voter who declared himself stuck between backing him and Senator Cruz.
US Republican candidate under fire in debate
Coming just hours after being mauled on live television, it seemed like a flash of studied amnesia. With as many as a third of voters in this state still undecided, any Rubio wilt would be nectar to those in the more moderate spectrum, notably the "Governor Gang of Three": Jeb Bush, the former Florida governor; and John Kasich and Chris Christie, governors respectively of Ohio and New Jersey.
Mr Rubio, 44, was on the skids from the start, when Mr Christie was invited to comment on the senator's experience level. The governor lunged: "Marco, the thing is this," he began, "when you're president of the United States, when you're a governor of a state, the memorised 30-second speech where you talk about how great America is at the end of it doesn't solve one problem for one person."
The senator sought to blunt the notion of America already having an untested US senator – Mr Obama.
"Let's dispel with this fiction that Barack Obama doesn't know what he's doing. He knows exactly what he's doing," he said. But he repeated the line four times throughout the debate, becoming flustered.
"There it is. There it is," Mr Christie jumped in. "The memorised 25-second speech. There it is, everybody!"
In pictures: US Elections 2016

Show all 15
The debate, hosted by ABC News in Manchester, the state's biggest city, got off to a shaky start when the moderators bungled bringing the candidates to the podiums, at one point leaving Ben Carson loitering awkwardly stage right, his rivals pushing past him.
But if politics are entertainment, it was a debate that delivered. Another car crash came when Mr Bush, his candidacy on life support, attempted to rugby tackle Mr Trump, who remains ahead in the polls, over his attempts in the past to assert the practice of "eminent domain" to seize private property for his business needs, once allegedly attempting to evict "an elderly woman" from her home. "He wants to be a tough guy, and it doesn't work very well," Mr Trump mocked.
When the audience booed Mr Trump for his treatment of Mr Bush, he then contrived to insult them, too, claiming the room was packed with bigwig money men. "That's all his donors and special interests out there," he thundered.
Mr Trump managed to escape the assault he might have expected, with most of the fire directed instead at Mr Rubio. "My advice to Marco after last night is just come clean. He should show a little vulnerability. He needs to stop trying to pretend he has the same level of experience as some of the others and be straight about that," said Ed Terino, 62, the owner of a video software business.
Sitting beside him, his wife, Cheryl, 58, still likes the senator, but said she felt sorry for him at the debate: "I actually thought that maybe he was unwell or something."
Join our new commenting forum
Join thought-provoking conversations, follow other Independent readers and see their replies