US Election: Donald Trump uses Pope fight to whip up support in South Carolina
Mexican border wall debate steals limelight on the eve of the Republican primary vote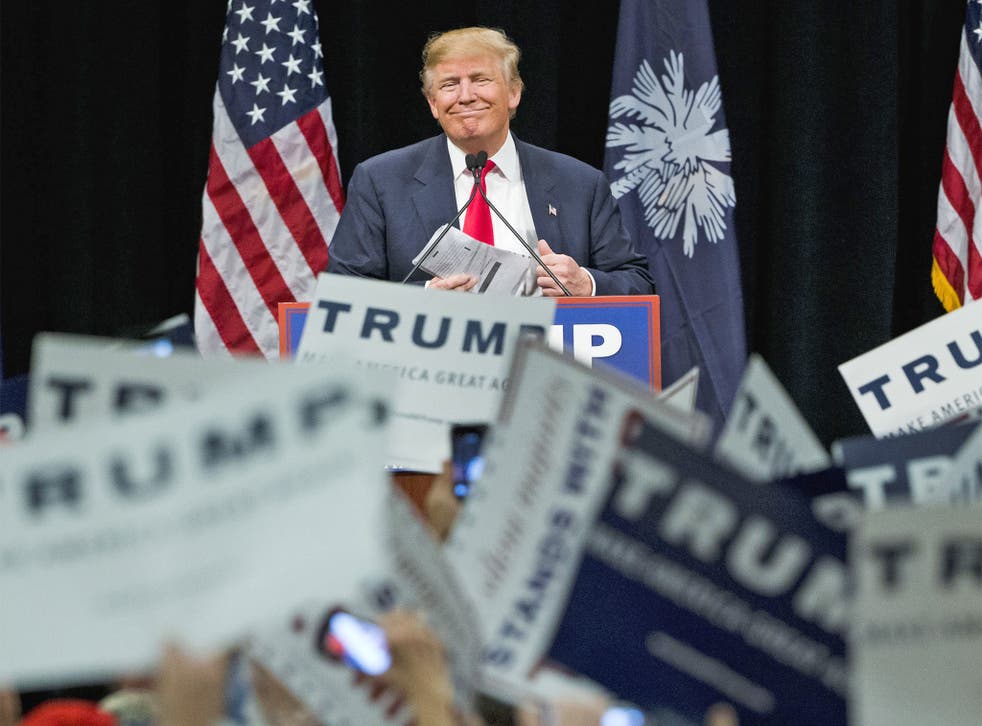 In their thousands they stand in passionate camaraderie, jaws slack or their mouths open in trance-like smiles facing the man at the podium. It is The Trump Tour that has become The Wall Tour. "Are you ready, are you ready?" he calls and they roar. "We are going to build a wall that is sooo beautiful."
"Who's not working this fine morning?" he asks. "How many kids are missing school?" Many. Ahead of Saturday's crucial South Carolina Republican primary, Donald Trump, might almost have emptied the streets of Myrtle Beach, his kind of town with premium golf courses and hokey seaside attractions.
He has them all here in a sports hall, winding them up so they give him the victory that the polls say should be his.
He derides his rivals, especially "liar" Senator Ted Cruz of Texas. And the difference between him and all the other candidates? He takes money from no one. "These people are not going to lead you to the Promised Land, I tell you. Their politicians. They are all controlled by industry, by lobbyists, by special interests."
It's a man holding a sign that reads "I'm Ready to Work on the Wall," that then catches Mr Trump's eye. "Who's going to pay for it?" he asks. And the crowd yells the answer: "Mexico!" And the more Mexican leaders say they won't, the higher the wall will be. "We're going to build a wall so high they are going to get up there and say 'I'm not going down there' and climb right back down again."
Pope Francis Questions Donald Trump's Christianity
Yes, Pope Francis, who on Thursday questioned Mr Trump's Christian faith. Mr Trump had to say something about him. It wasn't really his fault. It was Mexico's. "They had him convinced that illegal immigration is like a wonderful thing. Well it isn't a wonderful thing for us. It's good for Mexico."
The man holding that sign, Bill Waters, 53, knows who's right. "The Pope was just wrong," he told The Independent. "It's says in the Bible you just build walls, in at least two verses." He doesn't offer which ones. Mike Greahl, a retired police officer, has this to say: "What's around the Vatican? A wall!" A man passes selling campaign buttons. "Hot chicks for Trump" are big sellers.
'When IS Attack the Vatican, Pope Will Wish Trump was President'
Truthfully, the fracas with the pontiff may have helped Mr Trump at least for now by allowing him once more to seize the media limelight on the eve of the South Carolina vote and drown out his rivals, including Senator Cruz. A new Wall Street Journal and NBC poll in the state yesterday showed a tightening race between the two men, with Mr Trump's lead over the Texan cut to just five points.
The Christian vote will help Mr Cruz here, and Mr Trump too. Mostly they are evangelical Protestants who won't be moved by the Pope's swipe. They will be galvanised to defend him. The longer-term impact is harder to predict, with Pope Francis a popular figure in the US. "It's hard to believe that conservatives will turn to a candidate who fights more with the Pope than Putin," said Stuart Stevens, who was campaign manager for Mitt Romney in 2012. States with large Catholic constituencies such as Massachusetts, which votes on Super Tuesday on 1 March, could prove more resistant.
Still Mr Trump, who at first called the Pope's comment "disgraceful," had backtracked a little at a CNN town hall on Thursday night. Maybe President Trump would be more reasonable than candidate Trump. "He's a great guy. I don't like fighting with the pope actually – I don't think it's a fight, I think he said something much softer than originally reported by the media," he said.
Mr Trump also wobbled on a claim he made at a debate that former President George W Bush "lied" about weapons of mass destruction in Iraq to justify invading. A voter at the CNN forum stood up to say he was offended by the allegation against Mr Bush, who remains a highly respected figure among many South Carolina Republicans and wanted to know if he would take them back. "Look, I don't know. I would probably say that something was going on," he said. "I didn't know why he went in. I don't know why he went in. Because honestly, there was no reason to go in."
Beyond the cacophony created by Pope Francis is a deeper debate about the party's desire – or lack of it – to reach out to crucial minority voters. While Messrs Trump and Cruz have been stoking white anger over immigration, Senator Marco Rubio, a son of Cuban immigrants who is hoping for second or third place today, is rehearsing the case for bringing ethnic voters into the Republican fold.
But we're getting complicated. This is the Wall Tour. Roll up and make America great again.
Join our new commenting forum
Join thought-provoking conversations, follow other Independent readers and see their replies