US election: Republican candidates take aim at Marco Rubio ahead of crucial primary
The field is chaotically split but almost all agree on one thing: bash conservative Marco Rubio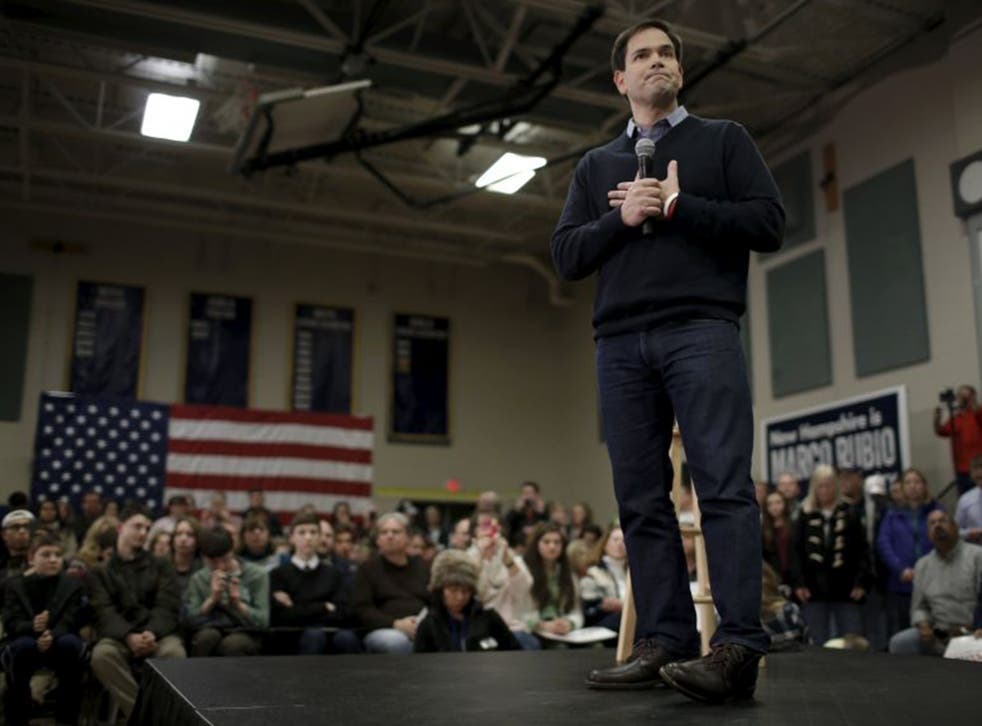 It has been grim for Jeb Bush these past months, his once high-flying hopes of winning the Republican nomination for the presidency battered by dismal polling numbers and by louder mouths. So a school hall filled to the gills here on 6 February – with another 200 unable to get in standing outside – was surely a boost.
The New Hampshire primary on 9 February may not be make or break for the former Florida governor. He has the money to keep going even if he flops again, having taken just under 3 per cent of the vote in last week's Iowa caucuses. But it's no wonder he is packing in as many events here as he can, pleading with voters finally to pick him from a still chaotic, unpredictable field.
"I am working hard to earn your support …. For those who are neutral, come on now, join the team," he said a little weakly. Anyone looking for someone with "a proven record of fixing problems, running to the fire … who has the record of not cutting and running but solving problems, you are looking at him".
As for that one especially loud mouth, Mr Bush boasted that he had been willing before anyone else to take him on. "I am not a psychiatrist or psychologist, but the guy needs therapy," he said of Donald Trump. Yet, in recent days, his more urgent target has been Marco Rubio, the US Senator from his own state.
Mr Rubio surprised with his third place in Iowa and thus positioned himself for mainstream Republicans as the least objectionable alternative to both Donald Trump and the winner in Iowa, the ultra-conservative Senator Ted Cruz. This means he has been getting it from all sides and he was braced for more as the candidates gathered for a last televised debate before the primary on 9 February.
Mr Trump, though he is still leading the polls here and nationally, is also under pressure after his second place in Iowa, raising questions about his ability to convert razzmatazz into actual votes. He has since admitted that his decision to boycott a final, eve-of-caucus television debate in Iowa may have hurt him. "So many things to say, so much at stake!" Mr Trump tweeted ahead of last night's crucial clash.
The campaigns of Mr Bush and New Jersey Governor Chris Christie have virtually joined hands to stunt Mr Rubio. Once a protégé of Mr Bush, Senator Rubio has emerged as a grave, possibly mortal, threat to both men. Each had been banking on New Hampshire to ordain them the favoured establishment choice. The more conservative Mr Rubio has stepped in the way.
Mr Christie has been especially aggressive, branding Mr Rubio a "bubble boy", protected by his aides from tough questions from voters. He continued in that vain in Bedford, saying that both Mr Rubio and Mr Cruz were first-term senators who weren't ready to be president. He also said that Mr Trump would be welcomed back to the debate stage "with open arms".
In pictures: US Elections 2016

Show all 15
Meanwhile, Mr Bush released a tough new television advertisement this weekend showing former Senator Rick Santorum, a recent dropout from the race, struggling on television to name a single achievement of Mr Rubio in the US Senate even though he had just endorsed him.
Staying out of the bash-Rubio club has been John Kasich, the Governor of Ohio. Arguably the most mainstream of all the candidates, he must also do decently here to avoid being forced out of contention. "Part of the campaign is not just about how you trash somebody else. The way you win a campaign is what you're for, your heart and your brain, that's what it's really all about," Mr Kasich said on the campaign trail.
After insisting earlier in the race that he was "his own man" and would not lean on his family name for traction – as the son of one president and the brother of another – Mr Bush has recently invited his mother, Barbara Bush, on the trail with him. At 90 years old, the former first lady praised her son, but also offered some gentle criticism. "He's almost too polite … if I gave him advice, I would say, why don't you interrupt like the other people do?"
John Louison, 51, an insurance adjuster, is one of the voters the Bush-Kasich-Rubio-Christie scrum is fighting over. He rejects Messrs Trump and Cruz out of hand and has jettisoned Mr Christie also. "He's too much of a big mouth, bullying won't work," he said. He likes Mr Bush but thinks that he is hurt by his name. "In the last elections, it was anyone but Bush. I think there is still some of that feeling," he said.
And, indeed, when the former governor opened it up to questions here, along came precisely that one. "The Bush thing, people will have to get over it, all right," he replied flatly – to rounds of laughter.
Join our new commenting forum
Join thought-provoking conversations, follow other Independent readers and see their replies