Donald Trump claims he is 'least racist person in the world' despite repeated racist attacks
Will Hurd: Only black Republican congressman announces he is standing down after accusing Trump of 'racism and xenophobia'
Texan says president's comments make it harder for GOP to connect with minority communities
The only black Republican in the House of Representatives – who recently criticised Donald Trump's tweets as "racist and xenophobic" – has announced he is quitting politics.
In what will be seen as a major blow to the credibility of the Republican Party amid a storm of outrage over racists remarks and tweets by the president, 41-year Will Hurd announced he will not seek re-election in 2020.
In a statement posted on his official congressional website, Mr Hurd did not mention Mr Trump or racism. However, he underscored what he considered the strength of the country, saying that "America is better than the sum of its parts".
"Serving people of all walks of life has shown me that way more unites our country than divides us," he added.
"As the only African American Republican in the House of Representatives and as a congressman who represents a 71 per cent Latino district, I've taken a conservative message to places that don't often hear it."
All the times that bigger crowds than Trump's showed up to DC

Show all 7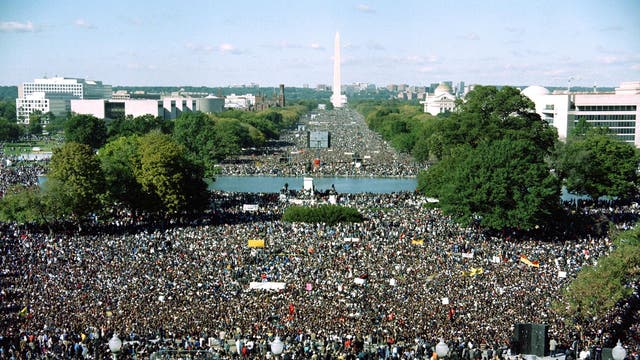 Mr Hurd, who represents Texas's 23rd congressional district which runs along a large section of the Mexico border, had in recent weeks been put in a difficult situation by racist tweets and comments made by the president about four Democratic congresswomen – Alexandria Ocasio-Cortez, Ayanna Pressley, Ilhan Omar and Rashida Tlaib. Mr Trump told them to "go back home", even though three were born in the US and the fourth came as a refugee two decades ago.
Speaking on CNN last month, Mr Hurd said the comments were racist and xenophobic. Saying Mr Trump's behaviour was not becoming of the leader of the free world, he said the president should be "talking about things that unite us, not divide us".
"I think those tweets are racist and xenophobic. They're also inaccurate," he said.
"Look, I'm the only black Republican in the House of Representatives. I go into communities that most Republicans don't show up in order to take a conservative message.
"This makes it harder in order to take our ideas, and our platform, to communities that don't necessarily identify with the Republican Party."
In his statement announcing he was not seeking re-election, Mr Hurd, one of four Republicans who recently voted in support of a Democratic-sponsored resolution condemning Mr Trump's racist tweets, said he wanted to work "to solve problems at the nexus between technology and national security".
Join our new commenting forum
Join thought-provoking conversations, follow other Independent readers and see their replies