Venice Beach crash: Driver arrested after ploughing into crowd and killing woman on honeymoon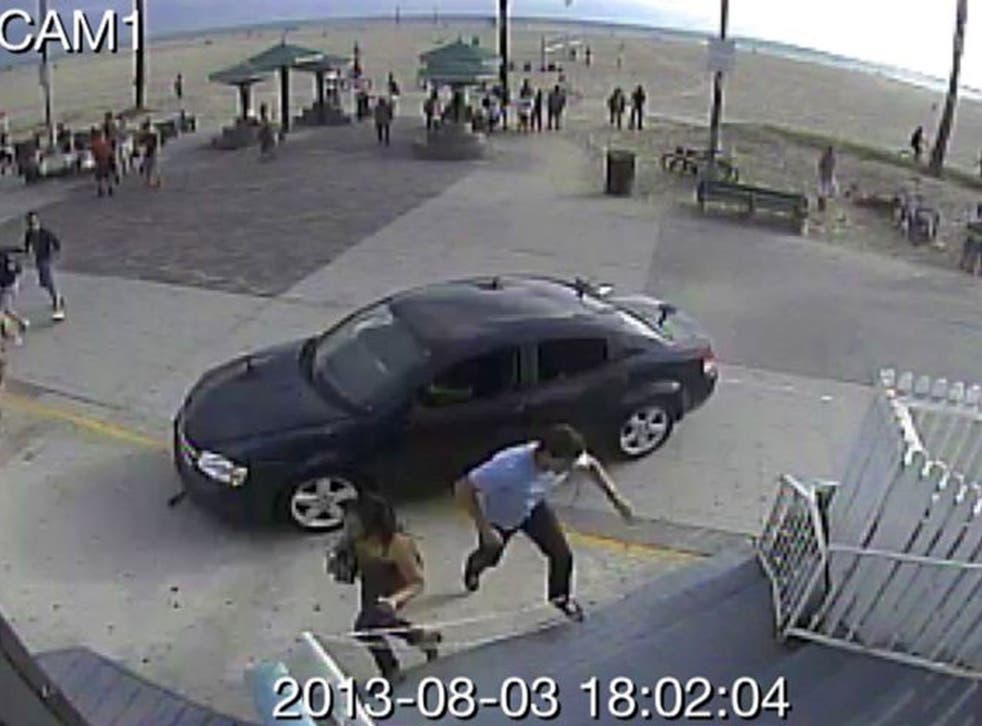 Flowers have been placed on the spot where a driver ploughed into a crowd gathered the Venice Beach boardwalk in a seemingly intentional hit-and-run, killing one woman and injuring 11 others.
Los Angeles Police Department have arrested 38-year-old Nathan Louis Campbell, a Claifornian who handed himself into a Santa Monica police station approximately two hours after the incident. His bail is set at $1m.
Shocking CCTV footage showed the moment the car hit 32-year-old Italian Alice Gruppioni, who police said was there on her honeymoon with her husband Christian. He was also injured.
The video appears to show the driver parking the car, before walking across the boardwalk and looking at the crowd. The driver then returns to the vehicle and drives it into the crowd.
Witnesses said it appeared the car's driver had been aiming for pedestrians on Saturday while driving down the popular oceanside walkway at speeds up to 20 miles per hour (32 kph) as people screamed and scrambled to get out of the way.
"Bodies were flying in the air and people were screaming. It was absolute mayhem," eyewitness Dave Blackburn told KABC-TV.
Ten of the 12 people injured were taken to hospitals on Saturday. Injuries included broken bones and head traumas, according to the Los Angeles Fire Department. One person remains in a critical condition and two others are said to be serious but stable.
Police are now waiting for the results of a toxicology report on the suspect, the Associated Press reports.
The Venice Beach boardwalk is a major tourist attraction known for its eclectic patchwork of shops, restaurants and sporting areas.
Join our new commenting forum
Join thought-provoking conversations, follow other Independent readers and see their replies