Veteran US storm chaser scientist Tim Samaras killed with son and colleague in Oklahoma twister
Mr Samaras, founder of the tornado research company, Twistex, was the star of the Discovery Channel documentary Storm Chasers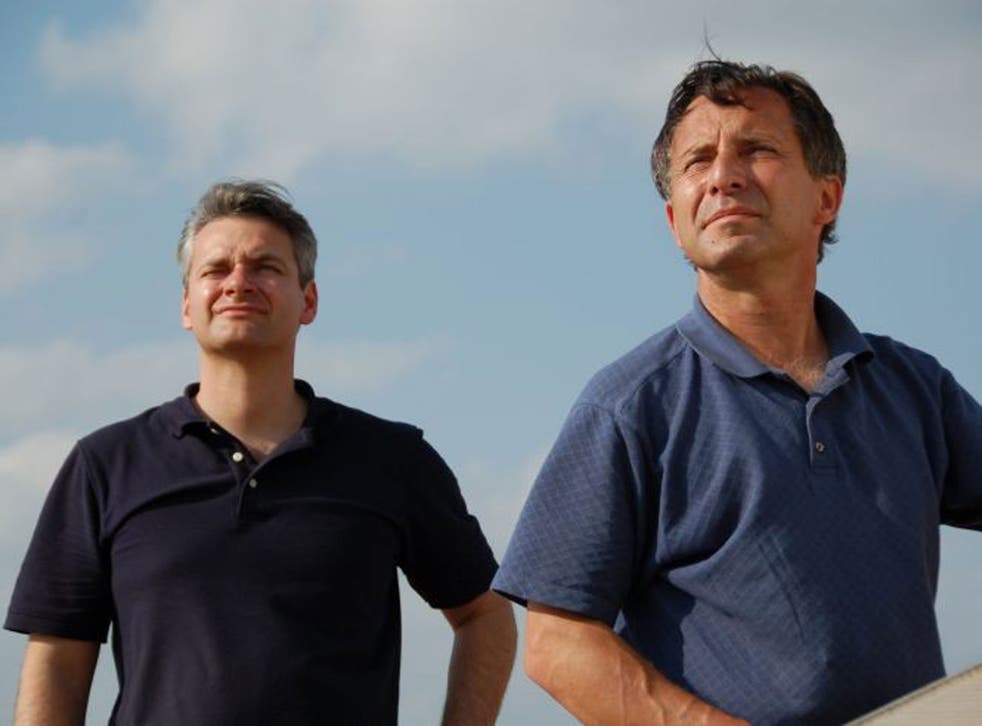 Video: CNN interview with Tim Samaras
A veteran storm chaser, his son and a colleague were among 13 people killed as deadly tornadoes rampaged through Oklahoma on Friday.
"Dangerous day ahead for OK [Oklahoma] – stay weather savvy!" Tim Samaras, a veteran storm chaser, tweeted those words and a picture of an empty road with clouds gathering overhead just before 11pm local time on Friday, as he, his son Paul and their colleague Carl Young tracked the latest batch of tornadoes that touched down in central Oklahoma.
The three men died later that night, as the storms tore through the area, it was confirmed on Sunday. The storms killed a total of 14 people, the state's medical examiner said over the weekend. The vehicle the three men had been travelling in was found at an intersection in the town of El Reno, about 30 miles west of Oklahoma City.
The elder Mr Samaras, 55, was reportedly found inside with his seat belt still fastened, while his 24 year-old son and 45-year-old colleague were pulled out of the vehicle by the force of the twister that over-ran them. One of the bodies was said to have been found half a mile away from the vehicle.
The deaths, which come less than two weeks after a giant twister swept through the Oklahoma City suburb of Moore, destroying row after row of houses and killing 24 people, have shaken up the community and scientists who study extreme weather events.
Mr Samaras was well-known in the storm-chasing community as a meticulous scientist who put a premium on safety. He had received 18 grants from the National Geographic Society to go out in to the field and study tornadoes. Over the years, he and his team helped greatly increase our understanding of how storms work.
Along with 45-year-old Mr Young, a meteorologist with Mr Samaras's Twistex research firm, he had appeared on Discovery Channel's Storm Chasers programme.
"Tim's research included creation of a special probe he would place in the path of a twister to measure data from inside the tornado; his pioneering work on lightning was featured in the August 2012 issue of National Geographic magazine," Terry Garcia of the National Geographic Society said, as the community of meteorologists mourned the three men. "Though we sometimes take it for granted, Tim's death is a stark reminder of the risks encountered regularly by the men and women who work for us."
In an interview with the Weather Channel in 2009, Mr Samaras spoke of how he'd been fascinated by tornadoes even since he watched The Wizard of Oz, which features a striking storm sequence, during childhood. he said.
"From that day, I was hooked for rest of my life," he said.
Reed Timmer, a fellow meteorologist and storm chaser, said Mr Samaras, his son and Mr Young were "pioneering scientists whose work has already saved countless lives."
"My heart sank when I found out. I'm still in disbelief... This must be some kind of horrible dream," he wrote on Facebook.
"Of all people, Tim Samaras was the most controlled, safe storm-chasing scientist I know.
"It doesn't make sense. It always seems to happen to the best people."
In another post on the social media website, Greg Forbes, a severe weather expert with the Weather Channel, said he was in "awe of Tim's genius".
"It's amazing how he was able to imagine, then design, build and deploy the pods in the path of tornadoes, and his instruments made the Guinness Book of Records for measuring the lowest pressure in a tornado," he said.
"It's a loss to the whole meteorological community."
Join our new commenting forum
Join thought-provoking conversations, follow other Independent readers and see their replies