Video shows Rottweiler 'crying and grieving' over its dead twin brother's body in US
Homeless owner Brett Bennett claimed his dog was 'crying for his brother'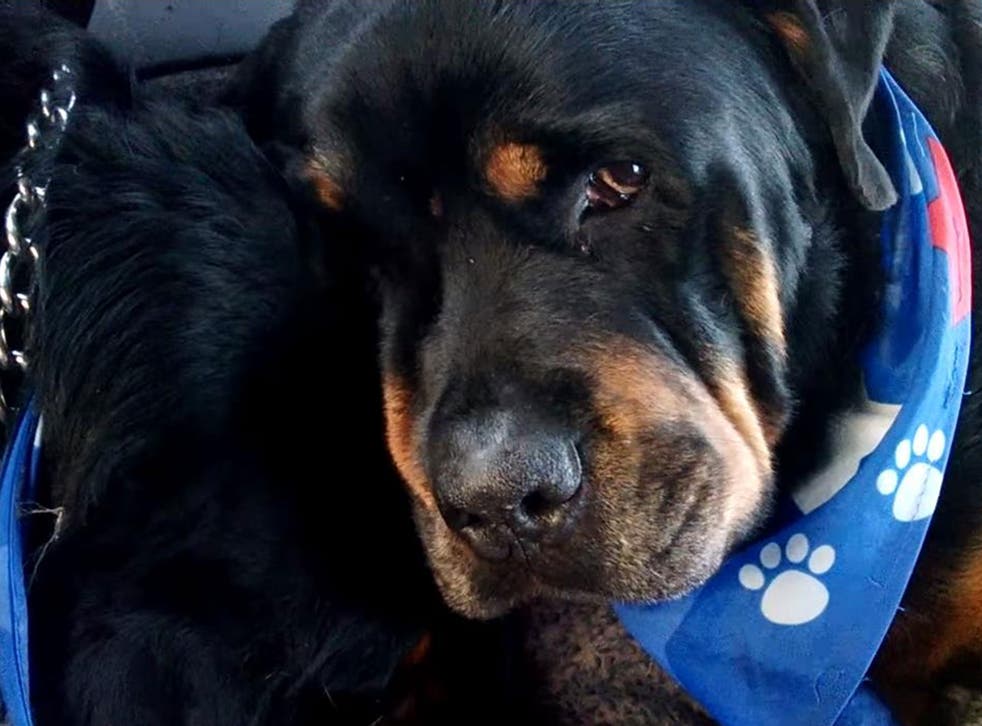 A Rottweiler has been filmed "grieving" over its dead twin brother's body, refusing to leave it even when the dog's owner tries to pull him away.
Homeless Brett Bennett, from Seattle, Washington, posted the footage of his pet, Brutus, claiming he was "crying for his brother".
It shows the dog lying despondently with his face against his twin's head and his eyes firmly shut. As his owner tries to give him a comforting stroke, he slowly opens his watery eyes to look at him mournfully.
Brutus refuses to get up even when ordered to and resists when Mr Bennett pulls his collar to move him away.
The video was filmed on 20 January, after Hank died in his sleep overnight.
"Brutus has never whined or cried out in pain the two years I have had him but clearly you can see in his eyes, he is crying for his brother who had passed as his world around him just crumbled," Mr Bennett wrote.
"This is proof that animals do have emotions and feel pain just like we do."
He claimed Hank had died "of a broken heart" after the dog lost its appetite after he saw his "dad", believed to refer to Mr Bennett himself, "having a breakdown".
Dogs can get watery eyes for a number of reasons but have never been proven to cry because of emotional distress.
They are known to exhibit behaviour similar to human grieving when a fellow pet dies, such as staying by the body, becoming lethargic and stopping eating, although it is unclear whether they understand the concept of death.
Mr Bennett, a Rottweiler enthusiast, had rescued the two dogs and set up a Facebook page called "Hank and Brutus Rottweiler Twins" with videos and photos of the 10 stone animals playing, doing tricks and meeting people.
As well as the Rottweilers, he owns three other rescue dogs and launched an appeal earlier this month to raise $5,000 (£3,300) to find a new home.
Mr Bennett became homeless in July last year after being made redundant, he claimed, leaving him living in hotels and sleeping in his Jeep with the dogs.
The appeal has so far reached $4,500 (£3,000).
Join our new commenting forum
Join thought-provoking conversations, follow other Independent readers and see their replies