Virgin Galactic crash: Richard Branson casts doubt on future of spaceflight project as pilot killed in crash is named
Billionaire flies into Mojave to assess wreckage of Virgin Galactic's flagship spacecraft, SpaceShipTwo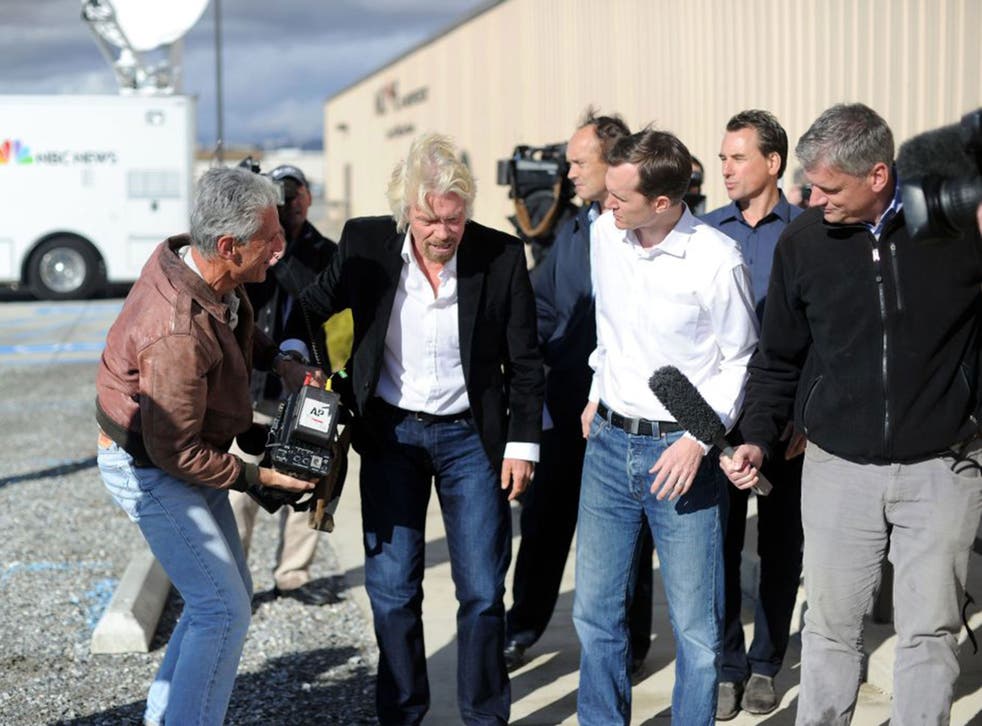 Sir Richard Branson has cast doubt on the future of his prized commercial spaceflight project, Virgin Galactic, following a catastrophic accident in the skies above Southern California on Friday, which left one test pilot dead, a second seriously injured, and debris spread for miles across the desert floor. "We owe it to our test pilots to find out exactly what went wrong - and when we do find out what went wrong, if we can overcome it, we'll make absolutely certain that the dream lives on," Sir Richard said on Saturday. "We would love to finish what we started some years ago."
The British billionaire flew into Mojave late on Friday night to assess not only the wreckage of Virgin Galactic's flagship spacecraft, SpaceShipTwo, but also the damage done to his dream of taking paying customers to space. At a press conference at the Mojave Air and Space Port, where Virgin Galactic has its headquarters, he said, "In testing the boundaries of human capabilities and technologies, we are standing on the shoulders of giants. Yesterday, we fell short."
The man killed in the crash was identified on Saturday as 39-year-old Michael Alsbury, a father of two and test pilot for Virgin Galactic's project partner, Scaled Composites, who logged more than 1,600 hours as a test pilot for the firm, and was also the co-pilot for SpaceShipTwo's first powered flight. On Friday, Mr Alsbury was acting as co-pilot to Peter Siebold, the project's director of flight operations, who was able to eject from the aircraft and parachute to safety. In a statement, Virgin Galactic said Mr Siebold was still in hospital, but alert and talking to his family and doctors.
In pictures: Virgin Galactic space rocket crash

Show all 9
The Virgin CEO said he did not know Mr Alsbury, though a video shows the two men together as the Virgin Galactic team celebrated a successful test flight in 2013. Sir Richard paid tribute to the pilots and their families, saying, "This team is a group of the bravest, brightest, most determined and most resilient people I have ever had the privilege of knowing. We are determined to honour the bravery of the pilots and teams here by learning from this tragedy."
As many as 15 investigators from the US National Transportation Safety Board (NTSB) arrived in Mojave on Saturday morning to begin looking into what had caused SpaceShipTwo to break up in the air at an altitude of almost 50,000 feet, shortly after detaching from its carrier craft, WhiteKnightTwo. Chris Hart, the agency's acting chairman, told reporters it was the first time that the NTSB had led an investigation into a manned space launch. "This was a test flight, and tests flights are typically very well documented in terms of data," Mr Hart said. "We may have lots of evidence that will help us with the investigative process."
Though SpaceShipTwo had previously flown 50 test flights, only four of them had been powered by the craft's rockets. Friday's flight was the first operational test of a new rocket fuel mixture. "We have always known that commercial space travel is an incredibly hard project," Sir Richard said. "Safety has always been our number one priority. This is the biggest test program ever carried out in commercial aviation history, precisely to ensure this never happens to the public."
The 64-year-old serial entrepreneur said he had received messages of solidarity from thousands of members of the public and from the space community, including NASA. Chris Hadfield, the Canadian former commander of the International Space Station, had sent a moving note, in which he wrote, "Pushing the bounds of knowledge and possibility comes with unavoidable risk."
Before Friday's devastating setback, Virgin Galactic had hoped to start ferrying passengers to the fringes of space in 2015, ushering in a new era of tourism for those willing and wealthy enough to pay up to $250,000 (£150,000) for the privilege.
The commercial space business first emerged 10 years ago following a move away from manned space flight by NASA and the European Space Agency, but last night commercial space experts warned the crash could set back the fledgling industry by another decade. "It's a real setback to the idea that lots of people are going to be taking joyrides into the fringes of outer space any time soon," said John Logsdon, retired space policy director at George Washington University.
This view was echoed by space analyst Marco Caceres, a director of space studies for the Teal Group, an American defence and aerospace consultancy, who told The Independent on Sunday: "Clearly no passenger is going to go into space with Virgin Galactic in the next year, as Mr Branson had hoped. If fact, it's entirely possible this crash could delay things for several years, if not longer."
Some industry insiders suggest the accident will lead to broader debate over regulation of commercial space activity, but Dr Sten Odenwald, chair of the National Institute of Aerospace in Virginia and NASA consultant, warned against writing off the commercial space industry. He said: "The commercial drivers for space travel haven't changed and I can't imagine the business community turning their backs on it now."
Dr Odenwald added, "Other commercial space operators, such Elon Musk's SpaceX and Blue Origin from Jeff Bezos, use totally different technologies to Virgin Galactic."
In the US, commercial space flight is regulated under a special permit system run by the Federal Aviation Administration, which uses a system of special safety exemptions to allow space-tourism ventures, including waivers for passengers accepting increased levels of personal risk.
Prospective astronauts including Angelina Jolie, Tom Hanks, Justin Bieber and astrophysicist Stephen Hawking are said to have signed up to be among the first to fly on Virgin Galactic, which intends to offer two-hour trips into low Earth orbit, including five minutes of weightlessness. Sir Richard said on Saturday that he had received encouraging messages from many of Virgin Galactic's existing customers, and that one person had bought a ticket to support the programme in the 24 hours since the accident. "Anybody who wants a refund can get one," he said.
The Virgin CEO was accompanied to Mojave by his son Sam, who was expected to join him on SpaceShipTwo's maiden commercial spaceflight. Asked whether he still intended to be the first passenger on a Virgin Galactic voyage, Sir Richard said simply, "I hope so."
A step back for mass space travel
Oliver Poole
If air travel were as risky as space flight, statisticians have calculated, there would be 272 plane crashes a day. Virgin Galactic's approach was meant to be the safe and simple solution. But as last week's tragic event showed, there is no safe or simple solution to reaching space.
Re-entry is a particular problem. A craft can have wings, like the space shuttle, enabling it to land where wanted, but that requires it to hit the angle of approach exactly every time. Or it can drop through the atmosphere as a capsule, which is fail-proof, but results in high G-forces and a random landing spot.
Virgin's solution was a mixture of both. Their craft's tail folded up on re-entry as it plunged Earthward and only re-opened in the atmosphere so the craft could fly. But it would do this with no fuel left on board and glide to the runway. That is because gravity is the main obstacle to escaping into orbit – and fuel is heavy.
The bigger your craft, the more fuel you need, and the more difficult it is to break gravity's grip.
The desire to break this constraint, known as the "rocket equation", is why scientists are experimenting with new fuels such as the one used by Virgin Galactic this week.
It is also why state-funded space travel is increasingly relying on remote probes, not manned spacecraft.
It may have taken only 66 years to go from the flight of the first plane to putting men on the Moon. But reaching the era of mass space travel is going to take much longer.
Join our new commenting forum
Join thought-provoking conversations, follow other Independent readers and see their replies