Virgin Galactic crash: Sir Richard Branson criticises 'self-proclaimed experts' for getting theories 'horribly wrong'
The Virgin founder said he was pleased that the NTSB had denied that an explosion had occurred on the SpaceShipTwo craft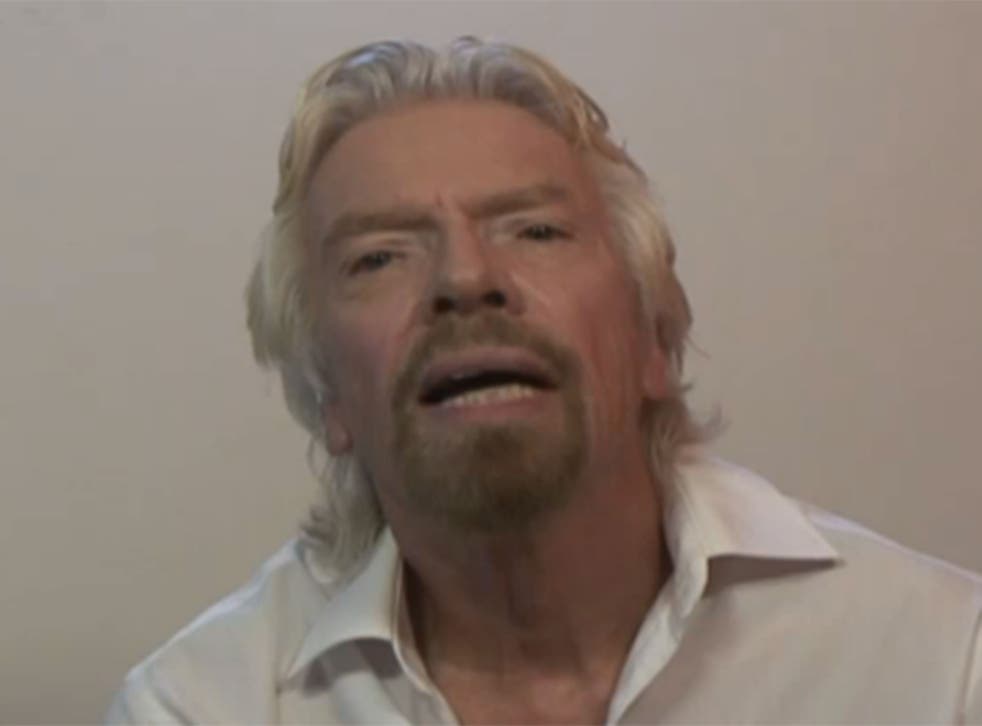 Sir Richard Branson has today criticised the British press and "self-proclaimed" experts for writing that an explosion on Virgin Galactic's SpaceShipTwo spacecraft had led to it crashing and killing a pilot on board.
In an interview for ITV News, Mr Branson blasted Sunday newspapers for publishing articles discussing "exploding fuel tanks and engines" and publishing pictures of "enormous explosions", when there was no evidence for an explosion occurring.
On Friday, Virgin Galactic's SpaceShipTwo broke up in-flight leading the aircraft to crash in California's Mojave Desert, killing 39-year-old co-pilot Michael Tyner Alsbury and seriously injuring 43-year-old pilot Peter Siebold.
Following the crash, Mr Branson said that he had been angry with a "few seasoned sceptical newspapers" that had got it "horribly wrong" in their theories on what had caused the spacecraft to come down.
In pictures: Virgin Galactic space rocket crash

Show all 9
He said: "I found it very uncomfortable over the weekend when so many self-proclaimed experts in the UK came out saying there had been an explosion."
On Sunday night, Christopher Hart, Acting Chairman of the National Transportation Safety Board spoke to the press about how the investigation into what caused the crash was progressing.
During the press conference, he said that a team of 13 to 15 people were investigating the wreckage, but that as of yet there were still a lot of "unknowns" surrounding the crash.
Hart said that investigators would be gathering information over the next week, but finding out the definitive cause of the crash could take as much as 12 months.
In the interview with ITV, Richard Branson said that he was confident that the investigation would be concluded before that.
He said: "My initial estimate is that the investigation will take nothing like 12 months, the NTSB has given me a strong indication as to what they think caused the crash and I think they are going to be able to ascertain, but of course it is still for them to say, the exact cause of the crash."
Despite the tragedy on Friday, Branson used the interview to reaffirm his intentions to continue Virgin's development of their Galactic project.
He said: "We have a wonderful team who are keen to get working on the second spaceship, start work on the third spaceship and get everything back on track."
Branson did admit that he would not be going into space in February as he had hoped and said that he was unsure exactly when this would happen.
He said: "I am not going to give dates, I have given dates in the past and not met them and I don't want to give the sceptics about our programme any extra ammunition."
Join our new commenting forum
Join thought-provoking conversations, follow other Independent readers and see their replies