Virgin Galactic crash: Spaceflight company warned of safety issues, expert claims
Claims follow news that three senior Virgin Galactic executives – including its safety chief - have left in the last year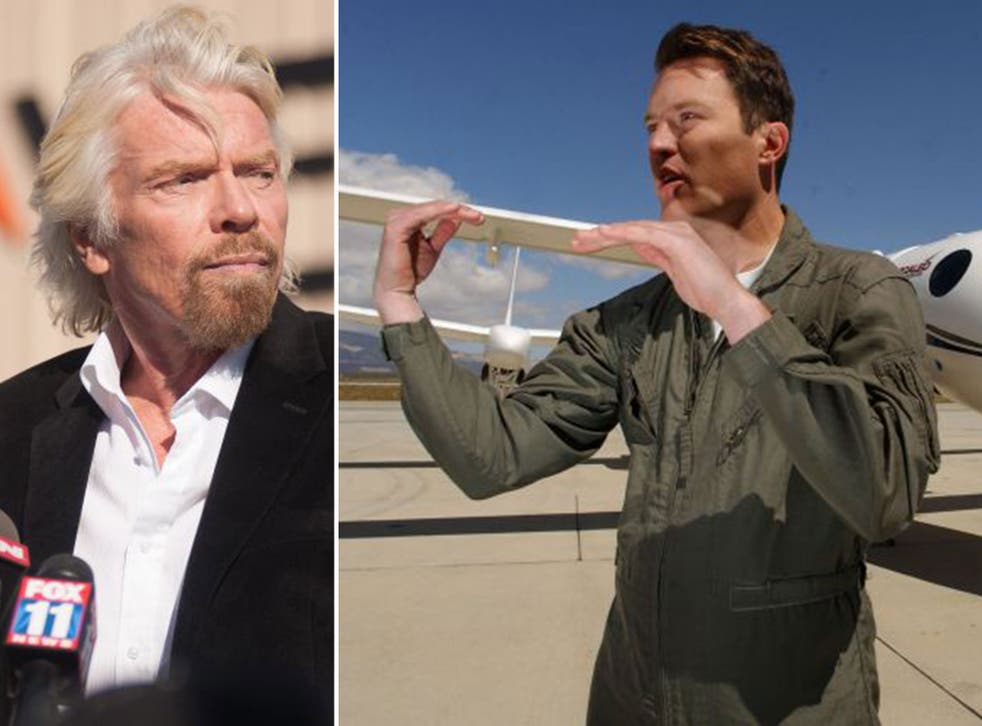 Virgin Galactic was given warnings several years ago about the danger of its rockets but chose to ignore cautions from experts, it has been claimed.
One pilot was killed and another seriously injured in a test flight in the Mojave Desert on Friday, after Virgin Galactic's SpaceShipTwo broke up inflight.
Carolynne Campbell-Knight, an expert on rocket propulsion at the International Association for the Advancement of Space Safety (IAASS), said she raised concerns with Virgin Galactic over its use of nitrous oxide in its rockets around four years ago.
In pictures: Virgin Galactic space rocket crash

Show all 9
Ms Campbell-Knight had contacted Sir Richard Branson's company in 2009 or 2010 following growing concerns about the programme's safety measures, after three engineers were killed in an explosion during the testing of a rocket engine on the ground in 2007.
She said nitrous oxide can "go bang in a very unpredictable way," adding: "My view is from my own engineering experience which I shared with them – they obviously took the position that they knew better."
She has said that she was shocked but not surprised that SpaceShipTwo had crashed, assing that that Virgin Galactic should "give up" on the idea of commercial space travel, the first flights of which were due to start next spring.
"[They should] go away and do something they might be good at like selling mobile phones – they should stay out of the space business," she said.
In a statement Sir Richard's team refuted any allegations they had ignored safety warnings.
"At Virgin Galactic, we are dedicated to opening the space frontier, while keeping safety as our 'North Star'. This has guided every decision we have made over the past decade, and any suggestion to the contrary is categorically untrue," the company said.
Sir Richard has said he is "determined" to find out what went wrong with the test flight, to learn from it "and move forward".
The claims come as the Daily Telegraph revealed a US-based British rocket scientist Geoff Daly had contacted the Federal Aviation Agency last year to warn authorities of the dangers posed if Virgin Galactic's test flights were approved.
"Remember three people have been killed and numerous persons injured by a prior explosion involving [nitrous oxide] in this motor design. We do not need another incident on the ground/flight line or in the air," he wrote in an email to the FAA in 2013.
Virgin Galactic has also been accused of being secretive about its rocket design.
Tomasso Sgobba, executive director of IAASS and the former head of safety at the European Space Agency, told the Telegraph that Virgin Galactic had refused to share information with industry experts from outside of the company, and did not have its rocket design peer reviewed.
He said Virgin Galactic was using "outdated methods" that "don't use modern techniques in putting safety into the design".
Virgin Galactic has reportedly lost three of its senior executives in the last year, with the vice president for safety Jon Turnipseed having left just before Christmas, and Thomas Markusic, the vice president for propulsion, having left the company in January this year. It is also understood that the chief aerodynamics engineer left the company in recent months, according to reports.
Tom Bower, an investigative journalist and Sir Richard's biographer, told the BBC's Today programme last week that he understood Virgin Galactic was swiftly losing its vital engineers.
"All the engineers in California working on the project I've spoken to said it was very dangerous, just a few weeks ago the last of many of the Virgin Galactic engineers walked out of the factory and said he'd never work there again," he told the programme.
Investigations into the cause of the crash have begun with the National Transportation Safety Board saying their on-site investigation could last up to a week, while the result of the probe may not be known for up to a year.
Virgin Galactic said: "We understand that everyone is anxious to understand what happened on Friday; certainly no one wants to know more than we do.
"However, as we have made clear, Virgin Galactic is not in a position to comment on the incident itself or the test flight. The National Transportation Safety Board (NTSB) is in charge of the investigation and we are co-operating fully with their work. All inquiries should be directed to them."
Additional reporting by PA
Join our new commenting forum
Join thought-provoking conversations, follow other Independent readers and see their replies