Walmart shooting: Campaigners urge parents to prevent guns falling into hands of children
Appeal comes after two-year-old shoots mother in supermarket with her concealed weapon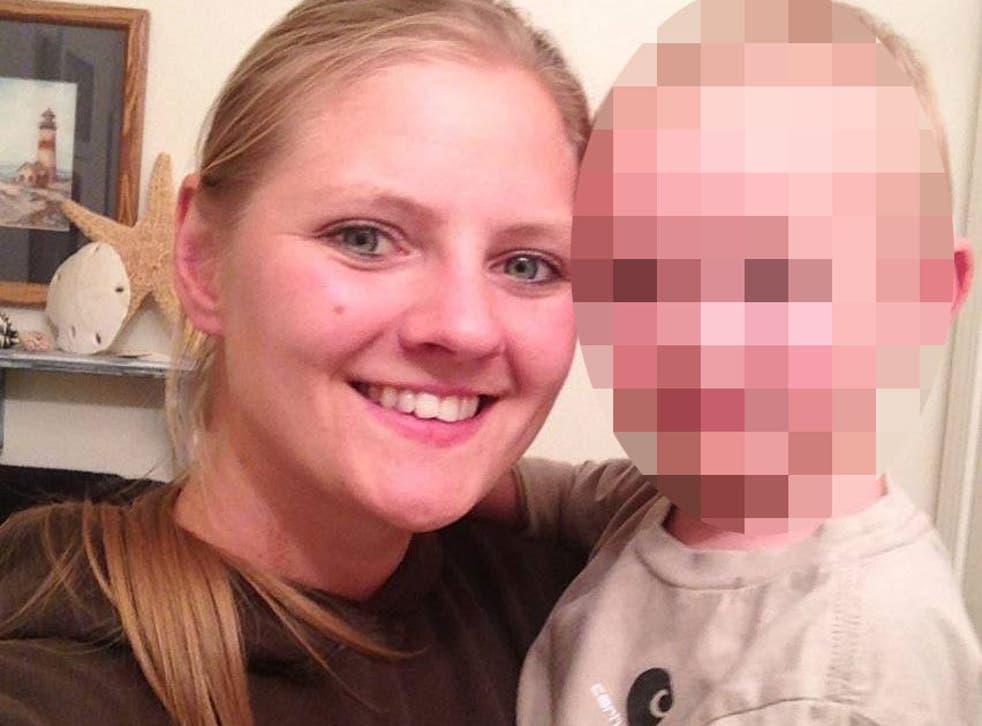 The purse in which Veronica Rutledge was carrying her small calibre handgun was a gift from her husband. Both were crazy about guns and the specially-designed purse he gave her last week on Christmas Day contained a zipper pocket for a weapon
Somehow, on Tuesday morning, as Mrs Rutledge was shopping in a super-market in Hayden, Idaho with her four children, her two-year-son, seated in the shopping trolley, was able to reach into her purse and fire the weapon. His actions had devastating, deadly consequences.
The accidental death of 29-year-old Mrs Rutledge at the hands of her child has reignited a decades-old debate in the US about whether or not there should be more gun control. A number of commentators have asked how the youngster was able to reach the weapon and whether or not the safety catch on the gun was on.
Her family, who described the nuclear scientist who reportedly loved country music as "a beautiful, young, loving mother", has responded angrily to suggestions that she had been careless.
"They are painting Veronica as irresponsible, and that is not the case," her father-in-law, Terry Rutledge, told the Washington Post. "I brought my son up around guns, and he has extensive experience shooting. And Veronica had had hand gun classes. They're both licensed to carry, and this wasn't just some purse she had thrown her gun into."
The case has also drawn attention to a number of cases in recent years in which youngsters in the US have got their hands on weapons with deadly or near-deadly results.
• In November 2014, Christa Engles, 26, from Oklahoma, was killed by her three-year-old son who accessed a semi-automatic pistol and shot her in the head as she changed the nappy of her one-year-old daughter.
• In November 2014, five-year-old as DaMoni Troutman was killed after he was accidentally shot by another child in Indianapolis.
• In August 2014, a three-year-old in Atlanta, Georgia, was seriously injured after shooting himself in the face while playing with his mother's gun in her bedroom.
• In August 2014, a three-year-old in Pueblo, Colorado, was seriously injured by her five-year-old friend who was playing with a gun that had been left unattended by her mother's boyfriend.
• In June 2014, a three-year-old from Hopewell, Virginia, seriously injured his twin brother after shooting him with a gun left unattended in his home.
• In April 2014 a two-year-old boy shot and killed his eleven-year-old sister while they and their siblings played with a gun inside a Philadelphia home. Authorities said the gun was believed to have been brought into the home by the mother's boyfriend.
• In June 2013, a man was fatally wounded when his four-year-old son fired a gun he found while they were visiting a residence in Prescott Valley, Arizona.
• In May 2013, in Burkesville, Kentucky, a five-year-old boy accidentally shot his two-year-old sister to death in rural southern Kentucky with a rifle he had received as a gift.
• In April 2013, a four-year-old in Nashville, Tennessee, shot and killed the wife of a police officer after gaining access to a loaded gun during a family barbecue.
• In April 2013, six-year-old Brandon Holt was shot dead by his four-year-old friend with a .22 hunting rifle in Toms River, New Jersey. The four-year-old's father, Anthony Senatore, faces three years in jail after pleading guilty to endangering children by allowing his son to access the weapon.
The collection and collation of data about gun deaths and injuries is not a simple task, yet government figures released by the Centres for Disease Conrol and Prevention (CDC) suggest at least one child aged 14 or below is unintentionally killed every week by a shooting, with an average of 62 every year.
A report last summer by MinnPost.com said the real figure may be much figure. It quoted a report by the campaign group Everytown for Gun Safety that said the number of child deaths was closer to two a week. It said that in the 12 months that followed the 2012 mass shooting at Sandy Hook Elementary School in Newtown, Connecticut, 100 youngsters were killed in accidental shootings.
Yet there appears to be no such data on accidental shootings in which children have their hands on the trigger. Jonathan Hutson, a spokesman for the Brady Centre to Prevent Gun Violence, told The Independent the lesson from the tragedy in Idaho was that parents had to ensure they kept their firearms safe.
He said an estimated 1.7m children across the US lived in homes where there were unlocked, loaded guns. In Idaho, an estimated five per cent of homes with young children had unlocked, loaded weapons, putting 17,030 youngsters there in potential harm.
"Many parents bring a gun into the home legally with no intent of doing harm," he said. "Many think they're doing their family a service by offering protection. Yet these guns cause the majority of gun deaths and injuries. Tragedies could be avoided if parents would only take simple steps to ensure that these guns are not accessible to their children."
Yet John Lott, a gun rights campaigner who heads the Crime Prevention Research Centre and who is a contributor to Fox News, said public support for gun rights, including the right to carry a concealed weapon, was growing.
He pointed to the results of a survey released in December 2014 by the Pew Research Centre which showed for the first time in at least two decades, there was "more support for gun rights than gun control". The research suggested 52 per cent of people said it was more important to protect the right of Americans to own guns, while 46 per cent said it was more important to control gun ownership.
He claimed public support for guns was growing because of several factors, including the publication of a number of studies he said showed gun ownership prevented crimes.
Mr Lott, who said his organisation received no support from gun manufacturers, said the media was also slowly reporting instances where someone carrying a licensed concealed weapon had been able to prevent a crime. As a result, people were becoming more aware of the benefit of being armed.
"There was an incident in Fargo, North Dakota, when someone was being attacked by four people, and someone with a concealed weapon was able to step in and stop it," he said, referring to an incident on Monday afternoon in Fargo's NP Avenue. A report by the WDAZ television station said four men had tried to lure a 36-year-old man behind a building.
Police said the husband of Mrs Rutledge was not in the Walmart store at the time of shooting, but arrived soon afterwards. All four children were taken to the home of a relative.
Terry Rutledge, the young woman's father-in-law, said the family were struggling to comprehend the loss and to determine what to tell the little boy who had killed his mother.
"An inquisitive two-year-old boy reached into the purse, unzipped the compartment, found the gun and shot his mother in the head. It's a terrible, terrible incident," he told the Washington Post.
He added: "My son is terrible. He has a two-year-old boy right now who doesn't know where his mom is and he'll have to explain why his mom isn't coming home. And then, later on his life, as he questions it more, he'll again have to explain what happened, so we'll have to relive this several times over."
Join our new commenting forum
Join thought-provoking conversations, follow other Independent readers and see their replies