Watch the hatching of 100 baby sea turtles
Video: A dedicated turtle webcam in Florida Keys has caught the amazing moment when 100 baby loggerhead sea turtles were born under the moonlight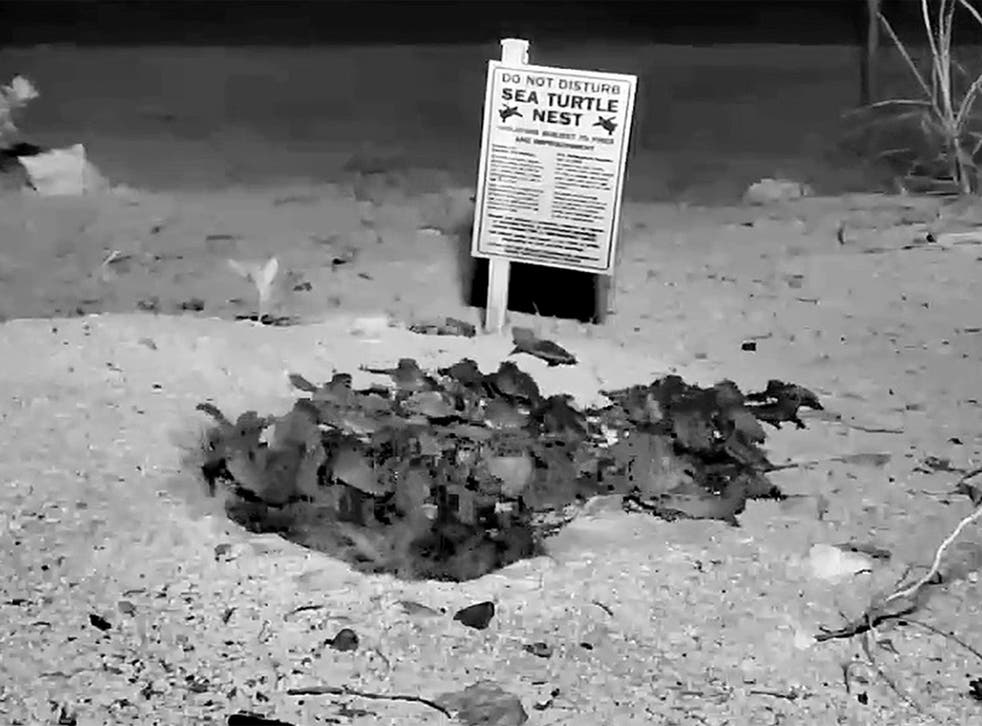 You wait for one baby sea turtle to hatch, then 100 come along all at once.
A high-definition "turtle webcam" has caught the hatching of 100 baby loggerhead sea turtles on a beach in the Florida Keys.
The webcam had been filming the turtle nest in the Lower Keys for two weeks until at last, on Friday night, 100 baby turtles emerged from the hole underground and began to take their first steps, waddling off towards the Atlantic Ocean.
The webcam had to use infrared lighting so as not to confused the newly-born sea turtles.

"This webcam is high-definition, the first time ever used (to record a turtle hatch), and also an infrared IR-emitting light that is so important because it does not disturb any of the activities of the turtle trying to find the ambient light of the moon," said Harry Appel, president of the Keys-based Save-a-Turtle organisation.
The filming of the event was a partnership between Appel's organisation and the Florida Keys tourism council. The project is part of an effort to help protect sea turtles in the region.
Appel said: "It's so important here in the Keys to protect these nests and these turtles. They've been around for millions, maybe hundreds of millions, of years."
There are five species of sea turtle - loggerhead, green, leatherback, hawksbill and Kemp's ridley - that nest in the Florida Keys and all are considered either threatened or endangered.
To view the live "Turtlecam", visit www.fla-keys.com/turtlecam
For more information on the Florida Keys & Key West, visit www.fla-keys.co.uk
Join our new commenting forum
Join thought-provoking conversations, follow other Independent readers and see their replies