Shark rescue video: Watch the moment beach-goers rescue stranded great white shark
Around 30 people helped the rescue operation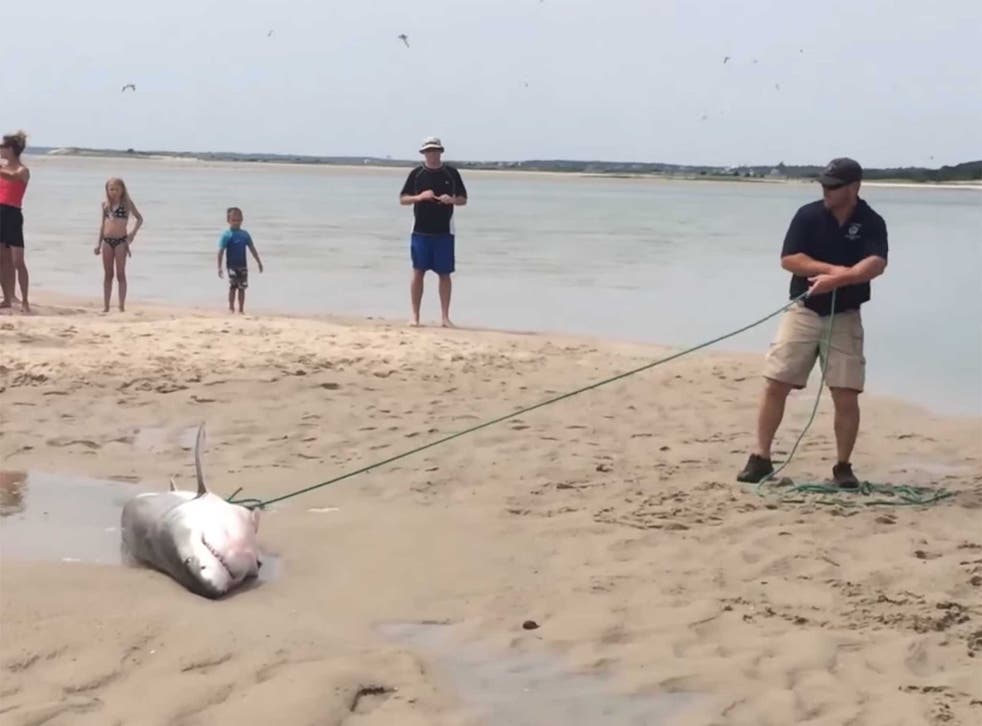 A young, great white shark has been rescued from near-certain death by a group of people relaxing on a beach.
Video footage of the rescue captured the moment the shark was saved after becoming stranded trying to catch seagulls.
The seven and a half-foot juvenile male shark was spotted by holiday makers on Chatham's South Beach, Massachusetts, at around 1.30pm on Monday.
A group of around 30 people kept the animal alive by pouring water over the shark until conservationists arrived on the scene.
Local harbour master Stuart Smith was able to attach a rope to the shark and, with the help of colleagues, dragged it back into the sea ending the rescue at around 5pm.
"Twenty, 25 years ago, they wouldn't be exactly helping the shark. They'd be harming the shark. But now every single person on that beach was trying to assist it," Mr Smith told the Boston Globe. "The people on the beach made the difference."
Greg Skomal, a biologist from the state's Division of Marine Fisheries, was also on hand to help, attaching an acoustic tag to the animal to enable researchers to track its movements along the Cape Cod coast.
The world's best shark diving locations

Show all 10
He also praised the actions of the crowd, noting that when the great white eventually started swimming roughly a mile out to sea spectators "started clapping on the shoreline".
Although the video does not appear to show the shark swimming, it has been reported that the fish survived – despite appearing close to death in much of the video.
Join our new commenting forum
Join thought-provoking conversations, follow other Independent readers and see their replies