We need to make contact with isolated Amazon tribes, say academics
Should official policy on 'uncontacted' peoples be changed?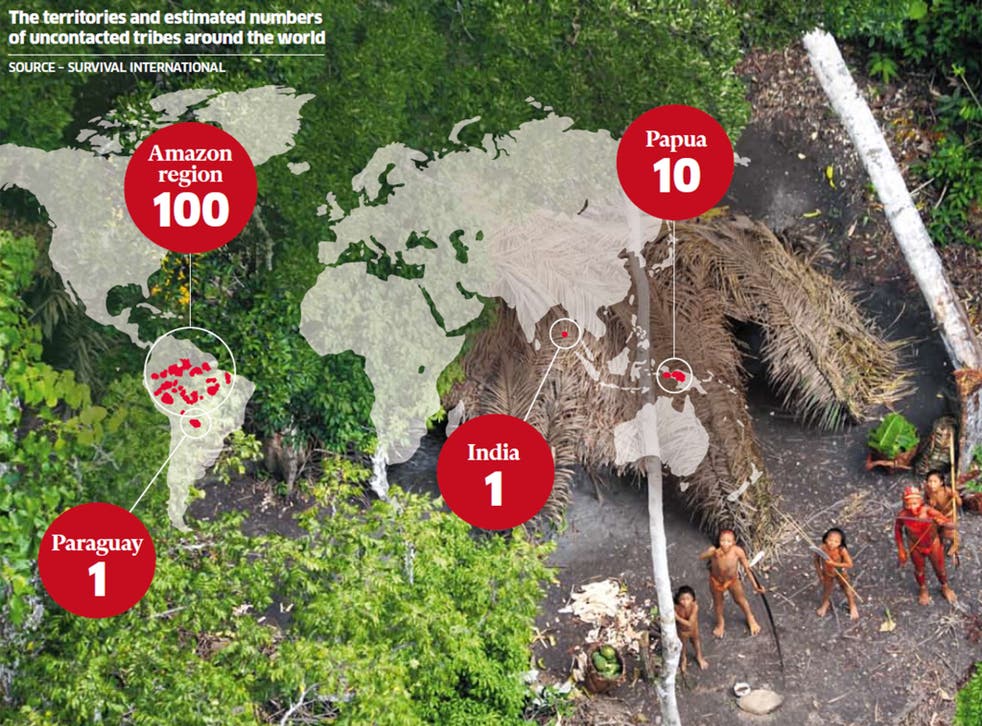 Making contact with indigenous tribes who have remained isolated from the modern world should be encouraged rather than forbidden, according to two anthropologists who have challenged official policy towards "uncontacted" people.
In a proposal that has split the anthropological community, American academics Kim Hill and Robert Walker have suggested that the time has come to change the official line on uncontacted tribes by striving to make the first, controlled, contact with people who may be unaware of the rest of humanity.
According to Survival International, it is thought that there could be more than 100 isolated indigenous societies in the world – mostly living in the Amazon rainforest of South America – who have never been in contact with the modern world.
After centuries of disastrous interaction between indigenous groups and European colonists, mainly in the Amazon basin where millions of native people have been killed through disease, starvation and slavery since explorers first penetrated, the official policy today is to "leave them alone".
However, Hill and Walker believe that if the last uncontacted tribes left in the world are not met in a safe, controlled manner, then it will inevitably be done in a brutal, uncontrolled way by people who care little for their continued survival.
"Protection is an illusion. Loggers, miners, narco-traffickers, hunters and explorers enter all these areas at will, and accidental contacts are inevitable and disastrous," said Professor Hill, an anthropologist at Arizona State University in Tempe, Arizona.
"Contacting tribes in a controlled way for their viability is independent of any exploitation of their land, which is already taking place at an alarming rate and inevitably leads to accidental contacts that are catastrophic," Professor Hill added.
"Contacting them almost always leads to increased, not decreased, political protection, because they get incorporated formally into government protection and land-titling processes," he said.
Earlier this month, Professor Hill and Mr Walker, an assistant professor at the University of Missouri, wrote an impassioned editorial in Science proposing that the UN, together with the governments of Brazil and Peru, should change their isolationist policy on uncontacted tribes by actively seeking them out with legal and medical aid.
"Leaving groups isolated, yet still exposed to dangerous and uncontrolled interactions with the outside world, is a violation of governmental responsibility. By refusing authorised, well-planned contacts, governments are simply guaranteeing that accidental and disastrous contacts will take place instead," the two anthropologists said.
However, the idea has been denounced by Survival International, which has long campaigned for the rights of uncontacted tribes to be left alone. "Walker and Hill play straight into the hands of those who want to open Amazonia up for resource extraction and 'investment'. That they claim this is for the tribes' own benefit is dangerous and misleading nonsense," said Stephen Corry, Survival's director.
"Perhaps their most offensive justification for forcibly contacting isolated tribes is that 'surviving indigenous populations rebound quickly from population crashes'. The casual tone with which the authors dismiss the deaths of scores of men, women and children is deeply disturbing," Dr Corry added.
"Isolated tribes are perfectly viable, as long as their lands are protected. To think we have the right to invade their territories and make contact with them, whether they want it or not ... is pernicious and arrogant," he said.
Survival cites several examples where contact has led to unnecessary infections, such as two Awá women in the north-east Amazon who recently became critically ill with TB because they were left for months without proper treatment after meeting outsiders.
However, Professor Hill claimed that it is in itself arrogant to assume uncontacted people are perfectly happy and healthy with no communication with the rest of humanity.
"Humans are social animals and isolation is an unnatural response to extreme fear. Government protection will allay that fear and these groups will immediately show desire for outside interaction ... Too many of the opposition viewpoints come from people who treat isolated natives as icons ... and want to create human cultural diversity zoos, rather than showing personal concern about the humans affected," he said.
Join our new commenting forum
Join thought-provoking conversations, follow other Independent readers and see their replies