Ferguson protests: Weekend of demonstations underway after fatal shooting of black teenager
Tensions rise in St Louis city where death of teenager Michael Brown first sparked riots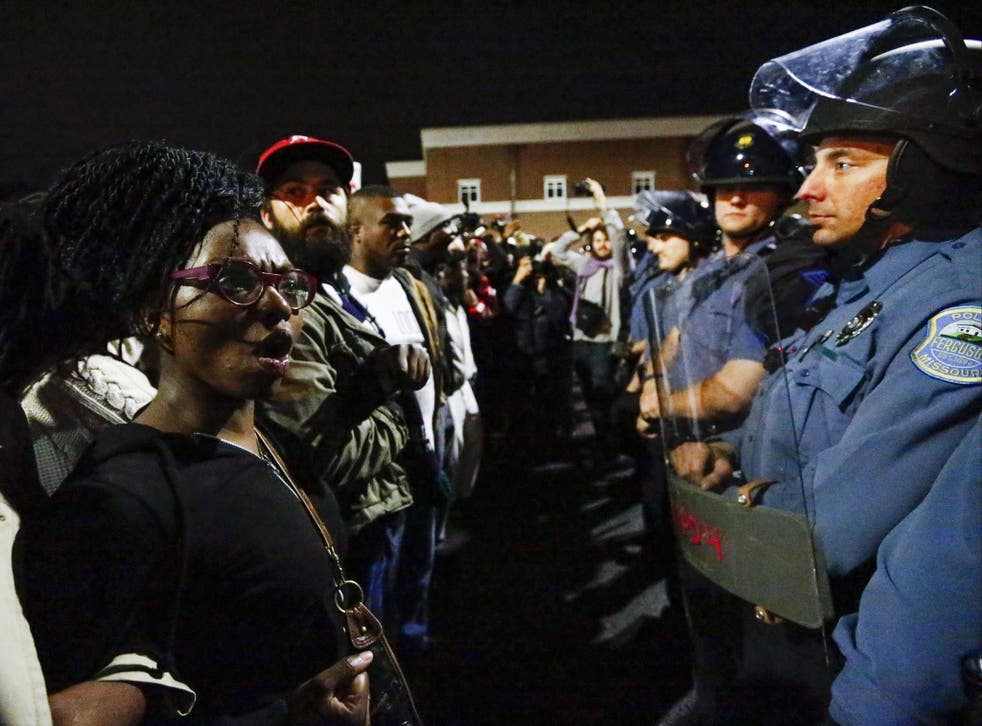 Fresh demonstrations against police shootings have begun in Ferguson after another black teenager was gunned down by officers.
The city, in St Louis County, Missouri, has been at the centre of media attention ever since the death of Michael Brown at the hands of law enforcers in August sparked rioting in the streets.
Hundreds of protesters marched through the rain on Friday to start a weekend of demonstrations following the death of 18-year-old Vonderrick D Myers on Wednesday.
Many bore placards that read "don't shoot" and "we want justice" while others held up their hands in a symbolic gesture. Chants of "my hands on my head, please don't shoot me dead" also rang out.
The parents of recent high school graduate Michael Brown, shot dead by police on August 8 despite being unarmed, asked for the protests to be peaceful.
The call came after eight people were arrested in chaotic protests on Thursday night.
"We understand first-hand the powerless frustration felt by people of all walks of life regarding their interactions with law enforcement," they said in a statement.
"We ask that those coming to show support for our son do so within the law."
Outside the city police station, protesters came within inches of a line of officers dressed in riot gear. But despite tensions, no violent clashes broke out.
It has emerged that Myers was shot dead by an off-duty officer working for a private security firm. According to police the pair were engaged in a firefight about 10 miles outside of Ferguson.
The officer, 32, was uninjured and has since been placed on administrative leave.
Myers' death, which comes exactly two months after that of Michael Brown, has served to once again raise racial tensions in the city, described as having a mostly black population with a mostly white government leadership.
Ferguson Mayor James Knowles said authorities were planning for large crowds and possible violence.
Protest group Hands Up United was among those organising candle-lit vigils and offering classes teaching people how to interact with police officers during stops over the weekend.
Tef Poe, a local rapper and organiser with the group said: "Local police departments have gassed us, beat us and shot us with rubber bullets, but they cannot stop our march for justice."
Protestors have called for the arrest and prosecution of Ferguson police officer Darren Wilson, who shot Brown six times, including twice in the head. A grand jury has been weighing evidence to decide whether he should be charged.
Additional reporting by Reuters
Join our new commenting forum
Join thought-provoking conversations, follow other Independent readers and see their replies