Woman with gun-shaped shoes stopped by airport security
The silver stilettos were shaped like small revolvers with bullet decorations around the side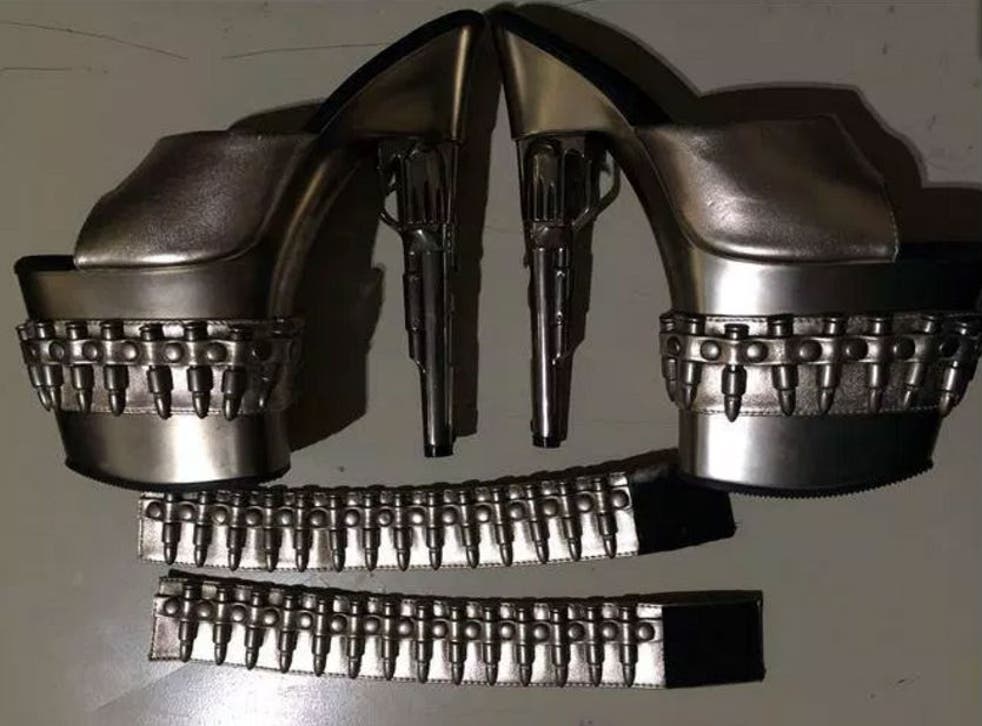 A woman carrying gun-shaped high heels in her carry-on luggage was stopped by airport security.
The woman, who was traveling from Baltimore/Washington International Airport in Maryland, was asked by the Transport Security Administration (TSA) to let them examine the shoes.
Her two bracelets lined with fake bullets were also examined.
TSA spokeswoman Lisa Farbstein posted a picture online of the items on Monday.
"Shoes and bracelets that are less than ideal to wear or bring to a TSA checkpoint," she said. "Friendly reminder from TSA: realistic replica firearms and ammunition are not permitted past TSA checkpoints."
TSA rules state that passengers should only transport replica firearms in their checked-in baggage and not carry it on board a plane.
Ms Farbstein told TIME in an email that the passenger was delayed but it's unclear for how long.
The woman, whose name has not been released, was told she could put them in a checked bag but left them behind to catch her flight.
Firearm-style jewelry caused outrage when Republican Donald Trump's spokeswoman Katrina Pierson wore a necklace of bullets on CNN in December, in what appeared to be an attempt to protest at gun control restrictions.
Join our new commenting forum
Join thought-provoking conversations, follow other Independent readers and see their replies