Youngster who shaved head to help kids with cancer diagnosed with aggressive form of disease
Vinny Desautels and his family are trying to be optimistic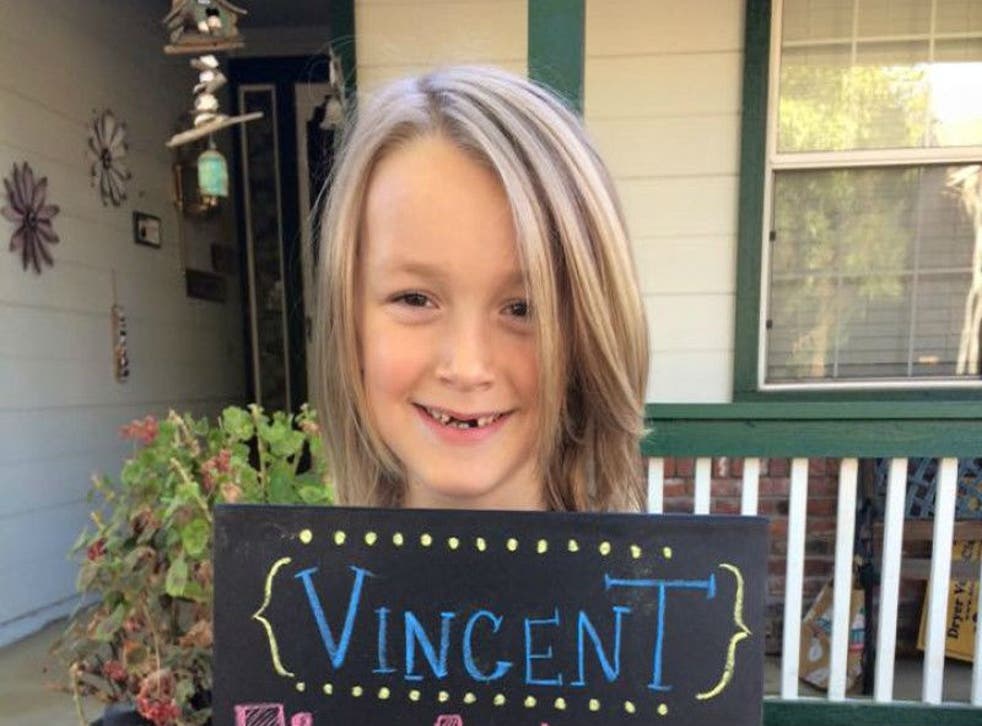 It was Vinny Desautels' mother who first told him about cancer.
His mother, Amanda Azevedo, a hair stylist, was helping cancer survivors get their hair ready for a gala and he wanted to help too. She told him he could grow out his hair, cut off the locks and donate them for wigs for youngsters who had lost their hair to the disease.
Now, two years after he began growing his hair - and enduring the slights and playground jibes of his schoolfriends - Vinny is himself confronting cancer.
The seven-year-old, from Roseville, California, and his family have been told he has an aggressive stage four form of the disease.
"I want to help people so they don't have to go to the doctors to fight cancer," Vinny told the KTXL television channel, of his voluntary efforts.
During that time, he grew his hair out 13 inches, and when the time came for a haircut he mailed it off to a group that made wigs for children.
"Basically what they found is that he has a significant growth on his hip and in the bone around the eye and behind the nose, and on the cheek on the right side," said Jason Desautels, Vinny's father.
The seven-year-old is optimistic and trying to make sense of the diagnosis.
"Well the veins from my hip are traveling to another place right behind my eye and it`s making it squinty," Vinny said.
Since the diagnosis, the Desautels have taken the youngster for a series of tests. Doctors are reportedly almost certain that it is Ewing's sarcoma, a rare form of the disease that manifests in the bone or soft tissue. A GoFundMe page has been established for his medical costs.
His family told US media that the boy's right eye was now almost entirely shut and that they were preparing for an extended hospital stay; Vinny will begin chemotherapy treatment on Tuesday.
"As long as we're there with a smile, telling him he's going to be alright, he has the same attitude," said the boy's father. "Vinny is like us - an eternal optimist."
Join our new commenting forum
Join thought-provoking conversations, follow other Independent readers and see their replies