930,000 polling stations, 814m voters in India: the biggest election ever
How do you choose a new leader for the world's largest democracy? With difficulty, says Andrew Buncombe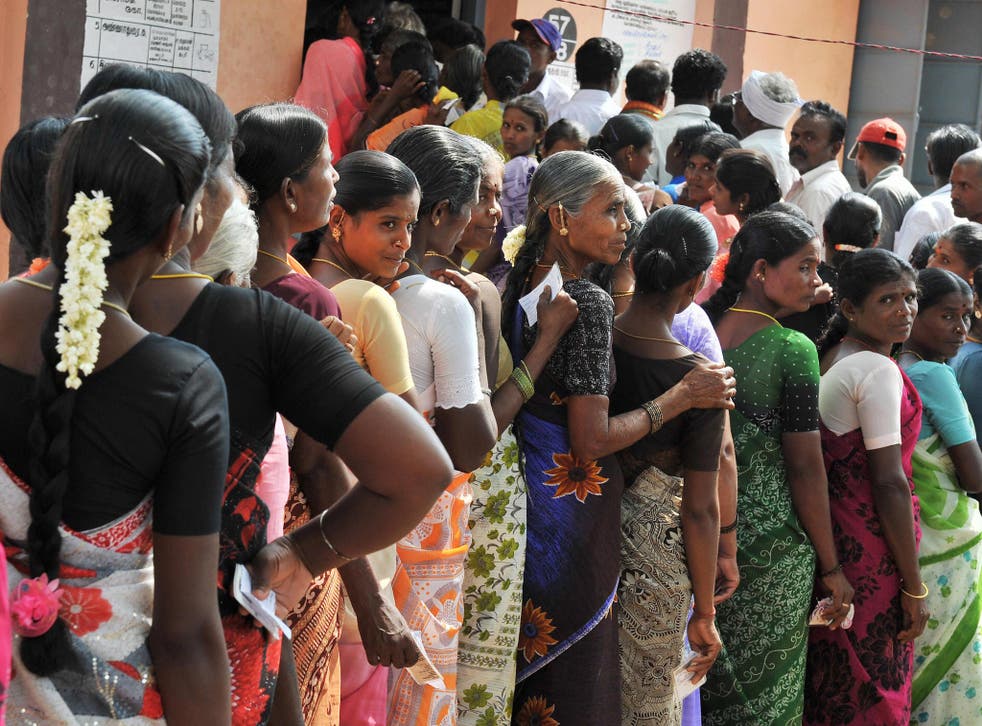 It is the sheer scale of the endeavour that seizes the imagination – 814 million voters, 930,000 polling stations, 1.4 million electronic voting machines, 11 million police and security officers. And at the end of it all, there will be one winner.
India this week announced dates for what will be the biggest democratic exercise in history. A little over 420m men and just under 390m women are registered to vote in the upcoming general election. Voting for the 16 parliament will be held on nine separate days between April 7 to May 12. The results are due to be announced on May 16.
Many of India's 35 states and so-called union territories are so big that voting is being staggered over different dates. In two northern states – Uttar Pradesh, which has a population of 200m, and Bihar, which is home to 103m people – six days have been fixed for people to cast their ballots.
The person tasked with overseeing it is Veeravalli Sundaram Sampath, India's Chief Election Commissioner. At his office in Delhi, a plaque on the wall lists the names of those who have held the post before him, the first of them being Sukumar Sen. When independent India held its first election, between October 1951 and February 1952, the electorate stood at just 173m, a fifth of those registered to vote this time.
Mr Sampath said that a willingness to delegate and a well-oiled decentralised system were the keys to a successful operation. Yet as he outlined the task ahead of him and his team in the days and weeks ahead as India's summer sets in, the scale of challenge became clear.
Some areas of the country were so remote, he said, that officials and their equipment would have to set off two or three days ahead of polling day. In snowbound districts helicopters would be used, while in coastal areas officials will travel by boat. "In Rajasthan they will be sent by camel," he said, as the traffic sounded from the street outside his office.
He said that in some areas, particularly in the southern states of Karnataka, Tamil Nadu and Andhra Pradesh, officials were concerned about candidates buying votes. Candidates are supposedly limited to Rs7m in campaign spending and it was a challenge for officials to keep a track on unaccounted money. The distribution of liquor to voters, especially in rural areas, presented another headache. Sometimes literally.
Mr Sampath said flying squads of election officials, video surveillance teams and accounting experts were preparing to monitor events. He would sit at the centre.
As far as he was concerned, the scale of India's election made it unique. And yet he was confident that voting and counting would proceed smoothly. "The results will be out by lunchtime. By 2pm you will know," he said. "After that, it will be the government formation."
Any election in India is a window into the vastness and diversity of a country that spans from Kashmir to Tamil Nadu, and from Gujurat to Arunachal Pradesh. It is also a snapshot of its often painful faultlines - the enduring power of caste, of religious divisions and of lives scarred by dire, wretched poverty despite there being more millionaires here than anywhere else on the planet.
Amid the theatre that will play out across the country, one can lose sight that a bitter political battle is about to begin. Indeed, many believe this is India's most significant election for more than three decades.
The ruling centrist Congress party, headed by Sonia Gandhi and her son Rahul, are trying to hold off a challenge from the Hindu nationalist opposition, the Bharatiya Janata Party (BJP).
Supporters of the BJP's prime ministerial candidate, Narendra Modi, who is the chief minister of Gujarat, say he will tackle corruption and oversee the kind of economic development that his state has enjoyed under this watch. They say people are fed up with the corruption that has been allowed to flourish.
"The main issues for voters are the price rises and the mismanagement of the economy," said senior BJP spokesman Shrikant Sharma. "Both of these are connected to the issue of corruption."
His detractors, meanwhile, suggest that Mr Modi is autocratic, intolerant and will do little to bring India's various communities together. For more than a decade, he was boycotted by the West amid claims he did insufficient to prevent the massacre of hundreds of Muslims in his state in 2002. The anticipation of Mr Modi's possible victory – and lobbying by his supporters in the UK and US – have seen those boycotts ended.
"We have had the BJP in power before, but it was a very different BJP," said journalist Hartosh Singh Bal. "For the very first time we are going to get a leader who embodies the ideology of the BJP and the RSS [Rashtriya Swayamsevak Sangh, a right-wing Hindu group] and Hindutva ideology."
He said he did not expect a victory for Mr Modi would result in more clashes between religious groups, but that dissent and criticism might be clamped down on. He said newspaper editors and universities were most likely to feel the pressure.
Right now it is Mr Modi who appears to have the momentum. A flurry of polls suggest three times as many Indians would prefer him to be prime minister compared to Rahul Gandhi, scion of the Nehru-Gandhi family.
But for all the media attention paid to the show-down between Mr Modi and Mr Gandhi, India's election is not a presidential contest. That means that while these two men dominate the headlines, particularly in urban areas, it is local issues and local politicians that will remain the most important factor for many voters.
Another factor in the past 20 years has been the rising importance of regional parties. From West Bengal, where Mamata Banerjee heads the Trinamool Congress, to Tamil Nadu, where Jayalalithaa Jayaram controls the All India Anna Dravida Munnetra Kazhagam, regional parties, with support often drawn along caste, ethnic or religious lines, have become dominant in many areas.
Observers say this means it is unlikely any single party can these days secure the 272 seats required for a simple majority. Many question whether the blunt-talking Mr Modi is ready or able to build a coalition.
India currently faces a host of problems. Economic growth, which once stood at double figures, is currently projected at  4.9 per cent, jobs have not been created, people have become sickened by corruption helping give support to the rise of the grass-roots Aam Aadmi, or Common Man, party. Both according to the polls, and anecdotally, the mood of anti-incumbency feels intense. Some polls suggest the Congress may plummet to an all-time low.
But history suggests that predicting the outcome of Indian election is a task beset with pitfalls. In 2004, most believed the BJP, led by Atal Bihari Vajpayee and campaigning under the slogan 'India Shining', would be returned to office, but they were not. Likewise, many in 2009 predicted the Congress would lose, but they held on.
Is it possible that the Congress-led coalition, or else another party propped up by the Congress, could come back? 
"Some people have clearly not learned the lessons of political history," said Abhishek Singhvi, a spokesman for the Congress. "India's diversity should never be taken for granted in terms of verdicts. Let us wait and watch."

Join our new commenting forum
Join thought-provoking conversations, follow other Independent readers and see their replies