Ai Weiwei breaks gagging order in scathing attack on China's human rights
Dissident artist speaks out after weeks of muted criticism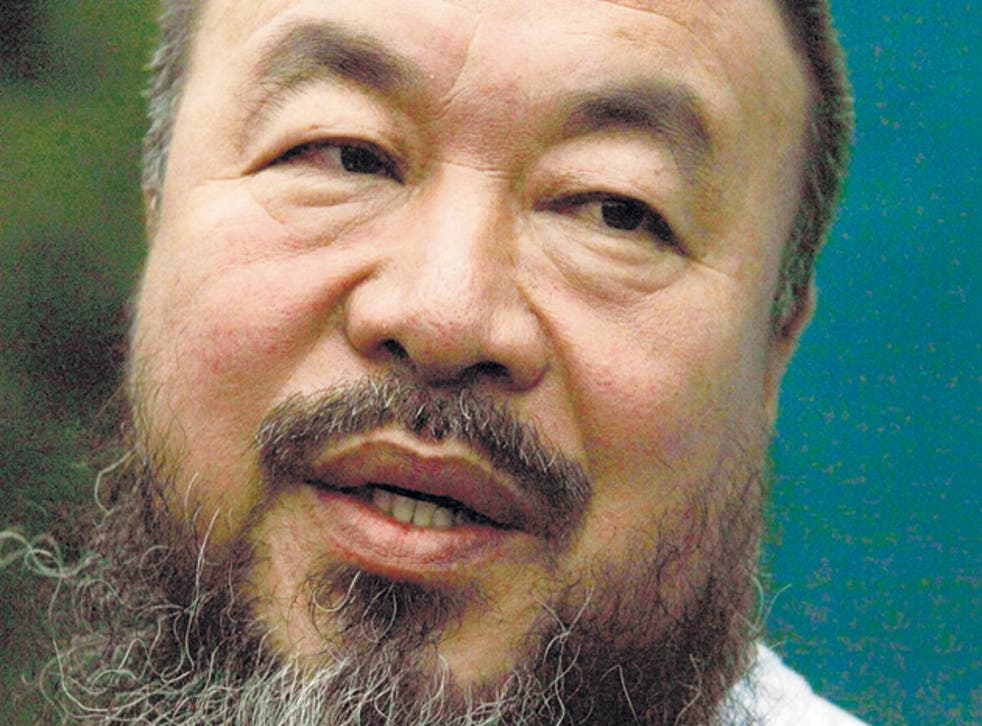 China's best-known dissident, the artist Ai Weiwei, delivered a calculated and outspoken attack about repression in Beijing, in an apparent rebuke to the regime that had sought to secure his silence by detaining him for nearly three months.
Mr Ai criticised the police, judiciary and the unfairness of Chinese society despite controls imposed on his release on bail in June that were designed to minimise his ability to embarrass the leadership.
In a commentary for Newsweek magazine's website, Mr Ai – best known for designing the Bird's Nest Olympic Stadium in Beijing – called the capital a "city of violence" where nobody could speak out because they were denied basic human rights. He also damned the legacy of the 2008 Beijing Olympics, which has been trumpeted as a victory of Communist Party organisation and source of national pride.
"None of my art represents Beijing," he wrote. "The Bird's Nest – I never think about it. After the Olympics, the common folks don't talk about it because the Olympics did not bring joy to the people." The commentary appeared to stretch the terms of his release on 22 June after 81 days in custody for alleged tax evasion. He was ordered not to use Twitter or other social media and not to give interviews to foreigners. Many human-rights activists believe the tax charges against him were trumped up to remove a long-term thorn in the side of the Communist Party.
If so the commentary – headlined "The City: Beijing" – suggests that they failed and raises the prospect that he could be returned to prison. Since his release he has started tweeting again, with some critical comments and support for dissidents.
His latest views also represent a return to type for an artist whose ordeal behind bars appeared to have blunted his appetite for trenchant criticisms of the regime.
He appeared from custody noticeably thinner and in his first interview since his release for the Communist Party's main organ, the People's Daily, his comments were markedly less strident than his pre-detention claims that revolution was the only way to solve China's problems.
But the latest commentary was a wide-ranging denunciation of the way the country was run. He took aim at the giant projects that have transformed the capital's skyline from a low-rise imperial city with a network of narrow lanes and courtyard houses into a vast city of skyscrapers and six-lane highways. He also defends the millions of migrant workers in the capital, calling them "Beijing's slaves".
"They squat in illegal structures, which Beijing destroys as it keeps expanding," he wrote. "Who owns houses? Those who belong to the government, the coal bosses, the heads of big enterprises. They come to Beijing to give gifts – and the restaurants and karaoke parlours and saunas are very rich as a result."
In the commentary, Mr Ai alluded to his time in detention, saying "the worst thing about Beijing is that you can never trust the judicial system".
"My ordeal made me understand that on this fabric, there are many hidden spots where they put people without identity," Mr Ai wrote. "Only your family is crying out that you're missing. But you can't get answers from the street communities or officials, or even at the highest levels, the court or the police or the head of the nation."
There has been much speculation that Mr Ai will leave the country once his bail period ends, possibly to Berlin, where he has a studio and the offer of a position at an arts institution.
He has previously said that he had no plans to emigrate, but the article suggested that he was not sure what he would do.
"Either leave, or be patient and watch how they die. I really don't know what I'm going to do," he wrote.
Party's spying investigation leaked on YouTube
A rattled Chinese leadership ordered a major investigation after a former head of its nuclear programme was found to have been selling industry secrets abroad, according to leaked footage of an espionage briefing by a Chinese general.
The briefing by Major-General Jin Yinan included an admission that some high-profile spying cases were not made public as they were too embarrassing. General Jin said that the case of the nuclear secrets leak was too sensitive to have been brought up in court.
Kang Rixin, a former head of China's nuclear programme, was jailed for life last year on corruption charges. "The party centre was extremely nervous. They ordered top-to-bottom inspections and spared no individual," he said.
It is not clear where the footage came from or how it got on YouTube. The officer is a lecturer at Beijing's National Defence University and the footage appeared to be well shot, with slides for illustration.
Another case discussed was that of a former ambassador to South Korea, Li Bin, who was sentenced to seven years for corruption, but General Jin said he had passed secrets to South Korea.
Join our new commenting forum
Join thought-provoking conversations, follow other Independent readers and see their replies