AirAsia flight QZ8501 crash: Body recovered wearing life jacket as sonar image appears to show outline of aircraft just 30m underwater
Ships and planes have been scouring the Java Sea for the missing aircraft since Sunday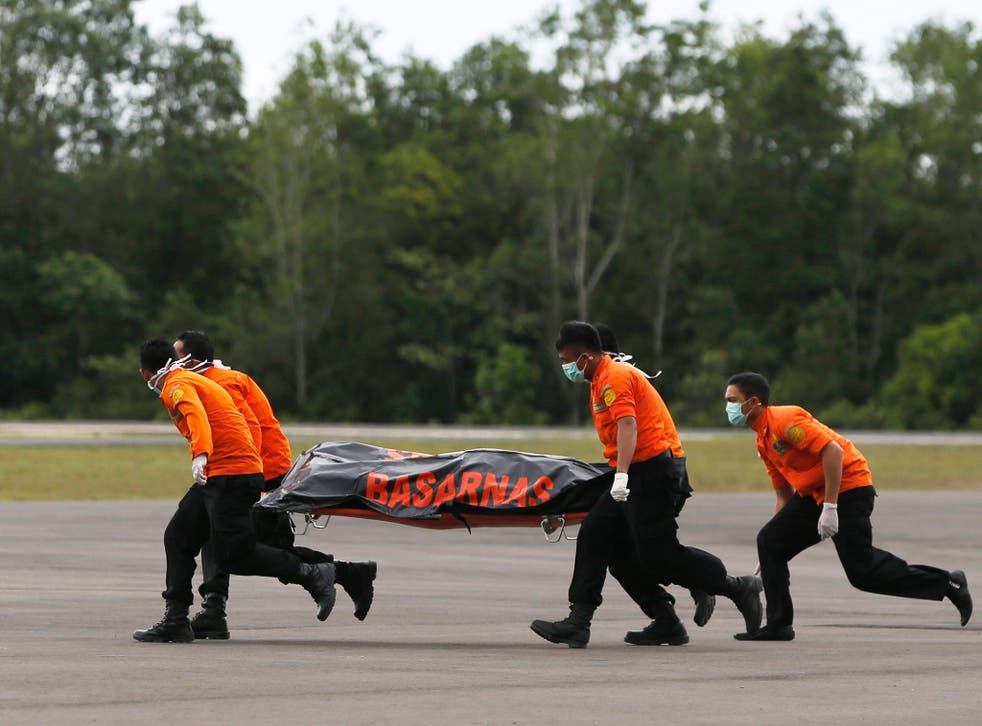 Seven bodies, including one still wearing a life jacket, have been recovered from the crash site of AirAsia Flight QZ8501 as search officials indicated the wreckage of the stricken jet had been located at the bottom of the Java Sea.
As more stories of victims and their families emerged, Indonesian authorities said that the Airbus A320-200 had possibly been found upside down on the sea bed around 30 metres below the surface of the water. Search chief Henry Bambang Soelistyo said underwater sonar had identified what appeared to be large parts of the Airbus A320-200.
The discovery of one passenger found still wearing a life jacket, as well as a woman in a cabin crew uniform, suggests that the aircraft was intact when it hit the water, a theory supported by the debris being "fairly contained" according to aviation experts.
A memorial service for victims will take place in Surabaya on Wednesday night.
Speaking to The Telegraph, the family of the pilot revealed that Captain Irianto's eight-year-old son was still unaware what had happened to his father.
"I told Galih that his father will not be coming straight home because he has another job to do," said Budi Sutiono, the pilot's 55-year-old brother and the boy's uncle. "He thinks daddy is still at work.
"Pilots are often away from home on work so when we told him he accepted it. But he keeps asking us and he keeps crying because he misses his father," he added.
Divers have so far been hampered by poor weather conditions, battling with heavy rain, strong winds and waves of up to three metres, but authorities confirmed that four men and three women had been retrieved from the crash site of the passenger jet that was carrying 162 people when it crashed.
A Hercules pilot who was at the scene yesterday, describing seeing three bodies "holding hands" during the recovery.
On the ground many relatives remain with desperate hope, unable to accept their families may not come home. Tragically, the eight-year-old son of QZ8501's pilot believes "daddy is still at work", the boy's uncle told the Telegraph today.
Officials said that reports yesterday indicating 40 bodies had been found were a "miscommunication".
Search and rescue agency official Tatang Zaenudin said: "This morning, we recovered a total of four bodies and one of them was wearing a life jacket."
Authorities also warned that they expect bodies to start washing ashore along Borneo's coastline in the coming days as strong winds and currents shift the debris almost 30 miles since they were first discovered yesterday.
The sonar image appears to show an object "about 30 to 50 metres (100 to 165 feet) underwater," Hernanto, head of the search and rescue agency in Surabaya, said of the object which is believed to be lying upside down on the sea bed.
In pictures: Missing AirAsia flight QZ8501

Show all 28
AirAsia CEO Tony Fernandes has offered an immediate advance of money to victims' families, describing the incident as a "scar (that will be) with me for the rest of my life".
No survivors have been found.
Families were shocked and horrified yesterday after a local TV channel aired footage of the debris, simultaneously filming their reactions in the Surabaya airport. The move was widely condemned with international channels - who picked up the footage - apologising for airing it.
The AirAsia Flight disappeared on Sunday en route to Singapore from Surabaya, Indonesia, prompting an international search effort combining Malaysian, Australian, Chinese, American and Indonesian contributions.
Details have begun emerging of the 155 passengers, including 17 children and one infant, along with two pilots and five crews. Four men and three women have so far been pulled from the sea, including flight assistant Khairunisa Haidar Fauzi.
Join our new commenting forum
Join thought-provoking conversations, follow other Independent readers and see their replies