AirAsia flight QZ8501 crash: Pilot's son 'thinks daddy is still at work'
Seven bodies have been recovered from the crash site of the AirAsia after debris was spotted in the water off the coast of Borneo yesterday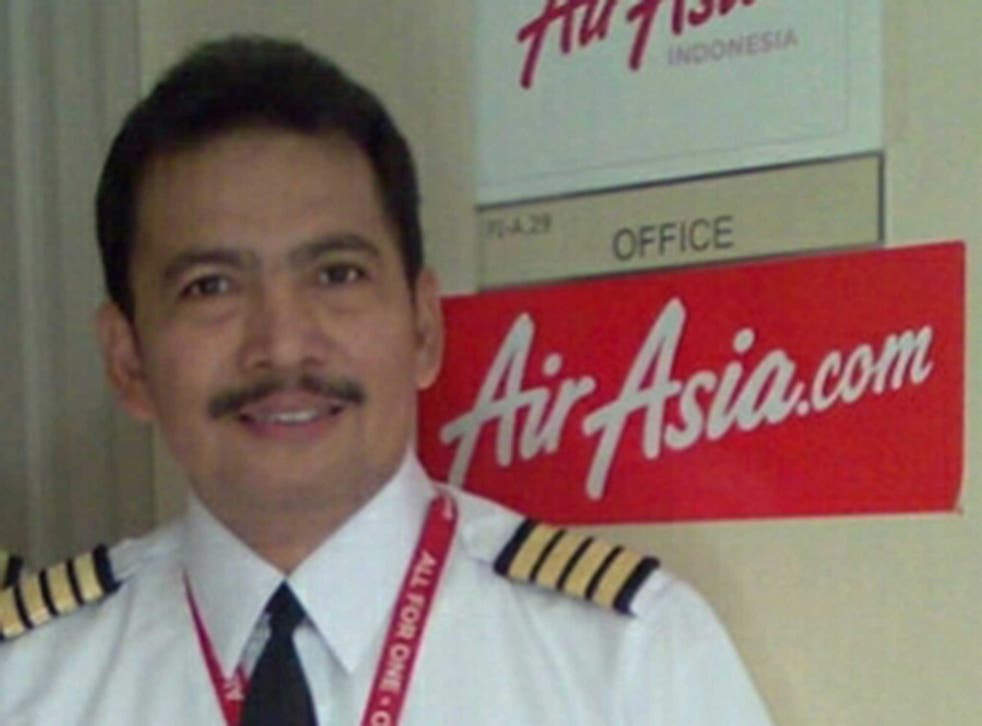 The eight-year-old son of the crashed AirAsia aeroplane pilot "thinks daddy is still at work", his uncle said today.
Arya Galih Gegana's remaining family are shielding the young boy from the news his father Captain Irianto will not come home.
"I told Galih that his father will not be coming straight home because he has another job to do," Budi Sutiono, the pilot's 55-year-old brother, told the Daily Telegraph.
"Pilots are often away from home on work so when we told him he accepted it. But he keeps asking us and he keeps crying because he misses his father," he said, adding: "He thinks daddy is still at work."
It is the latest tragedy for the family – Mr Sutiono's other brother was buried last week after dying from a heart attack.
Inside the home the TVs are kept off, with mourners carefully avoiding discussing the catastrophe near the young boy. His mother Widya Sukarti Putri remains in her bedroom, emerging only occasionally to check the news and greet the friends gathering to express their sadness.
The boy's 22-year-old sister Angela posted on Twitter yesterday: "Papa come back, I still need you," with pictures of the two together.
"Slowly we will try to explain what has happened to his father," Mr Sutiono said.
"But it needs time. We still haven't worked out exactly how we will say it. I need time myself to accept what happened to my brother."
Victims' families are coming to terms with the loss and discovery of AirAsia Flight QZ8501, which disappeared on Sunday with 162 people on board.
An international search found debris and bodies off the coast of Borneo yesterday morning, with a pilot reporting that he saw bodies "holding hands" as they were pulled from the water.
A sonar image has revealed what appears to be the outline of the aircraft lying upside down roughly 30 meters under the water.
In pictures: Missing AirAsia flight QZ8501

Show all 28
Seven bodies, four men and three women, have been recovered so far. Two of the bodies have been retrieved with their clothes intact and one body was found wearing a life jacket.
The finds are significant as it may indicate that the aircraft was intact when it hit the water, a theory supported by the "fairly contained" accumulation of debris found so far.
Join our new commenting forum
Join thought-provoking conversations, follow other Independent readers and see their replies