AirAsia flight QZ8501 missing: Q&A - what is known about the flight and what possible causes will be investigated?
The aircraft is the third belonging to airlines based in Malaysia that has been lost in 2014. Is that significant?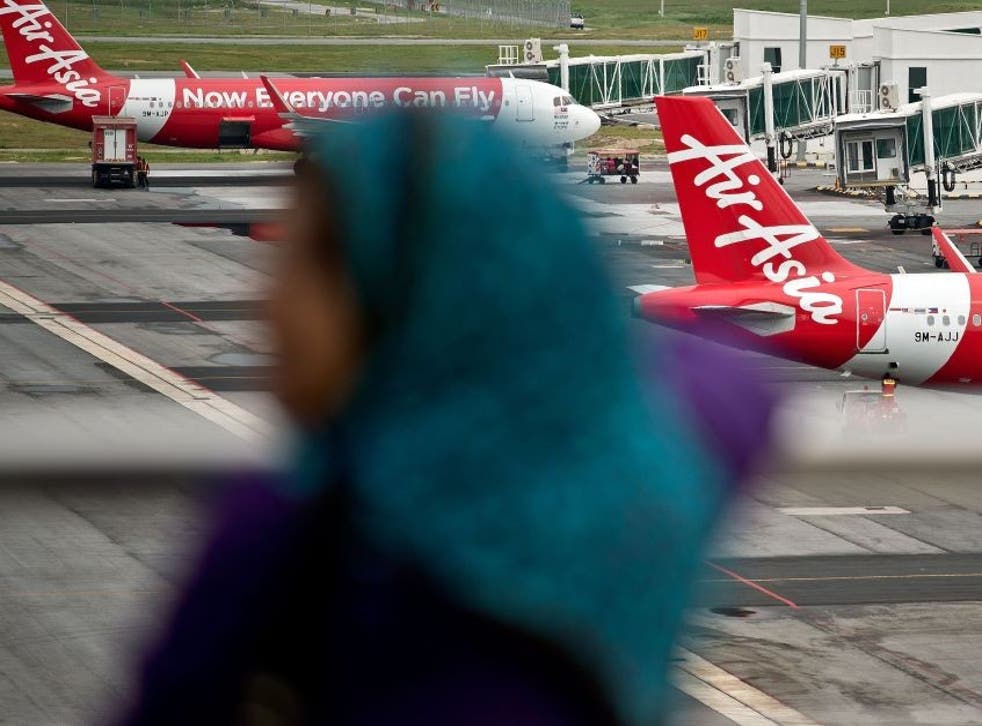 What is known about the flight?
QZ8501 was scheduled to depart from Indonesia's second city, Surabaya, at 5.20am local time, arriving 2 hours 10 minutes later at Singapore, the main aviation hub for South East Asia. There were 155 passengers, two pilots, an engineer and four cabin crew on board. There is confusion about the nationalities involved: Air Asia's most recent statement says the nationalities of passengers and crew onboard are: 156 Indonesian, 3 South Korean and a single citizen from each of Singapore, Malaysia and France. But the Foreign Office has said that one British citizen is believed to be on board.
The Airbus A320 departed a few minutes late and was in level flight when Indonesian Air Traffic Control lost contact with it 41 minutes into the flight. There have been reports about the pilot having asked for an "unusual" routing - though from the records of Air Traffic Control it appears the crew wanted to deviate from their track and climb to avoid a thunderstorm. The airline says: "The aircraft was on the submitted flight plan route and was requesting deviation due to en-route weather before communication with the aircraft was lost".
What possible causes will investigators be looking for?
At present most observers presume it to be an accident. Losses of aircraft while in the cruise are unusual, and there will be particular focus on the weather at the time. Scott Hamilton, of the well-respected Leeham News and Comment website, said: "Investigators will put weather conditions at the top of their list of areas to probe. They will attempt to determine whether there was a high altitude upset due to turbulence that caused the plane to lose control; whether the plane was intact when it presumably crashed into the sea or whether it came apart in flight, and if so whether this possibility was caused by stresses beyond design limits. Investigators will attempt to determine whether the plane was struck by lightning, causing a chain of events leading to a crash."
What's the background of Air Asia?
The airline is based in Malaysia and has been one of the great aviation success stories - building a south-east Asian version of easyJet, flying a busy, high-frequency network in a highly populated part of the world. It was a small, failing airline in 2001 when it was bought, in the aftermath of 9/11, by the colourful Malaysian businessman called Tony Fernandes, who's been given advice and inspiration by Sir Richard Branson. He's also the majority owner of Queen's Park Rangers football club and the chain of Tune low-cost hotels. The company describes itself as "not so much an airline operator but more of a people company that happens to be in the airline business." Until no-frills flying took hold in the region, South East Asia was the preserve of national carriers such as Malaysia Airlines and Garuda Indonesia. With Air Asia and its rivals, including Tiger, offering much lower fares, the low-cost revolution caught the public imagination. While a long-haul link between London and Kuala Lumpur was dropped as unprofitable, the airline has thrived on its regional network. It will carry nearly 50 million passengers this year.
Air Asia's HQ is based in the Malaysian capital, Kuala Lumpur, but which like easyJet operates right across the region. It has a number of subsidiaries such as Air Asia Thailand and Indonesia Air Asia - the offshoot that operated flight QZ 8501.
In pictures: Missing AirAsia flight QZ8501

Show all 28
Mr Fernandes is currently on his way to Surabaya, where the flight originated and where most of the passengers are from. He tweeted: "We put our hope in the SAR [search-and-rescue] operation and thank the Indonesia, Singapore and Malaysian governments."
And the aircraft?
It's a six-year-old Airbus A320, delivered new in 2008 to Indonesia Air Asia. The A320 model first flew in 1987 and has sold very well since then, with easyJet and British Airways among the airlines that use it and its derivatives, the A318, A319 and A321. The jet has a formidably good safety record; in its history just seven have been lost in passenger service. The most recent crash was six years ago in Honduras.
Many Indonesian airlines are banned from Europe because of safety concerns. Is Indonesia Air Asia on that list?
No. It is one of five airlines specifically excluded from the blacklist. The EU has concerns about Indonesia's airline regulators, but believes that Indonesia Air Asia maintains the highest standards of safety.
Air Asia is a budget airline - which could lead to speculation about whether costs were cut in a manner that might endanger safety?
There is absolutely no evidence that Air Asia or any other low-cost airline has done anything to compromise safety. Until now, Air Asia - like many other budget carriers - has had a faultless safety record.
The aircraft is the third belonging to airlines based in Malaysia that has been lost this year. Is that significant?
It has indeed been a tragic year, with the loss - still unexplained - of Malaysia Airlines flight MH370 in March, the shooting down of flight MH17 in eastern Ukraine in July, and now QZ8501. But no conclusions can be drawn - the first two disasters were unconnected, and there is no indication that QZ8501 has any connection apart from that awful coincidence. Whether or not there are survivors from QZ8501, 2014 has been the worst year of this decade so far in terms of passenger aviation.
Join our new commenting forum
Join thought-provoking conversations, follow other Independent readers and see their replies